New Picture Book Uses EMDR Principles to Address Trauma and Dissociation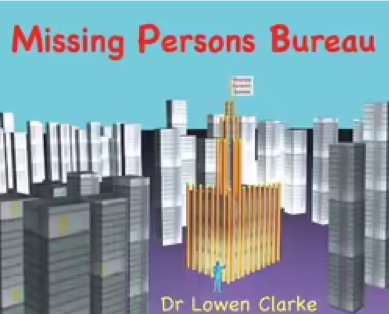 ISSTD Member Dr Lowen Clarke has written a second book based on EMDR principles. The book, Missing Persons Bureau, is written using Empowerment Script, created by Lowen. The unique script requires each line in the book to be read in an alternating fashion, with one line being read in one direction and the other line being read in the other direction.
Lowen explains: "Empowerment Script is what I call the forwards/backwards reading script I created in 2003. Empowerment Script is a bilateral stimulant (BLS) in itself. Combined with the color, story and art in the book, it seems to do more (than reading a typical book can do). It can be used as a start to a session if a client is distressed, and then EMDR BLS can happen, or it can be used after the EMDR BLS, to ground the client. Observation and measurement of SUDS is the key to a practitioner seeing what is going on."
The book, both written and illustrated by Dr Clarke, complements his first empowerment script book, 'Sam the Tram's Dance Club' published in 2018. Lowen reports that it can be used by both adult and child clients and can be used to complement therapies such as EMDR, CBT and hypnosis. Dr Clarke won the 2022 ISSTD Print Media Award for his work on this book and his previous book.
The Foreword is written by ISSTD Member Dr Sandra Hacker, who writes, "Missing Persons Bureau, while a delightful story in its own right, gently addresses PTSD and dissociation through a charmingly illustrated take on the search for a lost child. Clinical symptoms and signs and their resolution are cleverly introduced."
Empowerment Script is new to EMDR circles and has not yet been researched in a formal way. Lowen is hoping to generate interest in researching the script and invites readers to share with him their experience of using the book in therapy.
'Missing Persons Bureau' is available in EPUB, paperback and hardcover editions. The book is available direct from the author: lowenclarke@iprimus.com.au and both print and e-book versions are available from a variety of bookshops.
Podcast Exploring DID
ISSTD Fellow, and Past President Professor Warwick Middleton features in a recent podcast with investigative journalist, Nick Bryant. (Nick is a recipient of ISSTD's Therese O. Clemens Award, for his work as a journalist investigating and writing about child exploitation networks). This wide-ranging podcast covers core clinical features and presentation of Dissociative Identity Disorder, some treatment examples, as well as other related issues, including the history of psychoanalysis covering up various boundary violations and the reality of child sexual abuse, the Australian Royal Commission findings, and the 'False Memory Syndrome' movement. A link to the episode is here:
For those interested in learning more about Nick Bryant, in the past Warwick has managed to turn the tables on Nick and interview him! The interviews, published as a 2-part series in ISSTD News, can be seen here:
An Interview with Nick Bryant: Part I – The Franklin Scandal
An Interview with Nick Bryant: Part II – The Epstein Affair
Welcome ISSTD's New Members in June!
Professional Members
Nadiia Aleksina
Shannae Anderson
Ginger Villareal Armas
Tracey Bailey
Jenna Lea Britt
Erica Chadwick
Therese Collie
Sharon Connell
Amy Coombs
Pamela Gage Dillon
Wendy Flores
Erica Folinsky
Amy E Goldfarb
Wai Leng Kwok
Madalina E Leanga
Jonathan Lebolt
Sofie Mauger
Megan M Meyers
Ashley Neuhauser
Pauline O'Brien
Catherine Stephanie O'Neill
Linda Escobar Olszewski
Laura J Perry
Terry Petrenchik
Julia Pinsky
Hailey Reiss
Violet Reveira
Ashley Roehrig
Lindsay Schofield
Bobbie J Shepard
Mr. Rodney Stanton
Sacha Van Eeten
Lisa Yeates
Student Members
Oksana Chabot
Bailey Minkewicz

Emerging Professional Members
Mary C Elkins
David Allen Feil
Kelly Johnson
Kallena Kucers
Nikki Moorman
James Paul Nole
Jennifer D Rogers
Katie Russell
David M Spindle








Do You Have News ISSTD Members Can Use?
We need your help to make NYCU a great feature, full of news and sharing the activities of our community members. Do you have a book or book chapter coming out that you wish to share? Have you received an award for your work in the field? Have you been part of developing a new website or training course? Have you had a chance to develop something creative and unique that you wish to share with others in the field? If so, we want to hear from you! Don't be shy, submit your news to us so that we can share with other members. (Please be aware: we do not offer book reviews, but a chance to share with others that your book has been published.)
Submission Deadline: 20th of the month
Send to ISSTD Editor, Kate McMaugh: katemcmaughpsychology@gmail.com