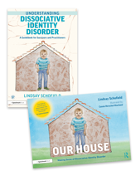 ISSTD Member Lindsay Schofield, author of the books Our House, Making Sense of Dissociative Identity Disorder, and Understanding Dissociative Identity Disorder, A Guidebook for Survivors and Practitioners has generously arranged for ISSTD Members to have a 25% discount on her books. She has done this as a way of marking DID Awareness Day on 5th March.
Schofield, who is a consultant psychotherapist practicing in Surrey, England, launched these two books books last year. Inter-linked, they also stand in their own right. They have been a huge success and are well-endorsed by experts in the field. For more information about the books see here.
The discount will be available from the publishers, Routledge, using the code UDID25. This code will run on Routledge.com from January 16th 2023 – March 27th 2023.
February New Members
Professional Members
Leine Delker
Kelly Deaton Tolliver
Kathryn Wingard
Chris Whitaker
Jennifer Stopher
Laura Petersen
Amy Phillips
Aarti Dhanda
Lacey Cottingham
Tammy Linseisen
Christopffel Le Roux
Stacy Cohen
Hayley Miller
Student Members
Taylor Patterson
Malachi Gillihan
Carrie Poppy
Leslyette Chevez

Emerging Professional
Nancy Burns
Danielle Navaroli
Daria Loechner
Kenneth Euler
Chelsea Turner


Do You Have News ISSTD Members Can Use?
We need your help to make NYCU a great feature, full of news and sharing the activities of our community members. Do you have a book or book chapter coming out that you wish to share? Have you received an award for your work in the field? Have you been part of developing a new website or training course? Have you had a chance to develop something creative and unique that you wish to share with others in the field? If so, we want to hear from you! Don't be shy, submit your news to us so that we can share with other members. (Please be aware: we do not offer book reviews, but a chance to share with others that your book has been published.)
Submission Deadline: 20th of the month
Send to ISSTD News Editor, Kate McMaugh: katemcmaughpsychology@gmail.com