New Picture Book and Treatment Guide for Trauma and Dissociation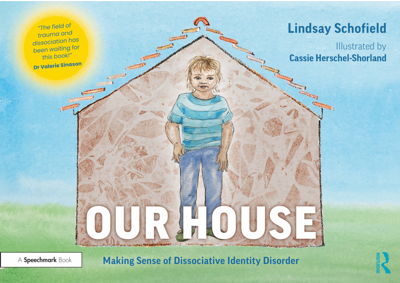 ISSTD Member, Lindsay Schofield, a consultant psychotherapist practicing in Surrey, England, has launched two inter-linked books which describe trauma-related dissociation in a clear and concise way. Also venturing into new territory, including the voices and endorsements of survivors as well as experts, both books are written with clinical accuracy, and a warm, caring tone, that is very accessible to people of all ages and backgrounds.
Lindsay asked UK artist Cassie Herschel-Shorland, to draw inspiration from Shirley Hughes gentle but evocative style which has translated into powerful but gentle images that illuminate both texts whilst softening hesitance often associated with the subject.
Our House: Making Sense of Dissociative Identity Disorder, is a picture book that uses the metaphor of a house to explain how and why DID can develop. This format enables the book to be very versatile. Adults may enjoy it, child parts can understand it, and it can also be used to explain dissociation to others, including child clients. Parents with dissociation may wish to use it to explain some aspects of their mental health to their own children.
Dr Valerie Sinason, Founder of the Clinic for Dissociative Studies and ISSTD Fellow says "The field of trauma and dissociation has been waiting for this book…"
ISSTD President-Elect Dr Michael Salter, writes "This book is a wonderful resource for survivors, their allies, professional and members of the public. With moving pictures and thoughtful text, this book brings to life the inner world of people with DID."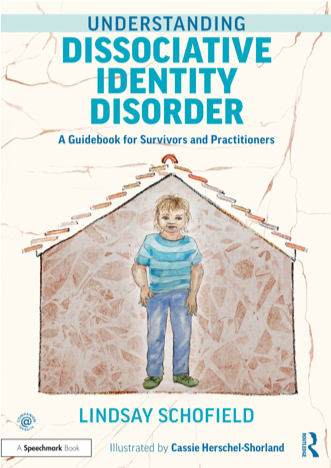 In addition, the beautifully illustrated picture book is accompanied by a Guidebook for survivors and practitioners: Understanding Dissociative Identity Disorder: A Guidebook for Survivors and Practitioners. This workbook provides a general introduction to childhood trauma and its legacies, and explains what dissociation is and how it develops, with a particular focus on DID. It includes chapters on Treatment, one written to Survivors and one specific to Supporters. The Guidebook notably includes a chapter that accompanies and supports reading the picture book. Adding further insights and commentary in relation to each image in the picture book, this chapter could serve as a guide to therapists, or as a self-help resource for clients. The final chapter of the book contains details of many useful resources for clients and for therapists, including books, treatment guidelines and online resources.
Dr Cathy Kezelman, President of Blue Knot Foundation, writes: "This guidebook around DID and its companion picture book provide a rare insightful and yet accessible set of resources. They should go a long way towards demystifying DID…'.
Frances S. Waters, Past President of ISSTD says, "This is a rich, practical, comprehensive and succinct resource gem that combines readable and understandable guidance for clinicians, clients, and their supporters about child & adult dissociation!"
Both books deliver a non-threatening, non-pathologising understanding of dissociation and DID which will be empowering for survivors and offer education to the friends, family and professionals who want or need to learn more about the condition.
Published by Routledge, 2021, they can be purchased either as a set or separately from both Routledge and Amazon. See the links below, and if you use Amazon, remember to use your Amazon Smiles to raise money for ISSTD.
http://www.routledge.pub/UDID for Routledge; discount 20% with FLA22

Here is another for Amazon.com: https://www.amazon.com/Understanding-Dissociative-Identity-Disorder-Guidebook/dp/0367708175/ref=sr_1_3?crid=1UCBMY8YLGKGH&keywords=Lindsay+Schofield&qid=1651828501&sprefix=lindsay+schofield%2Caps%2C156&sr=8-3
New TV Series Explores the Role of Art in Mental Health Treatment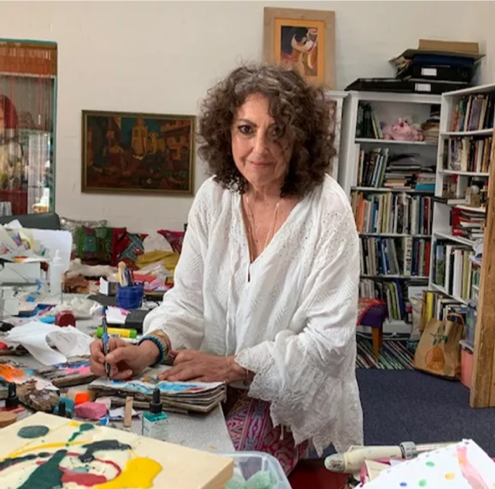 ISSTD member and psychotherapist Noula Diamantopoulos has been busy as resident psychotherapist in a new television show! Space 22 is a six-part documentary series that explores the impact art and creativity can have on mental health. The series follows seven people who each have their own lived experience of mental ill-health, as they take part in an 'experiment' to see if the act of creativity can help heal.
Noula is on set to support the participants, but also an active part of the show itself, as we get a chance to watch her working directly with the participants, using art as a vehicle for exploration and healing. An example is shown here as Noula works with participant Celia Pacquola as she explores are to help manage her anxiety:
The participants are joined by well-known Australian artists and a leading Australian mental health association, the Black Dog Institute, has researchers observing and measuring the mental and social impact of each challenge.
Space 22 is an original BBC Studios ANZ production for the ABC (Australian Broadcasting Commission). The series, which is distributed by BBC Studios, will premiere Tuesday, May 17 at 8pm in Australia on ABC TV and ABC iview.
Space 22 will also be available to the international market under the title Art On The Brain. We will provide more details on this shortly.
Members who are interested in this show can see more here: https://iview.abc.net.au/show/space-22
Clips about the show are also featured on You Tube: https://www.youtube.com/watch?v=05TzfuVogeI
Welcome ISSTD's New Members in April!
Professional Members
Nadiia Aleksina
Shannae Anderson
Ginger Villareal Armas
Tracey Bailey
Jenna Lea Britt
Erica Chadwick
Therese Collie
Sharon Connell
Amy Coombs
Pamela Gage Dillon
Wendy Flores
Erica Folinsky
Amy E Goldfarb
Wai Leng Kwok
Madalina E Leanga
Jonathan Lebolt
Sofie Mauger
Megan M Meyers
Ashley Neuhauser
Pauline O'Brien
Catherine Stephanie O'Neill
Linda Escobar Olszewski
Laura J Perry
Terry Petrenchik
Julia Pinsky
Hailey Reiss
Violet Reveira
Ashley Roehrig
Lindsay Schofield
Bobbie J Shepard
Mr. Rodney Stanton
Sacha Van Eeten
Lisa Yeates
Student Members
Jacalyn Brecher
Kayla Stone
Drew Wiggins
Carol Witney

Emerging Professional Members
Michael Clyde Cummings
Ehren Ekhause
Veronica Hellier
Sharmeen Kaur Khurana
Jennifer Ryper





Do You Have News ISSTD Members Can Use?
We need your help to make NYCU a great feature, full of news and sharing the activities of our community members. Do you have a book or book chapter coming out that you wish to share? Have you received an award for your work in the field? Have you been part of developing a new website or training course? Have you had a chance to develop something creative and unique that you wish to share with others in the field? If so, we want to hear from you! Don't be shy, submit your news to us so that we can share with other members. (Please be aware: we do not offer book reviews, but a chance to share with others that your book has been published.)
Submission Deadline: 20th of the month
Send to ISSTD Editor, Kate McMaugh: katemcmaughpsychology@gmail.com