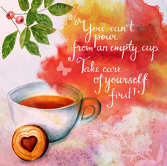 Are you passionate about clinician/researcher self-care and wellness? If so, this may be the right fit for you! This month, the volunteer opportunity spotlight shines on an opportunity to volunteer with the ISSTD's Vicarious Trauma Special Interest Group (SIG).  The Vicarious Trauma SIG focuses on building awareness and deepening the understanding of the impact of clinical work on clinicians/researchers and their livelihood, as well as developing tools to protect and restore the mental health and wellness of providers.  The SIG is currently looking for volunteers to who are interested in:
Coordinating and creating ISSTD News articles for our membership newsletter, which have a special focus on managing vicarious trauma;
Creating or facilitating conference submissions and programming with a focus on vicarious trauma; and
Creating webinar content related to vicarious trauma and self-care.
If this sparks curiosity and interest in you, please visit the ISSTD's Volunteer Match page to explore this opportunity and how to apply. You can view the Volunteer Opportunities by logging in to ISSTDWorld and clicking "Volunteer" in the top menu, then clicking "Volunteer Opportunities" from the dropdown.
We would love to hear from you!