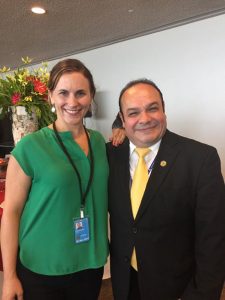 As a result of the dedicated efforts of the ISSTD UN Task Force members, the ISSTD has achieved consultative status with the United Nations. After many preparations and much anticipation, our first representative visited the United Nations New York City office in May! Lisa Danylchuk, who has worked on the task force for the past two years, was honored and excited to represent us on this visit and to begin to develop our consultative relationship with the UN. She and other task force members, including Karen Hopenwasser and Vivian Pender, will continue to do this important outreach work, and to determine how we can best advocate for those experiencing trauma related the the many human rights issues the UN committees address.
In the coming months, we will continue to deepen our relationship with subcommittees and other NGO's involved in this deeply humanitarian work. We plan to advocate both in person and online, and to facilitate discussions about trauma and dissociation within a variety of groups. Our plans to partner with subgroups on the UN, including the the United Nations Entity for Gender Equality and the Empowerment of Women (UN Women), and the Convention on the Rights of Persons with Disabilities (CRPD), are young in their development, but we will keep you posted as these relationships evolve.
Over the past two years, Karen Hopenwasser has been participating regularly in the NGO Committee on Mental Health meetings, functioning as co-convener of the committee on trauma, presenting twice in the last two years on trauma & dissociation and on intergenerational transmission of trauma. Beginning June 2017, she has been elected as a Member at Large to the Executive Committee of the NGO Committee on Mental Health, representing the ISSTD.
We'd love to hear from you – what do you think the UN subgroups need to know about trauma and dissociation? Are there specific issues related to our scope of expertise that you are already advocating for? Drop us a line and let us know how we can amplify your voice in this context.
UN Task Force Email: isstd_un@isst-d.org