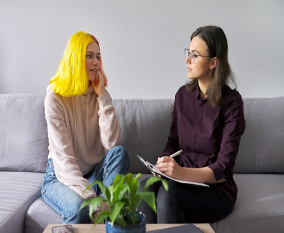 The Transitional Aged Youth (TAY) Special Interest Group focuses on the unique skills, techniques and clinical needs that are required in order to successfully work with Emerging Adults ranging from 18 to 25 years of age. When an individual hits 18, they are often considered an adult and expected to be able to master all adult life and cognitive skills. However, that is not possible since there are large portions of the brain that have not finished development and will not until about 25 years of age. This can be delayed even further when one has exposure to traumatic experience and substance use. As a result, clinicians who are not prepared to meet the unique needs of TAY experience this population as disengaged with a high dropout rate. However, with the proper understanding of what is needed to connect with this age range, TAY clients can engage steadfastly with clinicians in a long term and consistent fashion.
Last year the TAY SIG was engaged in presenting at the Virtual Conference. The presentation centered around what clinical needs are important for emerging adult youth who are also dissociative. There was an exploration on what is helpful to initially connect with this population as well as what is needed to maintain that connection and create momentum in the clinical work.
Members of the TAY SIG also played a pivotal role in writing the clinical guidelines for working with TAY, which will soon be released in conjunction with the updated ISSTD Treatment Guidelines. Members worked as small teams writing different sections of the document, which was a great way to get to know each other. The document was then collated by Katie Keech and Emily Christensen. This was the first time ISSTD has had clinical guidelines especially targeted for the population group and we are really excited to see them develop. They are currently in the process of being edited with Katie Keech, Katherine Reuben and Emily Christensen taking on this task.
Our SIG aims to be a supportive place for individuals who are working with the TAY population. We have informal online discussions where we can share ideas and information related to the treatment of this population group. We also play an active role in supporting professionals who have experience with this age range to create trainings for ISSTD. Training for other professionals is vital as this age group of clients is both a large group, and also one that may be at high risk as they shift from child/adolescent services to adult services, possibly 'falling between the cracks'. Additionally, this group is essential to engage with as they are able to absorb and engage in meaningful change rather rapidly when approached successfully.
            If you are currently working with this population and / or you would like to increase your skill set with TAY, we would love to have you join our SIG. Please contact Kate McMaugh, Secretary for the TAY SIG at Katemcmaughpsychology@gmal.com