Treating Complex Trauma and Dissociation: The 2nd Edition is out!
Lynette Danylchuk and Kevin Connors are very happy to let you all know the second edition of their book is done! The original focus of understanding complicated and complex dynamics impinging on a person hurt by trauma and abuse, while offering pragmatic and useful therapeutic responses was maintained and expanded. However, in this updated edition, Danylchuk and Connors have added new content on neurobiology, re-thinking how people respond to threats and stressful situations, and dealing with suicide and suicidality.
The book has been met with many positive reviews:
"This is a treasure that every therapist should have on their bookshelf. It's easy to read, with many clinical illustrations, and focuses on how to work with clients who have complex PTSD or a dissociative disorder. The authors never lose sight of the client as a human being and not a disorder, and they provide maps to navigate relational challenges, self-harm and suicidality (including how to navigate the pain of losing a client to suicide), flashbacks, difficulties with memory work, and more."
Kathy Steele, MN, CS, author and international presenter on complex trauma and dissociation, ISSTD past president and Lifetime Achievement Award winner
"Lynette Danylchuk and Kevin Connors have produced a book that lives up to its name. It is highly practical and instructive but also highly sophisticated in its presentation of the needs and the treatment of the complex trauma and dissociative client. This book is a guide to both the novice and the more advanced therapist. It offers constant reminders that these clients were extensively damaged by what happened to them and benefit from knowledgeable and relationally responsive and compassionate care in order to heal. I highly recommend this text."
Christine A. Courtois, PhD, ABPP, coauthor of Treating Complex Trauma: A Sequenced, Relationship-based Approach and coeditor of Treating Complex Traumatic Stress Disorders in Adults (both with Julian Ford)
"The second edition of Treating Complex Trauma and Dissociation is even more comprehensive and informative than the first and holds a wealth of academic and practical material. This is a book which not only belongs on your bookshelf but is one to be pulled out often for consultation or just to savor and absorb a section. Kudos to the authors for this gift."
Joan A. Turkus, MD, medical director, Complex Trauma Disorders Program, Dominion/HCA Hospital Falls Church, Virginia; ISSTD past president and Lifetime Achievement Award winner
Readers are welcome to use the code ADC23 for 30% off purchases of all books at Routledge.com.
Prof. Warwick Middleton Featured on Nick Bryant Podcast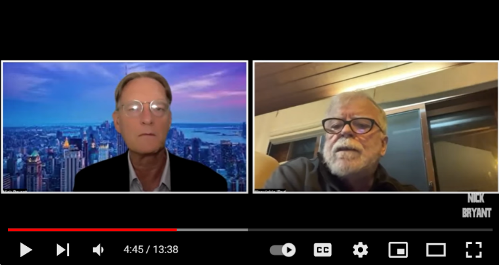 ISSTD Fellow and Past President, Professor Warwick Middleton has recently been a guest speaker on the Nick Bryant Podcast. In Bryant's podcast he interviews people and discusses with them what he calls the 'corrupt underbelly' of society. Bryant has over 20 years experience as a journalist investigating child abuse, trafficking networks, and political blackmail. His podcast regularly features episodes of interest to ISSTD Members who often work with people who have been victims of such forms of abuse.
In the latest episode, Professor Middleton discusses his pioneering research investigating incestuous abuse continuing into adulthood. He reports how he first came across this issue when working with clients who have severe post traumatic dissociative disorders, and gradually came to realize that it was more common among this clinical group than he had previously realized. He reports his research initially investigating media and court reports of people convicted for such abuse, before moving into discussing treatment of such clients. To hear more from Professor Middleton, the interview is on youtube.
And also available at Apple Podcasts
Welcome to ISSTD's New Members in September!
Professional Members
Christina Amerault
Renee Kallio
Ophira Berenholz
Brittnie Phillips
Andrew Decker
Margaret Hartmann
Morgan Vance
Nicholas Tew
Carrie-Anne Swiatek Setter
Alisha Nanji
Martyna Rusinowicz
Natalie Mills
Amy Marchant
Lisa Mandl
Kimberly Slape
Jennifer Hosea
Rachel Townes
Mary Iantorno
Alexandra Blekhman
Alora Martin Downie
Myra West
Ezra Hessel
Ari Karas
Sabrina Stone
Jill Gustafson
John Anthony Meunier
Jaimie Cory
Angela McLachlan
Anna Cristiano

Student Members
Melody Knapp

Emerging Professional Members
Nicles Bestel
Sarah Donato
Do You Have News ISSTD Members Can Use?
We need your help to make NYCU a great feature, full of news and sharing the activities of our community members. Do you have a book or book chapter coming out that you wish to share? Have you received an award for your work in the field? Have you been part of developing a new website or training course? Have you had a chance to develop something creative and unique that you wish to share with others in the field? If so, we want to hear from you! Don't be shy, submit your news to us so that we can share with other members. (Please be aware: we do not offer book reviews, but a chance to share with others that your book has been published.)
Submission Deadline: 20th of the month
Send to ISSTD News Editor, Kate McMaugh: katemcmaughpsychology@gmail.com