New Book: A Landmark Text for the Dissociative Disorders Field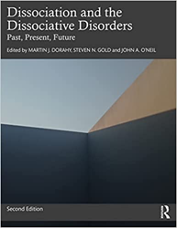 This month our field welcomes the publication of a new book, Dissociation and the Dissociative Disorders: Past, Present, Future. The book, edited by leading thinkers in our field, Prof Martin Dorahy, Prof Steven Gold, and Dr John O'Neil, is a worthy successor to the well-known 2009 text, Dissociation and the Dissociative Disorders: DSM V and Beyond.
A lot has happened since 2009 and this new edition captures the change in the field by exploring, discussing, and debating key issues, and raising questions about, and suggesting directions for future research. Consisting of 49 chapters, this book is likely to be the most comprehensive reference book in the dissociation field, and essential reading for anyone wanting to have a deeper understanding of dissociation, dissociative disorders, and the wide range of current issues in the field.
The book contains chapters by many well-known thinkers, writers, researchers and clinicians in the dissociation field. As is not unexpected, ISSTD members feature prominently, and to the point that it is impossible to fully list them here.
The book has met with glowing reviews. Just to outline one of these reviews, Richard Chefetz writes, in part:
"Dorahy, Gold and O'Neil have mastered the art of "herding cats" in editing an extraordinarily diverse and deeply incisive collection of erudite and wise explorations of dissociative processes, those ubiquitous discontinuities, detachments, compartmentalizations, and disruptions of human relatedness, mental coherence, subjective sense of self, and neurobiological processes that skew experience as if they had a mind of their own. … This is a must-read volume that will both challenge and entertain you … There is something for everyone here, and nearly everything a serious clinician might want to understand as we try and help the people who struggle with complex phenomena and experience that hide in plain sight. Get it, read it, and ponder it. You will be enriched by your efforts and those of the authors and editors who have poured their hearts into this extraordinary work."
If you would like to learn more about the book's editors and the process behind the book, check out Warwick Middleton's interview with the editors in ISSTD News last month: https://news.isst-d.org/bigger-than-war-and-peace/
The book is available now from all good book shops including from:
Routledge the publisher: https://www.routledge.com/Dissociation-and-the-Dissociative-Disorders-Past-Present-Future/Dorahy-Gold-ONeil/p/book/9780367522780
And from Amazon (remember to use your Amazon Smiles to raise money for ISSTD): https://www.amazon.com/Dissociation-Dissociative-Disorders-Present-Future/dp/0367522780/ref=sr_1_1?crid=3EZVEM7F58NDZ&keywords=dissociation+and+the+dissociative+disorders+past%2C+present%2C+future&qid=1663971493&sprefix=dissociation+and+th+%2Caps%2C329&sr=8-1
Healing the Unimaginable: Now a Webinar Series
ISSTD Fellow and retired clinical psychologist, Alison Miller, Ph.D. is presenting a 10-part webinar series for Survivorship during 2022. This series is designed for therapists and Alison has based this series on many years of clinical experience working with survivors of extreme and organised abuse. Alison is also the author of Healing the Unimaginable: Treating Ritual Abuse and Mind Control and the series is structured along similar lines to her book.
The webinars cover topics such as Understanding dissociative disorders and organized abuse; Engineered personality systems resulting from organized abuse; Stabilization (internal safety); Present-day physical safety and Working through the traumatic memories, among other topics. Two more webinars are planned before the end of the year, each with a 30-minute confidential question and answer session after the 60-minute presentation (which is not recorded).
Recordings of all presentations are available for a scaled price, depending on income, and range from $10 – $50 US. (This is an honour system and there is a no-cost option for people on low income.)
For more information see the Survivorship website:https://survivorship.org/survivorship-webinar-2022-healing-the-unimaginable-a-ten-session-course/
Do You Have News ISSTD Members Can Use?
We need your help to make NYCU a great feature, full of news and sharing the activities of our community members. Do you have a book or book chapter coming out that you wish to share? Have you received an award for your work in the field? Have you been part of developing a new website or training course? Have you had a chance to develop something creative and unique that you wish to share with others in the field? If so, we want to hear from you! Don't be shy, submit your news to us so that we can share with other members. (Please be aware: we do not offer book reviews, but a chance to share with others that your book has been published.)
Submission Deadline: 20th of the month
Send to ISSTD News Editor, Kate McMaugh: katemcmaughpsychology@gmail.com
Welcome ISSTD's New Members in September!
Professional Members
Bridgette Anderson
Diane Braman
Stacey Davis
Celia Falchi
Alex Floyd
Katie Grant
Shoshana Green
Beth Gugenheim
Shivani Gupta
Tiffany Harvey
Brooke Jackson
Joke Joossens
Julie Kraai
Sarah LaRocque
Alejandra (Erin) Lindan
Jessica McCormack
Baylie McKnight
Cortney Miller
Tiffany Noonan
Tamara Perger
Chris Perry
Jessica Margaret Podkowka
Laura Powers
Jenna Quint
Leah Ratcliff
Jean Rossner
Colleen Russell
Margie Santos
Nici Scott-Savage
Gerry Kathleen Shea
Anjali Singla
Kirk Stewart
Patrick Takacs
Stephanie Telegdi
Sheri Van Dijk
Shauna Van Niekerk
Rebecca Walush
Rachel Weisser
Tera Wolin
Student Members
Elisabeth Arnold Ingram
Samantha Goldberg
Cara Samuel
Shilpa Waghmare
Katherine (Katie) Wood


Emerging Professional Members
Mayra Arreola
Quintin Bailey
Anine Cummins
Meetali Devgun
Bryn Fluharty
Lisa Gillispie
Talia Hashworth
Ash Hennen
Diana Hernandez
Lohani Noor
Thomas Skousen








Do You Have News ISSTD Members Can Use?
We need your help to make NYCU a great feature, full of news and sharing the activities of our community members. Do you have a book or book chapter coming out that you wish to share? Have you received an award for your work in the field? Have you been part of developing a new website or training course? Have you had a chance to develop something creative and unique that you wish to share with others in the field? If so, we want to hear from you! Don't be shy, submit your news to us so that we can share with other members. (Please be aware: we do not offer book reviews, but a chance to share with others that your book has been published.)
Submission Deadline: 20th of the month
Send to ISSTD Editor, Kate McMaugh: katemcmaughpsychology@gmail.com