Poetry in the News & the News in Poetry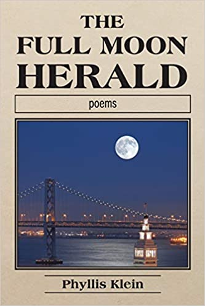 ISSTD Member Phyllis Klein has cleverly constructed her poetry collection to resemble the sections of a newspaper. The content too deals with contemporary issues we read of in the news. As the foreword states:
'Reading the news is complicated. Sometimes if hurts. It can bring up feelings of despair or rage against the world. … Yet, as much as it hurts, we need to know what's going on… So how might we receive the news in a way that affirms our humanity …and invites us to be more informed, connected and aware?'
This is essentially the task Klein sets out to do in this collection of poetry that spans a vast range of issues. The collection is divided into sections such as International News, National News, Health, Opinion and even Obituary. Under such headings Klein offers poetry touching on racism, refugees, and the drought (which seems ever-present, somewhere on this planet), as well as the exploration of personal connections and relationships. This collection will take you from the big picture international, through to the very delicate, small but large interpersonal issues we face each day. Once finished, you may never want to read the news again, not unless it is told in verse.
The Full Moon Herald is available from Grayson Books or from Amazon.
A Trio of Podcasts to Look Out For
Three of our current ISSTD Board Members have featured on Guy McPherson's The Trauma Therapist Podcasts recently:
Tune in to episode 462 to hear ISSTD Board Member Michael Salter speak on Women, Complex Trauma and the Need for Recognition.
Tune in to episode 455 to hear ISSTD Secretary Lisa Danylchuk speak on Yoga for Trauma Recovery.
And episode 450 features our Immediate Past President Christine Forner speaking on Managing in the current COVID Outbreak.
Welcome ISSTD's New Members in June!
Professional Members
Amanda Burger
Claire Chang
Eunice Fitzsimmons
Julie K Friedman
Michelle A Gee
Kate Hammon
Juliet Hathon
Rochelle Renee Honey-Arcement
Christine Juliano
Ekaterina Kalachevskiy
Hanne Hauberg Koch
Christina M Mitcham
Nicole Moore
Ayan Mukherjee
Elizabeth Arlyn Osborne
Lynnea Ritz
Gerardo Rosas
Holger Siemann
Renee Wright
Emerging Professional Members
Nadja Schlabitz Catano
Lizbeth Graffeo
Rick Harrington
Jacqueline Howden
Christine Kemmner
Natalie O'Connor

Student Members
Anna Browne
Gorkem Derin
Christy Mather
Jones Zimmerman







Do You Have News ISSTD Members Can Use?
We need your help to make NYCU a great feature, full of news and sharing the activities of our community members.
Do you have a book or book chapter coming out that you wish to share? Have you received an award for your work in the field? Have you been part of developing a new website or training course? Have you had a chance to develop something creative and unique that you wish to share with others in the field? If so, we want to hear from you! Don't be shy, submit your news to us so that we can share with other members. (Please be aware: we do not offer book reviews, but a chance to share with others that your book has been published.)
Submission Deadline: 20th of the month
Send to ISSTD Editor, Kate McMaugh: katemcmaughpsychology@gmail.com