Re-launch of Popular Attachment Journal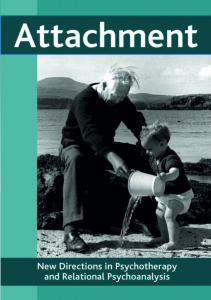 In news that will bring relief to many of its fans, Attachment: New Directions In Psychotherapy and Relational Psychoanalysis is once more up and running, with the first new edition due out in August. Attachment, edited by ISSTD member Orit Badouk-Epstein, and produced by the Bowlby Centre in London, has developed a following among those interested in attachment, and its strong trauma informed focus made it of particular interest to ISSTD Members, a number of whom have written articles for the journal. Many were dismayed when it temporarily ceased publication this year. However, the team at Attachment did not go away and have been busy finding a new publisher to …err … attach to. The Journal team has now found a new publishing house, Phoenix Publishing House, which will be releasing the journal twice a year. The journal will continue with its previous focus and with the popular mixed format which includes clinical and theoretical articles, opinion pieces, film and book reviews and creative writing pieces. The first issue for 2018 is due to be published in August and includes the following articles, a number written by ISSTD members:
Grenfell: Friendly fire? A personal and professional journey by Valerie Sinason and Dehra Mitchell
An object-relations approach to MPD/DID, imaginary companions, and heteronyms: Dissociation and creativity by Graham Clarke
Working with dissociated aggression in traumatised patients by Dan Shaw
What kind of courtship sets a couple up for long-term attachment: Romance, arranged marriage, or online matchmaking? by Anne Power
John Bowlby and contemporary issues of clinical diagnosis by Georgina L. Barnes, Matt Woolgar, Helen Beckwith, Robbie Duschinsky
Bearing the unbearable: Meditations on being in rhythm by Karen Hopenwasser
My name is Dot by Orit Badouk Epstein
On Boarding School by Olya Khaleelee
Ethics and iatrogenia in clinical practice: A relational perspective by Paul Renn
To renew your subscription online, please visit this page. New Website Offers Refreshing Self Care for Free ISSTD Member Sharon Gold-Steinberg, PhD and her colleague Carryn Lund, LMSW have developed a beautiful website offering meditations and inspiration specifically for psychotherapists, including those working with traumatized clients.
Therapist Refresh is a website that supports psychotherapists in caring for themselves as they provide healing for others. The website offers a range of audio meditations developed specifically for the busy clinician, targeted at various aspects of the clinical day, including Compassion for Clients and Ending Your Day. These free meditations will help to refresh and energize you while reducing triggering and burn out. Ranging in length from as little as 2 minutes through to just over 5 minutes they are accessible to even the busiest therapist.
In addition, subscribers receive free weekly e-mails with information to inspire self-care, satisfaction with clinical practice, and build a sense of community and camaraderie with other therapists. Take a little time to have a look and watch the website develop as Sharon and Carryn have plans for many more features. Check out the website here. Wisdom, Attachment, and Love in Trauma Therapy: Beyond Evidence –Based Practice A New Book by Susan Pease-Banitt, LCSW This latest highly acclaimed book by ISSTD member, Susan Pease Banitt focuses on the role of the therapist as a healing presence rather than technique administrator, on the importance of how we are with clients rather than what to do. Pease-Banitt advocates therapists undertake self-work to learn to embody qualities that foster an appropriate, corrective, and loving therapy experience.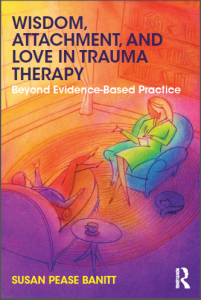 Stephen W. Porges, PhD, founding director of the Traumatic Stress Research Consortium, Kinsey Institute, Indiana University, writes of the book:
"Wisdom, Attachment, and Love in Trauma Therapy provides a sophisticated and compassionate understanding of how trauma therapists experience, train, and contribute to the healing of their heroic clients. In this well-written and integrated book, Susan Pease Banitt conveys a conceptual framework integrating principles extracted from contemporary neuroscience, psychology, and philosophic orientations to emphasize the features of successful therapy. Through her personal experiences, she emphasizes the importance of the therapist being present with and accepting of the client. Perhaps most relevant to the trauma therapist, she provides a deep understanding of the vulnerabilities of the therapist, who may be a survivor of trauma."
Contents include: Neuroscience and Trauma-Informed Practice; Ego Development and Traumatic Defenses; Fostering Attachment in Psychotherapy; Superhuman Empathy and Trauma Work; and Self-Care for the Trauma Therapist. As an added bonus, and not to be missed, ISSTD Member, Lisa Danylchuk, writes a moving and personal forward to the book, speaking not only about the book, but sharing some of her own journey as a therapist and her connections with the author through ISSTD Of the book, Lisa writes:
In this book, Sue helps us to recall and become increasingly comfortable with love as the basic truth of human relationship and attachment. In a gentle and inclusive manner, she reminds us of our humanity and our own vulnerabilities, encouraging those in human services to reflect on their own developmental processes and ways of relating as a foundation for deep healing work. She speaks with humor and with the evidence of a lifetime of practical experience in counseling and social work.
The book is available from Amazon (Remember to use your Amazon Smiles to raise money for ISSTD!) or from the publisher. Adult Psychiatrist Position Open at Sheppard Pratt – Towson, MD Sheppard Pratt Health System is seeking an adult psychiatrist for a full-time or part-time position in our nationally and internationally-recognized Trauma Disorders Program. Led by Richard J. Loewenstein, M.D., The Trauma Disorders Program treats individuals with trauma-related disorders, including dissociative disorders and other complex post-traumatic conditions, in a structured and supportive environment that focuses on safety and stabilization. Requirements:
Must have a current license to practice in Maryland at the time of hire
Board certification preferred
Individuals hired for inpatient services participate in a call schedule
About Sheppard Pratt Health System As the nation's largest private, non-profit provider of mental health, substance use, special education, and social services, we employ more than 95 doctors who all share a passion for providing the best care to those we serve. Consistently ranked as one of the top ten psychiatric hospitals by U.S. News & World Report, we offer a generous compensation package and comprehensive benefits. To learn more about our services, visit sheppardpratt.org. EOE and smoke-free campus. For more information, please contact Kathleen Hilzendeger, Director of Professional Services, at 410.938.3460 or khilzendeger@sheppardpratt.org. To apply, please click here. Join ISSTD at the 23rd Annual IVAT Conference in San Diego this September The Institute on Violence, Abuse and Trauma (IVAT) is holding their 23rd International Summit on Violence, Abuse & Trauma Across the Lifespan. This is set to take place on September 5 – 9, 2018 in San Diego, CA. The goal of the Summit is to make a positive impact towards eliminating all forms of violence, abuse, and trauma by offering continuing education, specialty trainings, and a forum for professionals across disciplines and philosophies to gather for in-depth exchange of current information on all facets of prevention, intervention, treatment and research. For a full review, see the 23rd Summit Brochure here. To register for the Summit, click here. The Summit's focus is "Voices Against Violence: Breaking Through the Silence." On Friday, September 7th a plenary roundtable will discuss What's Next for #MeToo? Breaking the Silence, Changing the Norms as well as seven parallel plenaries on Saturday, September 8th covering a variety of controversial, hot topics with renowned invited speakers. Trainings and continuing education are offered for most licensures, and multiple networking opportunities are built into the Summit from the Awards Luncheon to the Poster Session & Welcome Reception. On Wednesday September 5th, the National Partnership to End Interpersonal Violence (NPEIV) Across the Lifespan will hold its annual Think Tank Forum to discuss interpersonal violence issues and the goals, methods, and plans to tackle these issues in the year to come. Welcome ISSTD's New Members in July!
| | |
| --- | --- |
| PROFESSIONAL MEMBERS Stella Bowring Maggie Robbins Ernest Schall Carmel Swiggs Dominique Barritt-McBride Raha Mirian | EMERGING PROFESSIONAL MEMBERS Matt DeGennaro Eileen Griffin Kimberlee Soule Inga Sugitha Rowena Tate Mohammadee Bhaiyat Jeri Kao Terri Merritt STUDENT MEMBERS Tanya Bailey Elizabeth Brekelbaum Maria Grindle Ann Ling Monique Sundlie Jodi Kohut |
Do You Have News ISSTD Members Can Use? We need your help to make NYCU a great feature, full of news and connecting us all! Do you have a book or journal article coming out that you wish to share? Have you received an award for your work in the field? Have you been part of developing a new website or training course? If so, we want to hear from you! Don't be shy, submit your news to us so that we can share with other members. Submission Deadline: 20th of the month Send to ISSTD Editor, Kate McMaugh: katemcmaughpsychology@gmail.com