New book explores why shame matters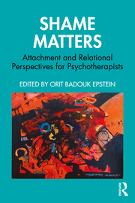 This month sees the launch of an exciting new book exploring a topic our clients often bring to therapy: shame. The book "Shame Matters, Attachment and Relational Perspectives for Psychotherapists", is edited by Orit Badouk Epstein, (Routledge, 2021).
Produced by the Bowlby Centre in the UK, this monograph is a collaborative work written by internationally renowned clinicians and researchers who have deepened our understanding of the aetiology and impact of shame on the human behaviour and psyche. The book also explores the impact of racism and socio-economic factors on the development and experience of shame. Shame Matters explores and develops understanding of the impact of shame in the clinical space and provides insights into how new ways of relating can be nurtured. The book also details attachment-informed research into the experience of shame and outlines how it can be applied to clinical practice. The book has chapters looking at shame from attachment, developmental, relational, philosophical, trauma and cultural perspectives by authors including Judith Solomon, Colwyn Travarthen, Richard Chefetz, Aileen Alleyne, Ulrich Schultz, Adriano Schimmenti, Elaine Arnold and Orit Badouk Epstein.
The book has already been met with positive reviews with Pat Ogden writing: "…each chapter offers a unique and illuminating perspective that, taken together, gift the reader with clinically relevant ways to relationally conceptualize and successfully address shame in ourselves and our clients."
Professor Martin Dorahy adds: "This book explores with dedication and creativity the importance of shame in human relationships, especially those centring around therapy. Like shame, this book matters. Therapists of every persuasion will benefit from absorbing its content and those they work with will grow as a result."
You can purchase the book from the Routledge website here.
and also at Amazon (remember to use your Amazon Smiles to raise money for ISSTD!):
Welcome ISSTD's New Members in October!
Professional Members
Safa Boga
patricia bresky
Jessica Bright
Kelly Burris
Leigh Ann Byrum
Melanie Davenport
Bruce Deveau
Anja Draper
Joanna Filidor
Christopher Garvie
Barry Gridley
Pamela Gruver-McCloskey
Gisele Harrison
Varida Kautner
Yoel Lipsett
Mary Lynn McDermott
Susan McNair
Kristin Nelson
Andrew Nielsen
Elizabeth Peart
Arti Persaud
Jillian Potter-Bonsell
Saratha Raju
Jo-Ann Roden
Marla Samuel
Rick Steele
Sharon Sudol
Lisa E White
Student Members
Erez Aival-Naveh
Payton Bernett
Lorraine Hedges
Elizabeth Ogden
Katherine Reuben

Emerging Professional Members
Maria Aleksandrova-Howell
Kaitlin Chicca
Maurite Fober
Catherine Gumera
Sherrie Kahn
Shweta Pal
Laura Thompson
David Bowman Volker
Susan Wilcox
Dorothy Winters












Do You Have News ISSTD Members Can Use?
We need your help to make NYCU a great feature, full of news and sharing the activities of our community members. Do you have a book or book chapter coming out that you wish to share? Have you received an award for your work in the field? Have you been part of developing a new website or training course? Have you had a chance to develop something creative and unique that you wish to share with others in the field? If so, we want to hear from you! Don't be shy, submit your news to us so that we can share with other members. (Please be aware: we do not offer book reviews, but a chance to share with others that your book has been published.)
Submission Deadline: 20th of the month
Send to ISSTD Editor, Kate McMaugh: katemcmaughpsychology@gmail.com