Working with Survivor Siblings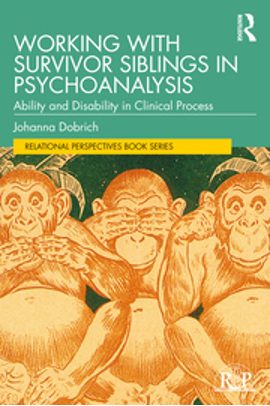 ISSTD Member Johanna Dobrich's new book explores the effects of growing up with a severely disabled sibling, Working with Survivor Siblings in Psychoanalysis.
This unique book integrates both academic and memoir writing to explore the impact of lateral survivorship on the clinical moment, making room for a contemporary and nuanced appreciation of siblings in psychoanalysis.
The book will be of interest and value to psychoanalysts and other mental health professionals who treat survivor siblings and may also be of use to therapists who are themselves survivor siblings.
The book is available in digital and paper formats. It can be purchased from most leading bookstores as well as from the publisher Routledge.
Dissociative Experiences Cards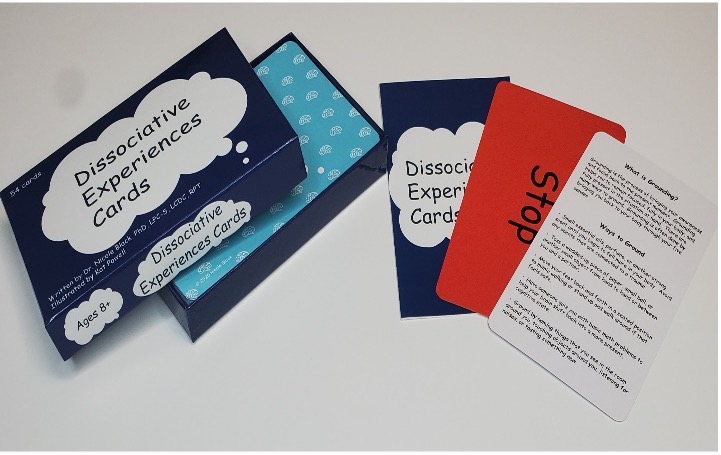 Have you been looking for therapy tools to assist you in working with your dissociative clients? These cards might just be your answer. ISSTD Member Nicole Black has developed a deck of card that depict dissociative experiences.  Each deck contacts two sets of 27 cards.
The first set contains drawings of realistic depictions of dissociative experiences. The second set shows symbolic depictions of the same experiences. Each image is unique and the symbolic cards aim to provide an emotional distancing from symptoms of dissociation. The cards depict a full range of dissociative experiences including derealization, depersonalization, and dissociation of the personality. These cards are designed for clinicians, individuals with dissociative symptoms, and their families. The versatility of the cards makes them appropriate for use with individuals diagnosed with range of disorders from PTSD to DID. These cards may play a role in helping people identify and describe their symptoms, when words fail them, or are not enough. The sets also include a 'grounding card' with information on grounding on front and back, a 'warning/stop' card and an instruction booklet. As an added bonus the set includes a link to a downloadable PDF for blank card template.
Nicole reports that the Spanish version of the cards will be completed in May and will be soon available for purchase. Nicole has also had offers to translate the cards into Greek and German, so stay tuned for more information about that.
These images of the cards show how they could appeal to adults, teenagers and older children.
The cards are available from Etsy at Nicole's therapy resources shop called Phoenix Arise.
Welcome ISSTD's New Members in April!
Professional Members
Katrine Banaghan
Becky Beck
Michel'e Bertrand
Julie Bivins
Danielle Conklin
Nancy Dereksen
Elana Dor
Stephanie Durnford
Shannan Farley
Judy Gardner
Rodrigo Gillibrand
Julia Gottlieb
Sabrina Hermosilla
Mitchell Hicks
Regina Hund
Jennifer Jones
Teresa Klavekoske
Mandy Leonards
Suzanne Mallery
Elizabeth Lea Massiah
Erin K. McCleary
Eimir McGrath
Amanda Roman
Sandra Joy Schubert
Jen Shelton
Beth Steinberg
Rebecca Stern
David Tofler
Mary Ann Winter-Messiers
Emerging Professional Members
Kai Herschl
Samantha Kinkaid
Nancy A Lewis
Eva Schäflein
Soleana Silva
Lisa Smith
Shawna Stillwell
Brandy Walker
Caroline Witek

Student Members
Nikhil Kaistha
Simona Karbouniaris
Miranda Lane
Maria Rippo
Seema Sharma
Barbara J Shaya













Do You Have News ISSTD Members Can Use?
We need your help to make NYCU a great feature, full of news and sharing the activities of our community members. Do you have a book or book chapter coming out that you wish to share? Have you received an award for your work in the field? Have you been part of developing a new website or training course? Have you had a chance to develop something creative and unique that you wish to share with others in the field? If so, we want to hear from you! Don't be shy, submit your news to us so that we can share with other members. (Please be aware: we do not offer book reviews, but a chance to share with others that your book has been published.)
Submission Deadline: 20th of the month