Elizabeth Howell's Latest Book: A Focus on Relational Healing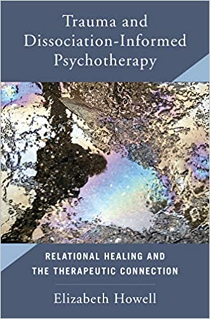 ISSTD Fellow, Elizabeth Howell, PhD has just released her sixth book: Trauma and Dissociation-Informed Psychotherapy: Relational Healing and Therapeutic Connection, published this month by Norton.
This book proposed a model for therapy in which the client and the practitioner are both traumatized and flawed human beings who affect each other in the mutual process that promotes the healing of the client—psychotherapy. This book discusses how people are universally subject to trauma, explains what trauma and dissociation are and outlines how to understand and work with normative as well as extreme dissociation.
Howell explains the dissociative, relational, and attachment reasons that people blame and punish themselves. Howell has a great appreciation of the history trauma and dissociation in psychoanalysis and in this book she also covers the difference between repression and dissociation, and how Freud's exclusive focus on repression and the Oedipal model impeded recognition of the serious consequences of trauma, including child abuse. The book also discusses new structural models of trauma and dissociation.
Although only just released the book is already receiving great praise. Orit Badouk Epstein describes it as "a masterful synthesis of different strands of trauma literature written with experience, insight and compassion. A true gem and a must read!"
Psychiatrist and ISSTD Fellow, Richard Chefetz, M.D., in reviewing the book writes:
Elizabeth Howell writes from her heart, guided by her deeply felt and valued relationships with her patients, clearly cherished as her most important collaborators. Her original thinking shines through as she adds her own views and creatively spells out and interprets the work of both psychoanalytic thinkers and traumatologists, an integrative feat few writers have achieved. Sit down with Elizabeth, as I have, and enjoy her company. You will be delighted!
The book is available from Amazon (remember to use your Amazon Smiles to raise money for ISSTD) and also from the publisher, Norton.
Resource to Assist with Administering the MID 6 Remotely
In light of the ongoing COVID-19 outbreak, guidelines have been created to aid in administering the Multidimensional Inventory of Dissociation (and obtain reliable results) when your client is unable to come to the office to complete it.
This is a convenient, one-sheet in pdf format intended to help your client self-administer and return the document to you for scoring. It can be found here, as well as at the bottom of the MID and MID Manual page, here.
It is suggested that the most useful version of the MID for a client to complete at home is the MID MS Word version (which is both typeable and printable), which is also available on the MID and Manual page of the MID website. This version makes it easier for you to copy the 218 items from the Word doc and paste into the Questions tab in the MID Analysis once your client has gotten it back to you.
Jennifer Freyd Launches New Nonprofit
With the help of an incredible team of supporters and scholars, the Center for Institutional Courage, Inc has been launched.  This nonprofit research and educational organization will focus on the movement for transparency and equity.  They are committed to stop the harm that occurs when institutions fail the very populations they should nurture and protect.

This would be a challenging task even without a pandemic and now, because of this crisis, the need to replace institutional betrayal with institutional courage has additional urgency.  With an intensive program of research, publication and advocacy, and with outreach to many audiences, they will make a difference in today's world.

Please tour the website at https://www.institutionalcourage.org/ to see the hope we feel and to learn about the work we plan to accomplish.  The Center for Institutional Courage is here for all of us – and we will grow in strength and purpose together — with courage.
Webinars and Podcasts that May Interest You
ISSTD Members have been busy this month as guest speakers in a range of podcasts. A couple which may interest you include:
Fran Waters speaks to The Trauma Therapist Project on coping during COVID 19, giving useful tips on self care for all of us, with a focus on families.
Peter Barach is a guest on System Speak this month, speaking about the transition to telehealth because of COVID, with useful information about how to cope during the pandemic as well as resources and interventions to assist with the adaption to telehealth counselling:
Welcome ISSTD's New Members in April!
Professional Members
Ludwig Cornil
Anabel De La Cruz Sanchez
Stephen DiJulio
Sheila Georgeff Acosta
Mark Grant
Denise Honeyborne
Stephanie Johnson
Pete Lobert
Kathryn Jean Mas
Charlotte Ormond
Bianca Raffety
Kathleen Reinhardt
Trisha Rich-Thurm
Jeff Ryan
Nadine Smith
Emerging Professional Members
Jordan Bracht
Kate Hoover
Patrice Jacob
Courtney Pessa

Student Members
Fiona Crounin
Karli Gallo








Do You Have News ISSTD Members Can Use?
We need your help to make NYCU a great feature, full of news and sharing the activities of our community members.
Do you have a book or book chapter coming out that you wish to share? Have you received an award for your work in the field? Have you been part of developing a new website or training course? Have you had a chance to develop something creative and unique that you wish to share with others in the field? If so, we want to hear from you! Don't be shy, submit your news to us so that we can share with other members. (Please be aware: we do not offer book reviews, but a chance to share with others that your book has been published.)
Submission Deadline: 20th of the month
Send to ISSTD Editor, Kate McMaugh: katemcmaughpsychology@gmail.com