Attachment Journal – Special Issue on Attachment and Sexual Trauma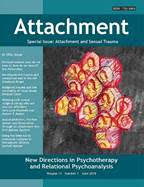 The first 2019 issue of the popular journal Attachment: New Directions in Psychotherapy and Relational Psychoanalysis is sure to be of particular interest to ISSTD Members, with a special focus on attachment and sexual trauma. This edition contains a number of articles written by ISSTD Members including Orit Badouk Epstein, Robert Muller and ISSTD Board Member, Michael Salter.
The contents are diverse and promise to be of great interest and use to ISSTD Members:
Developmental trauma and unresolved loss in the Adult Attachment Interview by Shoshana Ringel
Malignant trauma and the invisibility of ritual abuse by Michael Salter
Dancing with demons: working with vowed religious clergy who are also sex offenders by Sara Lynn Rependa and Robert T. Muller
"The most tender place in my heart is for strangers": sexual addiction, the fear system and dissociation through an attachment lens by Orit Badouk Epstein
Using the DMM–AAI to overcome ruptures in therapeutic alliance by Kenichi Mikami
From nightmare to memory: a psychoanalytic model of early childhood incest trauma by Kathy Roe
A tribute to Giovanni Liotti by Mauricio Cortina
The origins of the Adverse Childhood Experiences Movement and child sexual abuse: a brief history by Simon Partridge
The Journal is available by subscription. For more information please click here.
New Book Proposes Model for Integrated Care for the Traumatised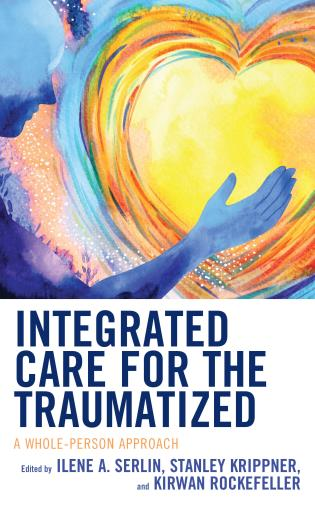 ISSTD Member Dr Stanley Krippner has collaborated with Ilene Serlin and Kirwan Rockefeller to edit an exciting new book for the trauma field: Integrated Care for the Traumatized: A Whole-Person Approach.
Integrated Care for the Traumatized proposes a model for the future of behavioral health focused on health care integration and the importance of the Whole Person Approach (WPA). The book represents a comprehensive and multimodal contribution to the trauma and dissociative disorders field. It features established and successful therapeutic models from the U.S. and abroad that offer theory, research, and clinical vignettes of Whole Person Approaches. The book opens with chapters exploring the foundations of Whole Person Approach to integrated care. Other chapters cover a diverse array of therapies including the creative arts therapies, movement-based therapy and animal assisted therapy. Another section of the book steps away from individual therapies and focuses on whole-community approaches. The book concludes with future-focussed chapters setting new directions for health care of the traumatised.
This book fills a void applying the WPA integration to the traumatized that enables the reader to learn from experienced trauma practitioners on how to assess and treat trauma as humanely and compassionately as possible. This approach of expanding the possibilities of behavioral health by centering upon the whole person is an old idea that is emerging as a modern solution to over specialized practices.
ISSTD Fellow Christine Courtois has said about the book: "Integrated Care for the Traumatized: A Whole Person Approach is an innovative text that covers a range of individual and communal interventions using a variety of modalities. A very wise, well-written, and descriptive book that discusses the need for collaboration between providers and agencies. I highly recommend this book."
The book is available from the publishers and from Amazon.
Religion-based Conflict in the LGBT Community
Sara Schwartz Gluck, PhD, LCSW
ISSTD member Sara Schwartz Gluck has recently co-authored a book chapter with colleague Michael Kariyev titled, "There is no Black or White in the Rainbow: Expressive Art Therapy for LGBT Individuals in Religion-Based Conflict." This was released on June 21 in "Creative Arts Therapies and the LGBT Community."
The book chapter outlines the role of organized religion in providing a sense of spiritual meaning and structure to its practitioners, but explores the stressors for individuals who identify as LGBT who do not fit the norms of their religious environments and may struggle to reconcile their own identities with the desire to maintain a connection to their faith-based cultures. Those struggles may result in cognitive dissonance, in feeling torn, alone, or even abandoned. The conflict may make it difficult for individuals to acknowledge their gender or sexual orientations to those around them, or even to themselves. The book then outlines the use of expressive art therapy which offers a unique non judgemental space for exploration of feelings and inner healing. The book is available for purchase here.
Remember to use your Amazon Smiles to raise money for ISSTD.
Welcome ISSTD's New Members in July!
Professional Members
Kristi Baumbach
Sue Beresford
Monica Finetti
Angela Fleck
Nancy Gerlach
Scott Gibson
Bernadette Guerin
Jay Indik
Bridget McNamara
Katherine Sullivan
Nicolette Banbury
Jo Evenden
Helen Hwang
Kathryn Lieder
Mary Jane Murphy Gonzales
Salley Schmid
Emerging Professional Members
Susan Earnst
Faige Flakser
Danielle Lenhard
Margaret Mevers
Robin Chamberlain
Barbara McCool
Alexander Uhlmann

Student Members
Cary Nayda
Shae Sackman
Michael Serpico
Do You Have News ISSTD Members Can Use?
We need your help to make NYCU a great feature, full of news and sharing the activities of our community members.
Do you have a book or book chapter coming out that you wish to share? Have you received an award for your work in the field? Have you been part of developing a new website or training course? Have you had a chance to develop something creative and unique that you wish to share with others in the field? If so, we want to hear from you! Don't be shy, submit your news to us so that we can share with other members. (Please be aware: we do not offer book reviews, but a chance to share with others that your book has been published.)
Submission Deadline: 20th of the month
Send to ISSTD Editor, Kate McMaugh: katemcmaughpsychology@gmail.com