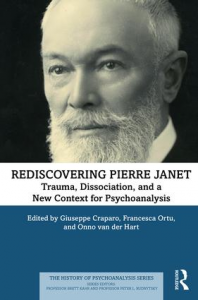 Rediscovering Pierre Janet Pierre Janet is well-recognised as a pioneer of our field. Once seemingly near-forgotten by the psychological sciences, he is being discovered anew in recent years. Esteemed ISSTD Fellow Onno van der Hart, PhD has long been a champion of furthering our knowledge of Janet. He joins Giuseppe Craparo and Francesca Ortu in editing a newly released book: Rediscovering Pierre Janet: Trauma, Dissociation, and a New Context for Psychoanalysis. Divided into three parts, the first section explores Janet's influence on psychoanalysis, covering a wide breadth of analytical thought, spanning the time from Freud and Jung, through to Bromberg. The book then goes on to explore Janet's work on contemporary psychotraumatology. The third part of the book explores Janet's influence on contemporary psychotherapy, including the treatment of posttraumatic stress disorder and dissociative identity disorder. Rediscovering Pierre Janet draws together eminent scholars from a variety of backgrounds, many of them well known members of ISSTD. Some chapters include:
Andrew Moskowitz and his colleagues explore the writing and thinking of Janet on hallucinations, paranoia, and schizophrenia;
Kathy Steele and Onno van der Hart discuss the hypnotherapeutic relationship with traumatized patients and explore Pierre Janet's contributions to current treatment
Onno van der Hart, Paul Brown, and Bessel A. van der Kolk overview Pierre Janet's treatment of posttraumatic stress and
Gerhard Heim and Karl-Ernst Bühler explore Janet's views on the etiology, pathogenesis, and therapy of dissociative disorders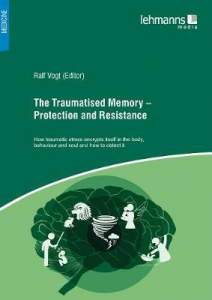 Commenting on this book, well known therapist and writer, Philip M. Bromberg, author of Standing in the Spaces, writes: "In this magnificent volume, both scholarly and personal, Janet's contribution and the man himself are embodied and come alive in every chapter. It is a book for us, and a 'must-read'." Published by Routledge the book is available through the following Routledge and Amazon. The Traumatised Memory: English Translation now available The Traumatized Memory – Protection and Resistance (2019), edited by ISSTD/ESTD Member, Dr Ralf Vogt, is now available in English translation. This important collection of writings explores how traumatic incidents are psychologically mapped and coded into symptoms of the body and into mental images. The book explores how this information is encoded, saved and stored by survivors, depending on their age, the cruelty level of the incident or the accumulation of terrible events. It also asks and explores how this encrypted data can be later retrieved and decrypted in a manner that is therapeutically effective and emotionally acceptable. This book is one that can be understood by psychotherapeutic colleagues and affected clients alike. The illustrative case examples are also interesting for anyone who wants to experience the logic and contradictions of the fascinating unconscious. Initially printed in German, the editor (Ralf) was able to have the publisher –Lehmanns Media- produce an English print version. In addition, there is a very affordable ebook available, for those colleagues who wish to save on paper and shipping costs.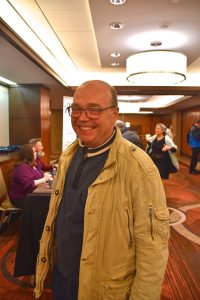 This book features the writings of many prominent members of ISSTD and ESTD including:
Winja Lutz, who writes on the reality of 'False Memories', the False Memory Syndome Foundation and False Memory research;
Renée Potgeiter Marks, who writes on the process of memory recall in children with Complex Trauma and Dissociation;
Valerie Sinason who writes on time, memory and DID;
Joanne Twombly who provides a case study of a woman with DID;
ISTD Past President, Kevin Connors who writes on memory and dissociation;
Irina Vogt who explores perinatal and birth trauma; as well as
Ralf Vogt himself who contributes many chapters exploring assessment and treatment, particularly the SPIM-30 model, and this work is often explored and illustrated through the lens of detailed case study.
The print book is available here and the ebook is available here. Welcome ISSTD's New Members in April!
PROFESSIONAL MEMBERS
Torrie Benson-Pryor
Andra Bruce
Michelle Gronum
Stephanie Helga McIlrath
Sharon McLendon
Tracy Murdoch
James Perry
Zoe Pool
Joanne Regina
Dena Robertson Blackford
Sunica Schreiner
Zoe Thomas
Cynthia Vander Ark
Mary Alice Wentling
Jason Wheatley
EMERGING PROFESSIONAL MEMBERS
Sean Burns
Jason Cleveland
Anna Groom
Barbara Kates
Barbara Mark
Jennifer Pearson
Nigel Surridge
Ian Niecko
STUDENT MEMBERS
Geoffrey Kaile
Julia Reed
Katherine Lambos
Samantha Lukey
Jessica McDaniel Johnson


Do You Have News ISSTD Members Can Use? We need your help to make NYCU a great feature, full of news and sharing the activities of our community members. Do you have a book or book chapter coming out that you wish to share? Have you received an award for your work in the field? Have you been part of developing a new website or training course? Have you had a chance to develop something creative and unique that you wish to share with others in the field? If so, we want to hear from you! Don't be shy, submit your news to us so that we can share with other members. (Please be aware: we do not offer book reviews, but a chance to share with others that your book has been published.) Submission Deadline: 20th of the month Send to ISSTD Editor, Kate McMaugh: katemcmaughpsychology@gmail.com