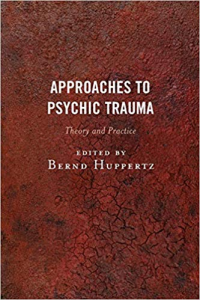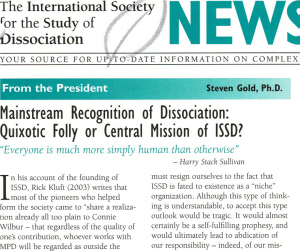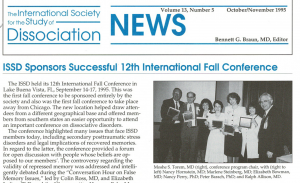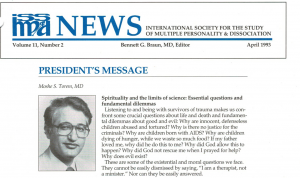 New Book Chapter Explores Trauma via the Lens of Attachment Theory
ISSTD Member, Orit Badouk Epstein has written a chapter exploring trauma work through the lens of Attachment Theory, in the book Approaches to Psychic Trauma, Theory and Practice Edited by Dr Bernd Huppertz and published by Rowman &Littlefield (2019). Approaches to Psychic Trauma: Theory and Practice is an edited collection of the writings of trauma clinicians from around the world. It covers recent developments and overviews the treatments available for traumatized people, describing elements they have in common and those that are specific to each treatment. Contributions cover the diversity of the field, including material on ego psychology, self-psychology, object-relations theory, attachment theory, psychoanalysis, and art therapies. Case studies further illustrate the application and practice. Orit's book chapter is entitled: "Trauma via the Lens of Attachment Theory: Gaslight Reality Distortion by Familiar Attachment Figures". Originally derived from the classic film Gaslight (1940), the term 'Gaslighting' has recently been revived and describes the reality distortion some of our clients have endured. From the personal to the societal, this chapter is about the various degrees of gaslighting, in particular about a client who has DID and whose life has been marked by continuous and insidious emotional torment. It describes how the relational work, using insights from attachment theory, has helped the client shift her distorted internal working models and brought about growth and a sense of selfhood. Approaches to Psychic Trauma can be purchased here. Remember to use your Amazon Smiles to raise money for ISSTD.
Preserving our History: Archives of ISSTD News Prepared
ISSTD has a proud history of regular Newsletters communicating between members, dating back to 1983. Our early newsletters were indeed very important, as they predated email and social media, making it the only real way for members across the globe to connect. ISSTD Fellow Professor Warwick Middleton, MD, a member with a keen interest in our history, has very generously scanned and digitalised all copies of the Newsletter from 1983 to 2006 when our current electronic format commenced. These make for a fascinating read and give a detailed insight into how our Society has operated, including the initial foundation, the early conferences, the persecution of members during the 'False Memory Wars' and our gradual recovery and growth. Technological advanced are showcased with the newsletter starting out as one or two page typed letter and developing into a more formal production complete with photos. We hope to highlight some of these newsletters in our regular Focus on History section of ISSTD News and will be exploring other ways to make them accessible to members on our new website. In the meantime enjoy some photos of our evolving Newsletter.
Welcome ISSTD's New Members in January!
PROFESSIONAL MEMBERS
Richard Brouillette
Johanna Buzolits
Debi Kim
David M. Lawson
Annie Monaco
Robin Barre
Amy Connor Bradley
Robert Kallus
Rebecca Kase
Anastasia Kenney
Kathleen Kolaritsch
Heather McCormack-Moon
Rita Princi-Hubbard
Michael Ritter
Betcy Walter
Nicola Waters
Danae Wheatley
EMERGING PROFESSIONAL MEMBERS
Colleen Haselhorst
Mary Sue McCarthy
Jamie Swan
Kate Trancynger
Tracey Conrad
Stefan Schaffeld

STUDENT MEMBERS
Tyler Langley
Kerriann Now
Talia Soto
Melissa Ann Tielke
Molly P Wolosky
Faith Curtin Koch
Francesca Maxime
Michael Pace


Do You Have News ISSTD Members Can Use? We need your help to make NYCU a great feature, full of news and sharing the activities of our community members. Do you have a book or book chapter coming out that you wish to share? Have you received an award for your work in the field? Have you been part of developing a new website or training course? Have you had a chance to develop something creative and unique that you wish to share with others in the field? If so, we want to hear from you! Don't be shy, submit your news to us so that we can share with other members. (Please be aware: we do not offer book reviews, but a chance to share with others that your book has been published.) Submission Deadline: 20th of the month Send to ISSTD Editor, Kate McMaugh: katemcmaughpsychology@gmail.com