Website on Psychogenic Seizures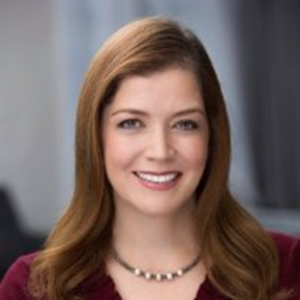 ISSTD Member Lorna Myers, PhD, developed a comprehensive website (nonepilepticseizures.com) on dissociative seizures (also known as, psychogenic non-epileptic seizures-PNES). It features a diverse array of informational topics including frequently asked questions (FAQs), reading recommendations both for professionals and patients, webinars, useful links and downloadable information forms for patients and caregivers. There is also an associated Facebook page and blog on PNES that can be visited from the launching site. As of this year, she invited a group of specialists in PNES from around the globe to join the website and to work together to build public awareness and a greater reservoir of information for health professionals. The purpose of nonepilepticseizures.com is now to create the most comprehensive consumer information, public and professional education website on PNES in the US and other English-speaking countries. One additional feature of nonepilepticseizures.com that has proven highly useful is a referral page that lists mental health professionals with an expertise or interest in PNES. Please note, having treated a patient/s with PNES at some point and being interested in treating this condition qualifies you to be listed as a potential referral. At this time, the list includes therapists in nearly 20 US states as well as in Australia and Canada. It is completely free of charge to be listed. Check out the website at www.nonepilepticseizures.com.
Reflections from the Aftermath of an Historic Child Abuse Scandal
ISSTD member Sue Richardson found herself, in 1987, in the centre of a major national child abuse scandal. Despite not wanting to be a 'key figure' in a high profile case, she nevertheless became one. Sue, a psychotherapist in independent practice, and a colleague, Heather Bacon, have recently updated a book they have edited about this experience. However, this book is not just above this specific experience, it is also an academic treatise about the role of such enquiries, how we respond to them, and ways in which we can better respond to childhood trauma. Now re-issued with a substantial new introduction and concluding reflections, this book provides the only account by key professionals directly involved in the Cleveland cases, allowing readers to understand what really took place in Cleveland and why it continues to matter today. The book discusses complex issues such as the medical diagnosis of child sexual abuse; the continuum of disclosure; child protection issues and concludes by discussing how we, as a society, have progressed, or failed to progress, in issues of child protection. It analyses the many failures to address the plight of sexually abused children and makes constructive suggestions for the way forward to provide more effective interventions for children at risk. The book is available from Amazon here. (Remember to use your Amazon Smiles to raise money for ISSTD.)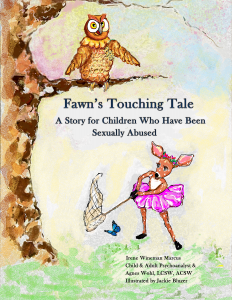 New Book for Child Survivors of Sexual Abuse
ISSTD Member Agnes Wohl, LCSW has teamed with psychotherapist Irene Wineman-Marcus and illustrator Jackie Bluzer to produce a new book for children who have been sexually abused: Fawn's Touching Tale: A Story for Children Who Have Been Sexually Abused. While a number of books focus on prevention of child sexual abuse and on educating children, this book is one which aims to support children who have been abused. The book uses animal characters to allow children to process painful, complex and mixed emotions. Parents, psychotherapists and school professionals can use this book as a point of entry into complex feelings that the child, or any sexually abused person, might frequently experience. The authors say that "It is our hope is this book will help the child or adult begin the process of healing, and gradual resumption of his or her healthy psychological development." The book is available in Kindle and paperback at Amazon. Remember to use your Amazon Smile account to raise money for ISSTD!
Thesis on Dissociative Disorders wins University Medal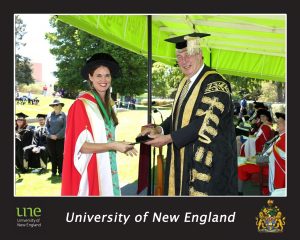 ISSTD Student Member, Mary-Anne Kate has won a University medal, Chancellor's Doctoral Research Medal, for her PhD: The prevalence of dissociation and dissociative disorders, and trauma and parent-child dynamics as etiological factors: implications for the validity of the Trauma Model and Fantasy Model of dissociation. This award was given to five PhD students across the university in recognition of their research being of "exceptional merit and at the forefront of the field". Mary-Anne Kate has been a PhD student at the University of New England, Australia and was supervised by Dr Graham Jamieson and ISSTD Past President, Professor Warwick Middleton. If you would like to know more about Mary-Anne and her research you can read our interview with her in the September edition of ISSTD News.
Positions available
ISSTD Members may be interested in two new positions available at the Trauma Center, at the Justice Resource Institute. Clinical Director The Trauma Center at JRI is pleased to announce a national search for an experienced clinician who is committed to trauma-informed practice to serve as Clinical Director (CD). The Trauma Center plays an important role in advancing trauma-informed treatment, research, and education within JRI, the commonwealth of Massachusetts and nationally. As an integral member of the management team, the CD develops and maintains clinical programming, provides oversight for the daily operations of the clinic, and manages the delivery of therapeutic services and coordination of client care. For more information please click here.
Clinician The Trauma Center at Justice Resource Institute has an opening for a part- or full-time clinician in our Brookline, MA office. We are looking for a committed and flexible clinician interested in joining a stimulating and supportive community of professionals, dedicated to serving children, adults and families impacted by trauma & life adversity, and receiving extensive training opportunities to expand their expertise. This position with include a combination of fee-for-service and salaried hours, and the clinician will hold a position on an exciting new mobile comprehensive clinical treatment team (CTTT), providing trauma-informed, evidence-based treatments to diverse groups in the greater Boston region. For more information please click here.
More Podcasts
ISSTD Member Susan Pease Bannitt has recently featured in two podcasts talking about patient centred therapy technique, attachment in the therapeutic relationship and preventing attachment rupture in therapy. She also discusses the concepts of 'superhuman empathy' and intuition. Listen to Susan speak with Laura Reagan, LCSW-C on Therapy Chat And with Guy McPherson on the Trauma Therapist Podcast
Welcome ISSTD's New Members in October!
PROFESSIONAL MEMBERS
Margaret Bellows
Jennie Beltz
Dianne Blayney
Amanda Faulkner
Karen Gennaro
Diane Gottfried
Lou Himes
Marcia Holland
Jennifer Kiszely Bressler
Kelly McDaniel
Simona Noaghiul-Yland
Tarz Palomba
Lauren Picciano
Peter Stathakos
Sharon Steckler
Lindsey Steffen
Lisa Tracy
Mary Beth Wiggins
Cheri Yadon
EMERGING PROFESSIONAL MEMBERS
Elizabeth Chalenburg
Laura Michaels
Belinda Rooks

STUDENT MEMBERS
Eric Bottino
Robert Considine
Yekaterina Nikiforova
Megan Williams











Do You Have News ISSTD Members Can Use? We need your help to make NYCU a great feature, full of news and connecting us all! Do you have a book or journal article coming out that you wish to share? Have you received an award for your work in the field? Have you been part of developing a new website or training course? If so, we want to hear from you! Don't be shy, submit your news to us so that we can share with other members. (Please be aware: we do not offer book reviews, but a chance to share with others that your book has been published.) Submission Deadline: 20th of the month Send to ISSTD Editor, Kate McMaugh: katemcmaughpsychology@gmail.com