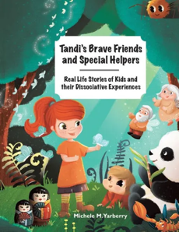 ISSTD Member Michele Yarberry has written a new children's book, Tandi's Brave Friends and Special Helpers targeted at children and their parents who have experienced trauma and dissociation.
Tandi's Brave Friends and Special Helpers is intended to help parents, caregivers, and professionals who work with children better understand perplexing behaviors and discover the missing links to more effective treatment outcomes. The book contains stories of children who experience trauma and dissociation. Each story is gently and sensitively told and great care is taken to de-pathologize trauma responses.
Parents, caregivers and children will find that this book gives them a basic understanding of dissociative disorders, describes how these disorders present in children and provides relatable, real-life stories of children and their families, who have the lived-experience of Dissociative Disorders. The book also provides additional resources and information for parents and caregivers.
This book, illustrated in child-friendly way, is a helpful resource in itself, but it is actually the first book in a series, with subsequent publications focusing on techniques and modalities for treating and diagnosing Dissociative Disorders.
The book is available in kindle and paperback from:
Welcome ISSTD's New Members in December!
Professional Members
Linda Carroll
Rachel Schooley
Racheal Hebert
Frances Murdoch
John Kreitzberg
John O'Neal
Madeline Vann
Summer Forlenza
Charles Maddison
Joelle Anderson
Laura A Valdes-Borsum
Nicole Jalazo Halpern
Becky Hellwig
Joseph Klemz
Kimberly Edstrom Schiller
John Burns
Amy Klatzkin
Student Members
Diane Racz
Chantal Ruchti
Aida Mysan
Joan Keltgen-Lo

Emerging Professional Members
Rebecca Wickersham
Micaela Reschman
Janelle Santucci
Cecily Davis







Do You Have News ISSTD Members Can Use?
We need your help to make NYCU a great feature, full of news and sharing the activities of our community members. Do you have a book or book chapter coming out that you wish to share? Have you received an award for your work in the field? Have you been part of developing a new website or training course? Have you had a chance to develop something creative and unique that you wish to share with others in the field? If so, we want to hear from you! Don't be shy, submit your news to us so that we can share with other members. (Please be aware: we do not offer book reviews, but a chance to share with others that your book has been published.)
Submission Deadline: 20th of the month
Send to ISSTD News Editor, Kate McMaugh: katemcmaughpsychology@gmail.com