With October being DV Awareness month in the US, we felt it was timely to focus ISSTD News on issues of Domestic Violence.
In Australia, while it is not DV Awareness Month, media attention and focus is increasing prior to their main awareness raising campaign in November. New ISSTD member Noula Diamantopoulos is a psychotherapist and artist who is part of an innovative campaign that is sponsored by a partnership between Twogood & Deliveroo & Amex.
Twogood is an initiative which produces high quality meals for women in need. Using a "buy one, give one" scheme when someone purchases a meal, another one is donated to a domestic violence shelter. The campaign is expanding with the help of American Express and Deliveroo and now delivers approximately 300 meals a week to refuges.
Noula, a therapist who works in trauma, is also an artist, and has been instrumental in creating a unique portrait of Felicity, a domestic violence survivor, and face of the campaign.
In a rather incredible feat Noula completed the 60 square metre (645 square foot) portrait entirely out of jar lids to symbolise the meals, delivered in jars to shelters. In excess of 20,000 varying sizes of lids were used representing the 20,000 meal target that this campaign wishes to achieve during the month of October.
The massive work, which required the assistance of many, including a troupe of volunteers made up of family, friends, colleagues, students and one of Noula's clients. Noula completed almost all of it while working her usual caseload, only taking the last week off from her therapist role.
The mosaic mural is currently located on a building in Circular Quay in the centre of Sydney. It will remain there for six weeks as part of awareness raising.
The tag line Noula created for this image is Love Shouldn't Hurt, a timely message for a nation where one woman a week is murdered in an act of intimate partner violence.
"Speaking as an artist and psychotherapist, domestic violence, too many times, remains hidden and silent," says Noula. "This artwork seeks to strike a chord, to strip away the make up and the cover ups to reveal the underlying black and white facts. There is no justification for domestic violence. Love shouldn't hurt."
During the "Love Shouldn't Hurt" project Noula witnessed positive changes in her client who had benefitted from being involved in a meaningful project. This resulted the creation of a spin off project called "The Butterfly Effect" – a mural of butterflies to be added to by her clients as they wish. This will be displayed in a public space – worked on over the Australian summer period and revealed in May 2018.
Kate McMaugh
ISSTD Editor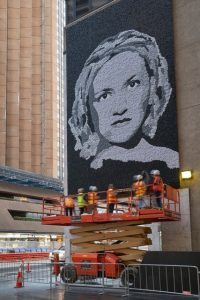 The artwork being installed in the centre of Sydney (Image Credit: Dan Gosse)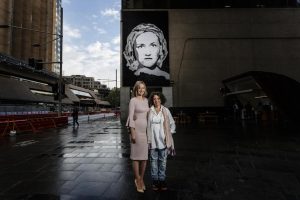 Felicity and Noula in front of the completed work (Image Credit: Getty Images)