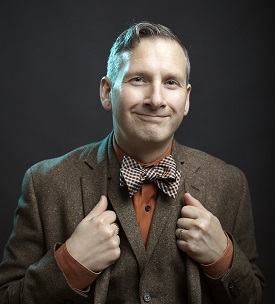 The International Society for the Study of Trauma and Dissociation is thrilled to announce the launch of our new EMDR Therapy Training, which is offered through ISSTD's Center for Advanced Studies in Trauma and Dissociation. It has been approved by the ISSTD Board of Directors, developed by ISSTD members, accredited by the EMDR International Association (EMDRIA), and will be taught by ISSTD members.
The genesis of this course was a question I asked myself some years ago, during my tenure as a member of EMDRIA's Standards and Training Committee: What would an EMDR therapy 'basic' training look like if it was fully dissociation-informed? In other words, what might such a training look like if learners could first understand trauma and dissociated memory networks in the context of a three-stage trauma treatment model, and only then be introduced to the underlying theory and practice of EMDR therapy?
In early 2017, a short time after I was elected to ISSTD's Board of Directors, I brought up the matter for consideration. Then-Treasurer (currently, Immediate-Past President) Christine Forner expressed to me a strong interest in collaborating to draft the proposal, which subsequently outlined a four-module EMDR therapy 'basic' training weaving in learnings from the field of complex trauma and dissociation that would be developed by a small group of clinicians from diverse practice backgrounds over a roughly three-year period. Generously, the Board approved the proposal, and the development process took its first major step forward.
The task group assembled for the first time in May 2017, and included the following individuals (in alphabetical order):
ISSTD Treasurer and Fellow D. Michael Coy, MA, LICSW (EMDRIA Approved Consultant, EMDRIA Standards & Training Committee member 2014-2017, and task group co-chair – USA);
ISSTD Past-President and Fellow Lynette Danylchuk, PhD (ISSTD Professional Training Program Liaison – USA);
ISSTD Past-President and Fellow Christine Forner, MSW, RSW (EMDR trained, Sensorimotor Psychotherapy Certified, and task group co-chair 2017-2018 – Canada);
ISSTD Fellow Marilyn Korzekwa, MD (EMDRIA Certified – Canada);
ISSTD Fellow Rochelle Sharpe Lohrasbe, PhD, RCC (EMDRIA Approved Consultant and Sensorimotor Psychotherapy Institute Facilitator and Curriculum/Instructional Design Consultant – Canada); and
ISSTD member Jennifer Madere, MA, LPC-S (EMDRIA Approved Consultant/Accredited Trainer and task group co-chair 2019-2020).
Additional consultation, review, and editorial support were generously provided by ISSTD Past-President and Fellow Martin J. Dorahy, PhD, DClinPsych (EMDR trained – New Zealand) and ISSTD Fellow and PTP Instructor Gary Peterson, MD (EMDRIA Approved Consultant – USA).
The core group spent the first handful of monthly meetings discussing our experiences of, and history with, EMDR therapy and using it to help heal the wounds of persons with both simpler and more complex trauma histories and dissociative symptoms, as well as the points of entry we saw for a new way of approaching EMDR therapy in terms of dissociation. These early meetings were transcribed verbatim for future reference. Concurrently, the group compiled a wide array of literature to aid the development of appropriate training content according to EMDRIA's current training guidelines.
The next year was spent developing the framework for the training, laid out as a detailed schedule, spanning four modules that included learning objectives for individual segments. In October 2018, the group convened for a weekend writing retreat in Denver, Colorado, to finalize the training schedule and begin the process of authoring the training manual. (I'd like to highlight here that everyone paid out of their own pocket for travel and on-site expenses, with ISSTD staff negotiating the contract for meeting space, as a goodwill contribution to the success of this project.) That weekend was a great success on many counts, especially as both a bonding exercise and a demonstration of what a group of passionate, knowledgeable people can achieve when they share a common goal.
Further development of the training manual and worksheets occurred over the next year, followed by a round of editing by Martin Dorahy, and were finalized in December 2019. Alongside this process, in the second half of 2019, the task group co-chairs worked closely with ISSTD staff to finalize other required materials to accompany the educational components. All of the documentation was subsequently submitted to the EMDRIA Standards & Training Committee in late-December 2019 for review and accreditation. The task group's hard work was rewarded in April 2020 with EMDRIA's stamp of approval and an initial accreditation, paving the way for the first training to take place in September 2020.
The course, as developed, focuses on the needs of new learners who have never participated in EMDR therapy training of any kind, and combines both in-person and live, webinar-based learning. (The in-person portions of the initial training later this year may be moved online, if it becomes clear that it would be safer to do so, owing to the COVID-19 pandemic.) At this time, the training is restricted to learners in North America, which is the EMDR International Association's accreditation jurisdiction.
Consisting of four modules and a total of 80 hours that combine didactic, practicum, and group consultation learning formats, this training will teach the responsible application of EMDR therapy in its Standard Protocol form by helping learners become attuned to the presence and forms of simple trauma, complex trauma, and dissociation. Additionally, and perhaps most importantly, participants will learn how to discern when (and how), at this stage in their learning, they can use EMDR therapy methods to resolve a person's presenting issues.
I cannot say enough about how hard everyone associated with this training worked to make it a reality. I am deeply grateful to ISSTD's Board of Directors for their unwavering faith in the promise of this project; the skill, time, and care offered by ISSTD Executive Director Mary Pat Hanlin and Membership and Marketing Manager Bethany Bjur in finalizing and launching this training; and, humbled to work alongside my esteemed colleagues, who were beyond generous in sharing their wisdom and, collectively, scores of hours of their unpaid time over the past three years to create a truly superior EMDR therapy training.
I can't wait to see what the coming years hold in store for the field of complex trauma and dissociation with the combination of ISSTD and EMDR therapy. Perhaps you'll join us on our journey.
The first course, which runs from September 2020 through April/May 2021, is limited to 18 participants. For further details, including the schedule, syllabus, and registration information, visit the EMDR Training webpage of the ISSTD website.