Learning and Connecting with Colleagues Across the Globe
I attended the three-day ASCH Basic Hypnosis Training and the first day of the ISSTD conference. The training surpassed all of my positive expectations. The combination of didactic and experiential learning was very well-balanced and the facilitators created a safe environment for learning. Saturday's Plenary address was by Dr. Gabor Maté, author of the book, "When the Body Says No." (For those who missed his lecture, similar talks are available on YouTube.) He is an engaging speaker, and he was at his best when he invited Rosita Cortizo to participate in a demonstration illustrating the constructive use of anger to set boundaries. Dr. Maté reminds us that a rage storm is not constructive anger. As a matter of fact, after a rage storm, the risk of heart attack elevates for the next two hours. He compared healthy emotion to the immune system, in that the function of both is to keep out the bad things and let in good things. Dr. Maté talked about the need to listen to our bodies and care for ourselves because, if we don't say no, our bodies will say it for us by developing stress related illnesses. He suggested that we choose guilt over resentment. Dr.Maté invited us to consider three questions about saying no.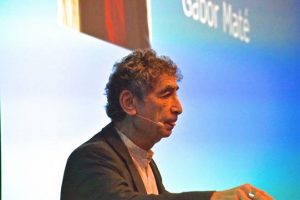 Where in my life am I not saying no?
What is the impact of my not saying no?
What is the belief behind my inability to say no?
Dr. Maté said that most people have difficulty saying no because they fear the loss of attachment. He taught that children cannot risk the loss of attachment because they need caretakers for survival, but as adults we have freedom to say no and survive. With regard to other workshops and panels, there were so many good choices that I often found myself wanting to be in more than one place at once. The atmosphere at the conference was welcoming and respectful. It was an amazing experience to be with colleagues from around the world, from so many different backgrounds and academic persuasions and share the opportunity to learn from one another. Many of us had a chance to catch up outside the conference as well. Seeing the expression on ISSTD News editor Kate McMaugh's face, when she encountered the lights on Broadway for the first time, was a sparkling moment for me. One can read about New York attractions or even see pictures, but there's nothing like experiencing it! For me, that kind of magic occurred at this conference when meeting colleagues in person who had formerly been Internet "penpals."
An Educational and Heartfelt Experience
Tammy
I have only been a member of ISSTD for 4 months. My first ISSTD conference was educational and very adventurous for me. It has been an interesting and educational journey so far for me with ISSTD. I know from my past career as an athletic trainer how rewarding attending a conference can be for my own personal life, but also my professional career. In addition, a conference provides opportunity to socialize with other colleagues from other institutions and a trip to a great location. The main goal is to hear presentations and to converse with other clinicians. As I advance in my career, I have realized that while listening to the presenters is extremely valuable, "hallway" conversations can be even more fruitful.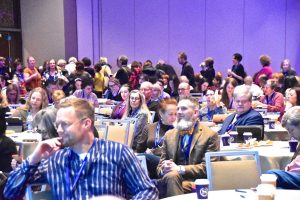 I am a Survivor of childhood abuse and domestic violence, living with Dissociate Identity Disorder. I have had this creative disorder my whole life. I have amazing family, friends and co-workers that accept me for who I am. They know "I am not what happened to me". Each one of these relationships are built on trust and love. This leads me into my experience at the conference as a first attendee. As each one of us know, trust is most important piece of a therapeutic relationship. I had to trust in myself, trust others for guidance and trust in the whole new experience. Well, I did that. I met a couple of amazing ladies, whom I was lucky enough to spend time with and be taught how important a therapeutic relationship is for an individual to heal from trauma. Along with empathy and genuineness, this alliance represents an integral part of the therapeutic relationship and plays an extremely important role in the healing process. I learned to see the possibility of an individual without their defenses getting in the way. I am choosing to see all the possibilities of an individual by looking through a hour glass filled with beautiful multi-color sand. Then I could truly appreciate the unique essence of the individual, separate from the trauma or the ongoing abuse in the individual's life. My gratitude and appreciation to Lynette and Valerie for making my first time at an ISSTD conference educational and heartfelt. I learned a lot about myself and how to build a better relationship with the victims and survivors of sexual and physical abuse that I care for every day as an advocate. Also, I would like say "Thank You" to Kate and Shelley for being so supportive and caring through this time. You two showed me the "Heart" of ISSTD.
A Jam-Packed and Creative Five Days
Shelley Hua
The 2019 Annual Conference was a jam-packed 5 days that was an experience to remember. It has been a whirlwind of amazing, that I can only try to recount. As someone who has eyed the conference program for a couple of years and felt compelled by the calibre of the synopses every year, it only exceeded my expectations. The first two days were the Pre-Conference, where we can fully immerse ourselves in full-day workshops. And they were immersive indeed. With five streams to choose from each day, I attended The Primary Prevention of Complex Trauma and Dissociation: A Public Health Approach (presented by Heather Hall, MD and Michael Salter, PhD) on Thursday and Integration Failures Across Diagnostic Categories in Traumatized Individuals (presented by Kathy Steele, MN, CS, Dolores Mosquera, MA and Suzette Boon, PhD) on Friday. The former was a cosy and engaging group that nevertheless did not let us off the hook about difficult issues. The latter brought the work of ISSTD to life. For me, it also brought this community to life as I sat amongst this large group and realised how beautifully sensitive and astute you all are. The start of the main conference was like a second beginning, filled with dynamicity, new people and a flurry of activity. Well, do I love starting a good thing twice! With a packed program, fantastic Plenary speakers and a busy exhibitor area, it was a great time to experience everything. I was thrilled to meet up with two long-distance friends from the Trauma Therapist Project – Jessica Culp and Sandra Emmanouilides. I was in awe of meeting some people whose names I only think of in print, and sometimes on screen (shhh – I am still in awe). The Students & Emerging Professionals (SEP) lunch was fabulous and loud. And so was the impromptu SEP dinner… it reminded me of being a student. No kidding – it really did, and it reminded me of travel, too, and having a world of possibilities.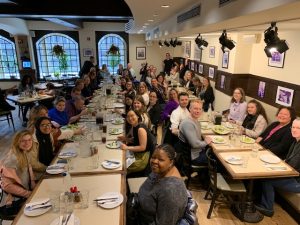 It was wonderful to put faces to Special Interest Group names and to hear a wealth of knowledge presented. There were so many sessions I wanted to see that I wished I could be in more than one place at a time. But failing that, I eagerly await the conference recordings. The poster presentations were amazing and inventive and so underrated. The breaks weren't long enough to speak about everything that had been in the sessions before. Meeting and hearing all you wonderful people enlivened this community and brought me home to our shared purpose – not only amongst those I met, but also those of you I didn't, at the conference and elsewhere, wherever you are. I'm glad to be a part of this with you. It also reminded me of the creativity that underlies everything, all the time. Thank you for putting me in touch with that. I was struck by how sensitively creative, thoughtful, heartful, you all are. It's like coming in to touch the best amongst you all and letting it enrich me and inspire me. I look forward to the many conversations to be continued post-conference, too. I love how beginnings are created and how it spills over into the days and weeks we settle back into our regular lives because it couldn't fit and so it forces us to continue musing and make way for what's possible. I did manage to squeeze in a little bit of shopping. And I was sorry to run out of the last session on the last day to leave in a hurry. Farewell, NYC, it was lovely to meet you in Spring. Thanks again everyone for a memorable experience and here's to the year ahead.