By Warwick, President, ISSTD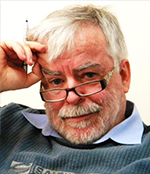 A lot is happening in our Society.
The ISSTD is about to launch its Clinical E-Journal, "Frontiers in the Psychotherapy of Trauma and Dissociation", edited by Andreas Laddis and Steve Frankel. (Prof Martin Dorahy has chaired the E-Journal Task Force that has initially steered this development.)
The ISSTD Regional Seminar, "Treating the Intricate Trauma Client", Langley, British Columbia, has introduced the use of the Zoom conference platform to livestream the opening "Dissociation 101" session, the first occasion that geographically remote colleagues will be able to join an ISSTD conference live.
The ISStD has never had more regional seminars/conferences currently being offered or in the planning stage. Such events include conferences in Langely (October 15-16, 2016), Chicago (November 11, 2016), Brisbane (March 18-19, 2017), Baltimore (October 21, 2017) and New York (January, 2018).
ISSTD World has been re-launched and it is the platform for the highly successful ISSTD Book Club moderated by Rick Hohfeler and Joan Haliburn. 130+ have registered to read and discuss Paul Frewin and Ruth Lanius' book, "Healing the Traumatized Self: Consciousness, Neuroscience, Treatment".
Over 30 colleagues have registered for the PTP Spanish Online course offered via the Center for Advanced Studies.
Martin Dorahy (ISSTD) and Andrew Moskowictz (ESTD) are co-chairing a collaborative approach to six research projects involving six senior researchers from each Society. Such intensive and extensive high-level research collaboration between our two Societies is a first.
Gary Peterson and Mary Pat Hanlin et al. have recently pioneered the ISSTD offering hybrid courses incorporating the Zoom platform via our Professional Training Program (PTP). Some 21 colleagues registered for Gary's Chapel Hill course, "Diagnosis and Treatment of Complex Trauma and Dissociative Disorders" (The Standard Course Part 1) which commenced on 8th
Collaborative writing and publishing ventures are gaining pace. Brand et al. published "Separating fact from fiction: An empirical examination of common myths about dissociative identity disorder", Harvard Review of Psychiatry, 24:4, 257-270 (July/August). The article is online at: http://bit.ly/KenPope6MythsAboutDID
The ISSTD has applied for membership of the United Nations Economic and Social Council (ECOSOC), via its UN Task Force (Lynette Danylchuk, Karen Hopenwasser, Sonia Smuts, Christa Kruger and Vivian Pender).
We are close to finalizing the content of a Special (double) Issue of the Journal of Trauma and Dissociation (ISSTD) titled, "The Abused and the Abuser: Victim – Perpetrator Dynamics", (Editors, Middleton/Sachs/Dorahy).
The next in the ISSTD's series of live Webinars is "Communications and collaboration: Multidisciplinary treatment of traumatized/dissociative children", scheduled for 18th November and presented by Na'ama Yehuda. The fifth Webinar for the year will be presented by Kathy Steele on 9th The Chair of the Webinar Committee which is bringing us regular high quality webinars (including for the first time this year, a Spanish language webinar), is Marilyn Korzekwa.
The ISSTD is close to completing an extensive revision and update of its entire Policies and Procedures with this initiative spearheaded by Lynette Danychuk and assisted by Willa Wertheimer and Christa Kruger.
Our Annual Conferences incorporate great social events organized by Christine Forner, May Pat Hanlin and colleagues. Our highly successful night-time tour of Alcatraz at our San Francisco Conference is going to be followed up with a special Spy Museum event in Washington. Details will be posted soon.
On behalf of ISSTD Executive sincere thanks to the many colleagues whose ongoing contributions make the work of our Society such a rewarding and growth-full enterprise to be closely associated with. Thanks to a hard-working and very involved Board, and thanks to those who chair and or are members of committees and task forces. Our Board meets formally 11 times a year, and interacts (via our Basecamp site) about issues very regularly. Our Executive Committee meets most weeks. The Chairs of our committees and task forces meet formally six times a year and there are multiple other scheduled meetings involving various groupings of our Society e.g. members of the Executive meet the Executive of our RA/MC Special Interest Group every three months, the members of our Marketing and Communications Committees meet six times a year, and so on. The Conference Committee, chaired by the indefatigable Kevin Connors meets virtually every second week. This year we have introduced the helpful initiative of our Executive hooking up with Bruce Wardle, CEO of AMG, the ISSTD's management company, in a scheduled way every three months.
Many thanks too to those very generous members of our Society who over many years continue to involve themselves in offering workshops at our Annual conferences, who give webinars, who offer the many courses that make up our Professional Training Program (PTP) and/or involve themselves in offering regional seminars and conferences. We acknowledge too the substantial work put in by those who organize and run component groups and special interest groups.
Thanks to those colleagues who have become, or who continue to be, donors to our Society. Such financial assistance allows us to things that we otherwise could not do. Given the amount of activity, and the dedication of those making a reality of new initiatives, I hope that you will see that your generous donations are wisely spent.
Thanks too to those colleagues who respond in a very positive way to invitations to join one of our committees as their particular interest and skills have been noted by their colleagues, e.g. in the last few days Michael Salter joined the Marketing Committee and Ken Benau joined our Conference Committee. (In Ken's case, he actually joined our Society, so he could take up our invitation to apply his talents to a committee that is charged with convening for you and for those with a developing interest in our field, high quality annual conferences.)
Thanks also to a hard-working headquarters team led by our Executive Director, Therese Clemens and which also includes Mary Pat Hanlin and Caroline Brock. They are communicative, dedicated and innovative.
A final thank you – to those who have recently taken the plunge and joined our Society. We are keen to hear from you – how well you think our Society is meeting your needs, your feedback about the courses, webinars and conferences we offer, as well as with any suggestions you have.
Feel very free to be in touch.
Warwick