ISSTD SEP member, Australian therapist, Lowen Clarke has developed a unique form of therapeutic reading based on bi-lateral eye movements. In this interview I get a chance to explore this with him.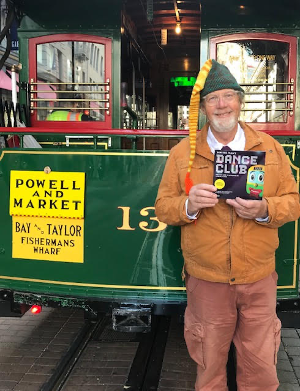 CC: It sounds like you have a very eclectic background. Can you tell us about your journey to becoming a trauma expert?
LC: I think lived experience, deeply and long reflected upon, is the hallmark of my 'expertise'. The journey was through many intellectual and experiential viewpoints. Over the years, I have worked with many approaches to trauma, from cognitive practice, to hypnotherapy and EMDR. Artmaking and the pleasure of learning new skills remained constant in my life. Eventually, confidence and recognition in a skill, talent or art is the background from which a life narrative can emerge safely. Healing trauma needs a diverse team of counsellors and coaches. I am a person who managed to have that diversity within me and trained each part.
CC: How does creativity inform your life's work?
LC: Creativity has been a vital part of my life. Over my lifetime I created a body of work that enabled me to research my lived experience of trauma. My creative life as a young railway modeller was a great escape for me. Later, writing, art-making and furniture making have been constants, where my work is almost conducted as an artist for others. Part of creativity is to open a mental space and in that space let connections happen through learning skills, adding knowledge and transforming experience. Sometimes art making can be meditative, sometimes hard work and, occasionally, it seems like inspiration. Because creativity can encompass so many diverse applications, and can involve both hemispheres, it can be useful for people whose life experience contains trauma, and for the people who counsel, coach, mentor and treat people with trauma. Creativity allows for fun, potential and possibility to be a part of the healing process.
CC: For our members who don't know, what is Empowerment Script?
It > is > difficult > to > explain,
.show < to < simple < but <
The > eyes > make > complex > movements > as > they > read > words
.direction < other < the < in < then < and < direction < one < in <
It is a reading format that uses both hemispheres, and has resonance to EMDR.  It causes bilateral stimulation, and can reduce SUDS. The first book I published in this format is called 'Sam the Tram's Dance Club'. Being a children's picturebook, it also combines color and a pleasant positive story with the reading experience. Sometimes, in dissociation, all parts like to read 'Sam the Tram's Dance Club'. Whether a practitioner likes EMDR or CBT, it can be useful.  It is also rather fun and pleasant for anyone.
CC: How did Empowerment Script come about? And, how is it used?
LC: I thought I came up with this in 2003, after having EMDR with a therapist. However, a search into my archives as a part of my doctoral research showed me that I first tried out a backwards sentence in 1974! That meant that when I wrote a complete forwards and backwards couplet in 2003 I already had the wherewithal to recognise what I had done, and know that this was something special. Having studied hypnotherapy, I spotted that there was a change in my breathing, and that it had potential. Use of Empowerment Script strengthened my hemispheric connections.
Because I fully believe that trauma can be overcome, I can be more relaxed about the steps-forward and steps-back nature of healing. It mirrors the strange slow movement forward in healing, and also the nature of writing.
CC: Lowen, I understand that you're currently pursuing a Doctorate in Therapeutic Arts Practice. Can you tell us more about your current studies?
I am at an institute (MIECAT) that specialises in arts-based inquiries into lived experience. This can be a project with others, or, as in my research, an autoethnographical inquiry. The research began with me completing the story of 'Sam the Tram's Dance Club' as both animation and picturebook. Hard work in itself, and needing both hemispheres to co-operate, I had hoped that the research would be the story of what I did and then moved on to. However, life events intruded into the research and I had to explore how Sam the Tram was from a part of me that I had protected from trauma as a kid. More life intrusions meant that I had to take action with my discovery of Empowerment Script of years ago and move it forward. That became a strand of the lived experience of the research that helped me deal with my traumatic past. How lucky I was that I met people with connections to the ISSTD who were supportive. Then, to meet Megan Hunter who has taken Sam and Empowerment Script to the profession and to the public. That completed my research.
CC: How has being a member of the ISSTD impacted you and your work?
Without the ISSTD's openness to new ideas, this would not have happened. I was encouraged by a member to take the book to a conference in Sydney, then invited to present it at the New York conference. The launch was meant to be at the San Francisco Conference – and, it became a very informal launch. I love being a member of the ISSTD.
CC: How might our members learn more about Sam the Tram – or read the book?
Unhooked Media are the publishers of the book, which is available in print generally and as an ebook on Apple Books. A special imprint, Brain Bridge Books, has been created for Empowerment Script and further books are in production. Here are links to more information, their online store, their new Australian site and the ebook.
Unhooked Media – Brain Bridge Books
Unhooked Media – Australian Site
CC: Thanks for taking the time to connect with us, Lowen! I look forward to hearing more about Sam the Tram's future adventures…