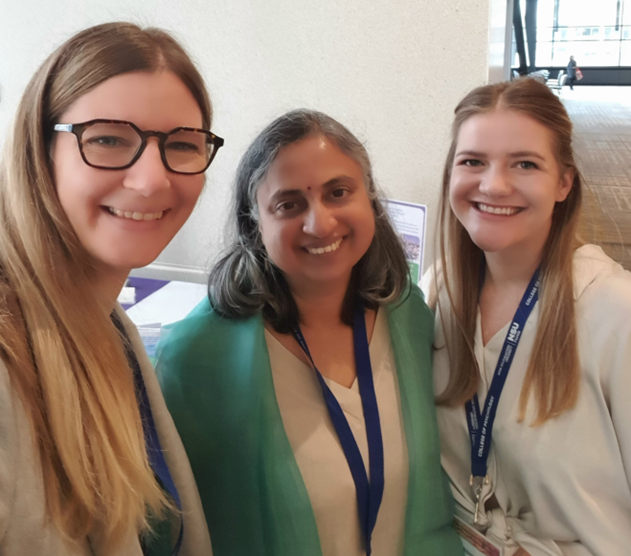 ISSTD welcomed the EMDR Special Interest Group in October 2021 as one of the largest SIGs in the organization. This SIG is intended to work to further understanding of research and clinical application of Eye Movement Desensitization and Reprocessing (EMDR) therapy in an integrative treatment approach when working with complex trauma, dissociation, and dissociative disorders by collaboratively addressing challenges, providing one another support, and contributing to the larger community. The EMDR SIG currently has over 145 members with new members being added regularly. The executive committee members of the SIG are Co-Chairs Adithy and Liz Chalenburg, Moderator Jill Hosey, Secretary Abigail Percifield, Moderator-Elect Fern Banner, and Secretary-Elect Billie-Jo Bennett.
The EMDR SIG was created after an ISSTD member noticed that spaces to discuss the challenges of using EMDR with dissociation were limited. Using this treatment approach with individuals who have complex trauma histories and dissociation requires specific considerations and often additional training and consultation. The SIG hopes to provide a community for ISSTD members to talk about their challenges and the ways in which EMDR can be used in a phase-oriented treatment approach to support healing and growth.
Like all ISSTD SIGs, this group uses an ISSTDWorld forum to engage in discussion with members around the world and hosts meetings where specific topics and questions can be discussed. Our next virtual meeting is scheduled for August 17th, 2022, and we welcome any current or new SIG members to attend this meeting. In efforts to maintain a high level of clinical discussion and utility, the meetings are currently focused on exploring a specific phase in the EMDR treatment model. For example, our last virtual meeting talked specifically about Phase 2, Preparation, of the EMDR Standard Protocol and members were able to share their experiences about how centrally important this phase is when working with complex trauma as well as ideas about modifications or additional resourcing options. Our group meetings are a time of connection and support between members and as the SIG ages we can already see growth in our membership and connections with one another.
We have meetings scheduled for the rest of the year with plans to host at least 6 meetings a year in addition to ongoing online discussions. In addition to supporting one another, this SIG intends to contribute to the overall community by providing resources and information. As one of our first SIG projects, we are working to create an annotated bibliography that can be shared with the ISSTD community and beyond. We have also collaborated with the ISSTD EMDR Training Committee to create webinars and conference presentations. Our members range in levels of training, from those who are recently trained in EMDR Therapy to those who have extensive training and experience.
Anyone interested in becoming a member can do so by sending an email to our current Secretary, Abigail Percifield, at abigiailpercifield@gmail.com