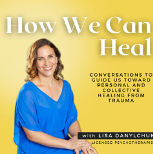 ISSTD's most recent Past President Lisa Danylchuk has been very busy developing a podcast focusing on how we can heal from trauma, both individually and collectively. The Podcast, now in its third season, is a treasure trove of wisdom, wrapped up in warm conversation.
The guest list is unbelievable and includes many ISSTD Members. Recent podcasts have included:
Brain Biomarkers of Dissociative Identity Disorder, with Dr. Simone Reinders
Understanding and Treating Dissociation, with Kathy Steele
What Causes Dissociation? Research by Dr. Mary-Anne Kate
EMDR for Complex Trauma and Dissociation, with Michael Coy
Past Presidents Christine Forner, Rosita Cortizo and Board Member Heather Hall make for fascinating guests in season two. However, the podcast certainly reaches beyond ISSTD and includes a strong focus on trauma informed yoga with guest speakers such as Steph Snyder, Nityda Gessek and Erica Chang, among many others.
Each podcast is almost an hour long, with some going just beyond the hour, allowing for a really in-depth discussion that feels relaxed, warm and connected. The material is bound to be helpful for any clinician working in the field, and there is rich learning in hearing clinicians and researchers talk about their work, as opposed to only reading a paper or a book (as wonderful as these are!)
The podcast can be found on Apple podcasts and also from Lisa's website: https://howwecanheal.com/podcast/
Welcome to ISSTD's New May Members!
Professional Members
Kimberly Toepfer
Jessie Daley
Jaymie VanMeter
Anna Halberg
Lauren Dawood
Audra Lee
Melodie Morrow
Gerald Snook
Christine Kowalcky
Laura Widger
Katherine London
Rebecca Tolman
Shannon Sarkar
Lisa Fraser
Yuko Inzana
Daphne Simeon
Kimberly Toepfer
Student Members
Kaya Frallicciardi
Maya Chandra
Alma Riggs
Michelle Covington

Emerging Professional Members
Daniel Caycedo
Samantha Milligan
Danielle Plumpton

Retired
Laila Ayyoub





Do You Have News ISSTD Members Can Use?
We need your help to make NYCU a great feature, full of news and sharing the activities of our community members. Do you have a book or book chapter coming out that you wish to share? Have you received an award for your work in the field? Have you been part of developing a new website or training course? Have you had a chance to develop something creative and unique that you wish to share with others in the field? If so, we want to hear from you! Don't be shy, submit your news to us so that we can share with other members. (Please be aware: we do not offer book reviews, but a chance to share with others that your book has been published.)
Submission Deadline: 20th of the month
Send to ISSTD News Editor, Kate McMaugh: katemcmaughpsychology@gmail.com