Our beloved Creative Arts SIG has once again had a very busy year. Here we provide you with an update for 2018/19, focusing on two key events: our annual conference and the Webinar.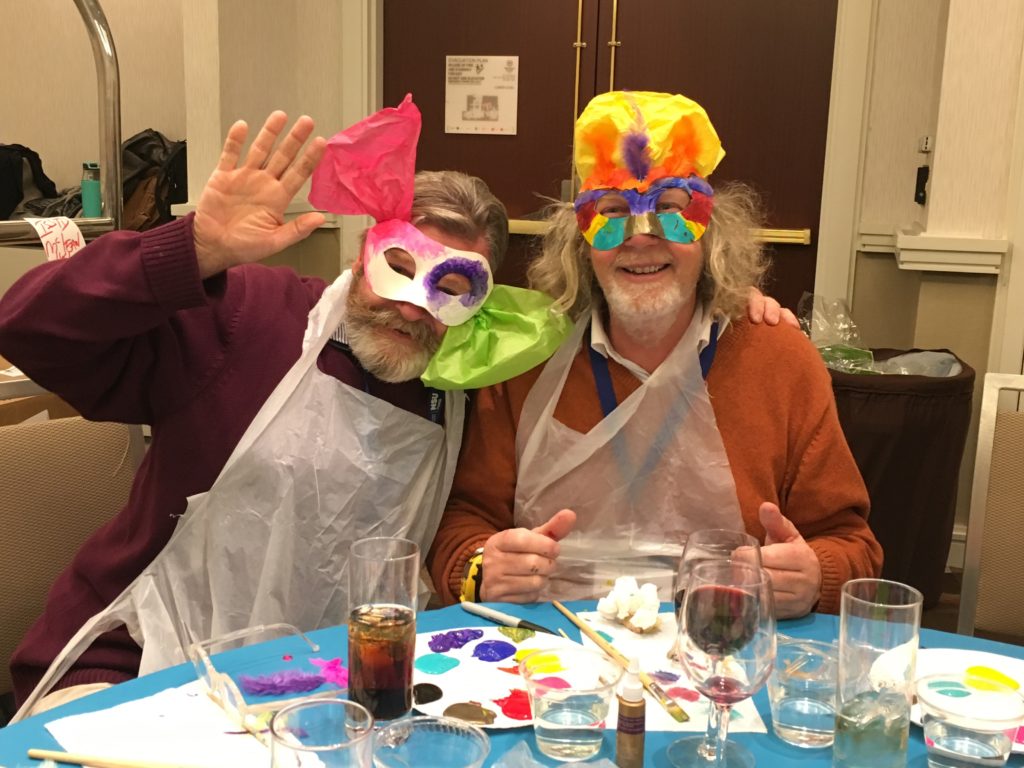 Creative Arts at the 2019 Annual Conference
At the annual conference in NYC this year, the CAT SIG facilitated the second Create and Connect social and art-making event. This fun packed ticketed evening was held on the Friday night before the main conference. Here, the ISSTD community had a chance to be together and play creatively with the making of lively, embellished masks. These photos show the delightful range of creativity and fun that was had by all.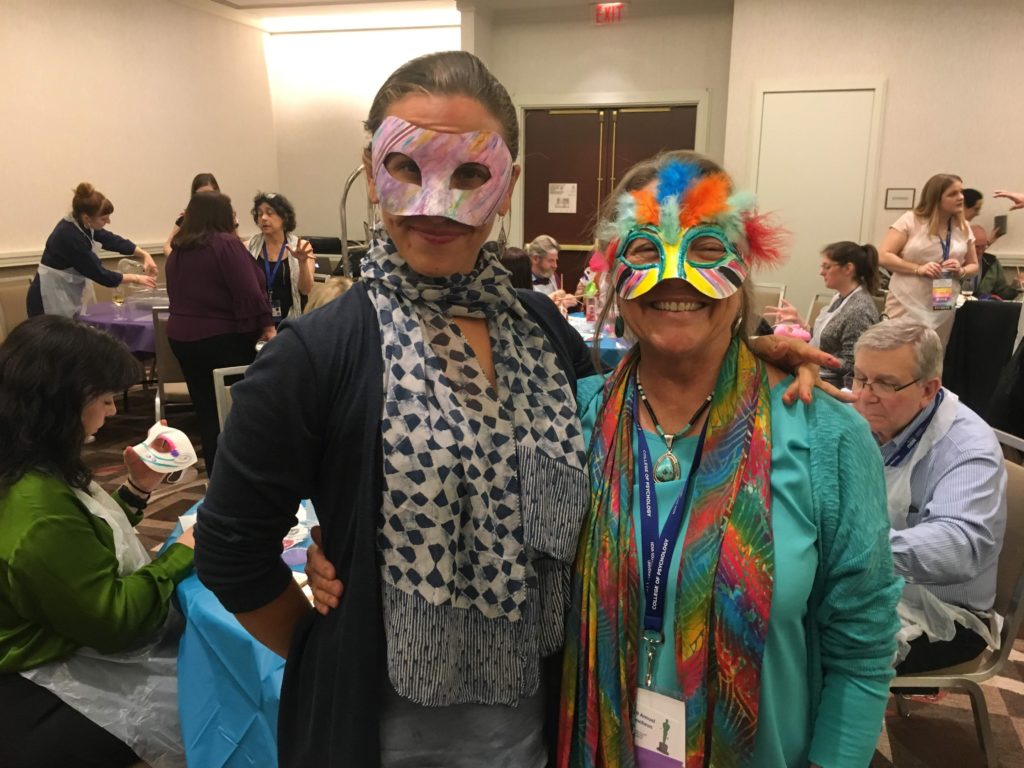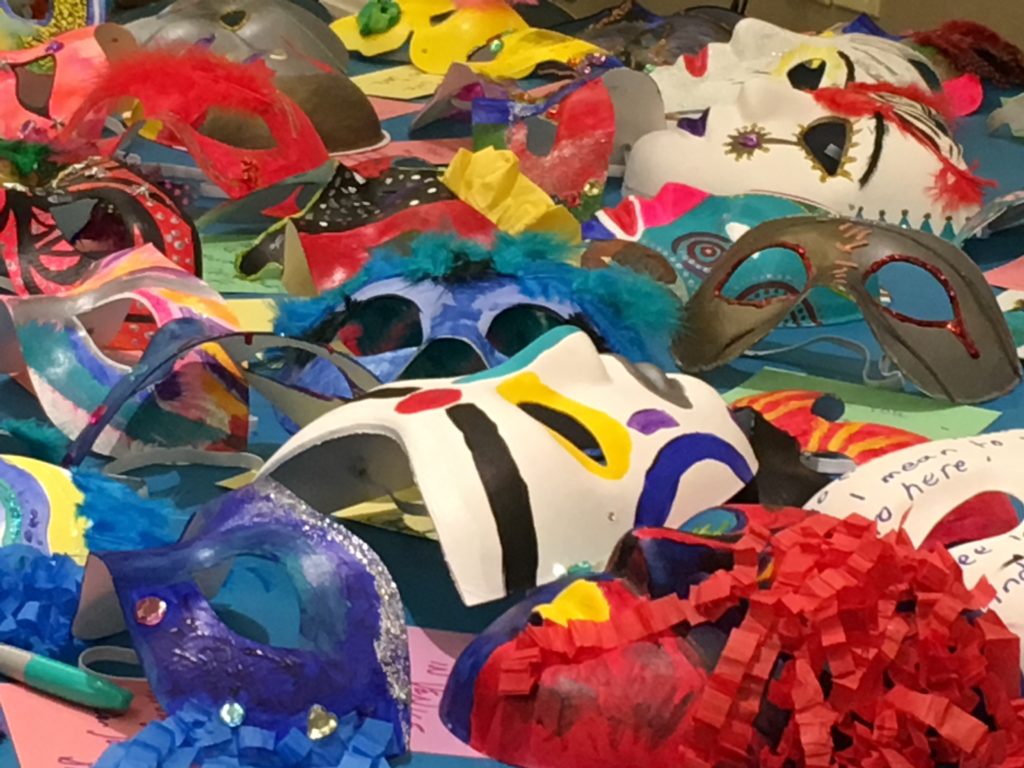 The Creative Arts Therapy SIG was also well represented throughout program of the 2019 conference and included a workshop by Buk, Haen and Harris on Grounded Approaches for Trauma; a workshop by Tripp on Safe Place Collage; a panel on Resilience with Langdon, Kobayashi, Muenzemaier and Conan; and papers on the Creative Arts and Trauma with Scott, Wilson and Marra.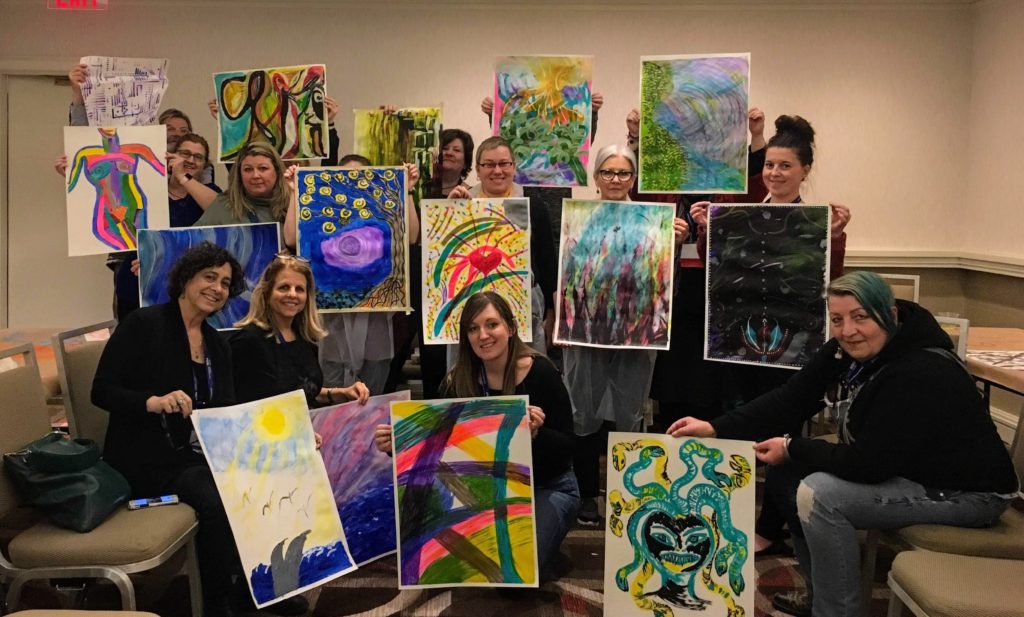 To end the conference, Tally Tripp and Eva Young were invited to conduct a closing self- care half-day workshop entitled "Create and De-Stress." True to its title, the workshop engaged participants in process painting and experiential art-making with a goal of processing the weekend and releasing stress.
The Webinar: Myths, Materials and Magic
The CAT SIG recently spearheaded a new ISSTD webinar, Myths, Materials and Magic: What Therapists Need to Know About Using Art Materials in Trauma Treatment which was the first of its kind in the ISSTD webinar series, and the first to be recorded at the DC Headquarters.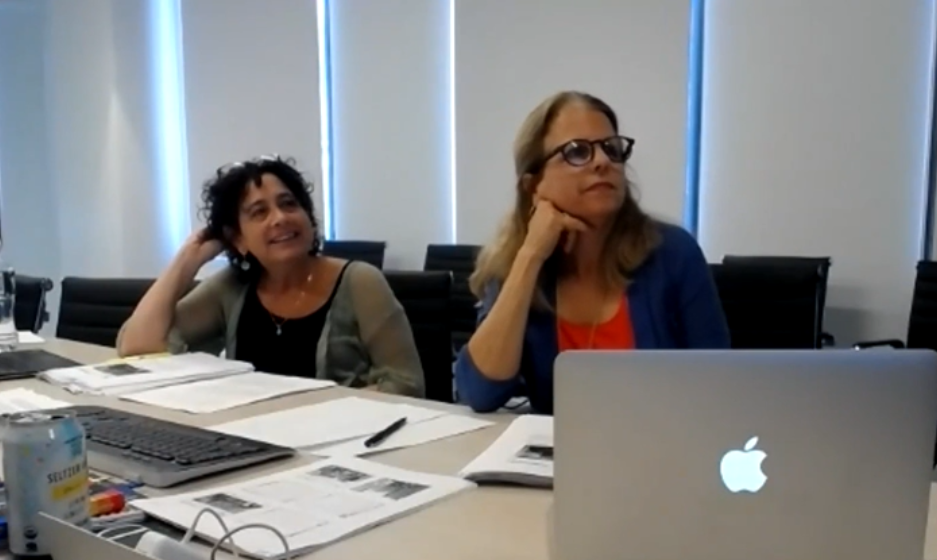 CAT SIG founders Tally Tripp and Eva Young brought together their ideas and expertise in a three hour format that, of course, included opportunities for listeners to engage in bits of experiential practice. For example, a video of paint being applied to a wet paper towel was used to illustrate how watching paint absorb into the surface of the paper takes time and is one way in which art materials can be used to facilitate self-regulation and affect tolerance. In contrast, the presenters encouraged webinar participants to experiment with creating random scribbling lines on a piece of paper with a marker or a crayon, with the purpose of engaging a kinesthetic discharge response. Through mini experientials like this, Tally and Eva demonstrated how therapists can determine the potential value of various art materials and then use them in practice.
The webinar explored some art directives or activities that can be used in clinical settings, even by those not trained specifically in creative arts or art therapy. However, this advice comes with the important caveat that Creative Arts Therapists are licensed and credentialed professionals and art therapy is "not about painting pretty pictures." Therefore, there will be times when an art therapist should be called in for consultation. In fact, one of the missions of the CAT SIG is to provide such consultation. Ethical issues were also addressed such as confidentiality, storage and presentation of client artwork.
The webinar included a taste of the ISSTD history of creative arts (thanks especially to Art Therapist Mindy Jacobson-Levy for pulling together some of the early memories of the previously entitled MPD conferences). Art Therapist Peggy Kolodny contributed information on ethical issues for non-Art Therapists. We also discussed trauma processing through Art Therapy and referred participants to the work of Art Therapist Linda Gantt, also a co- founder of the CAT SIG.
An overview of Art Therapy and Neuroscience (much of which was lifted from Tally's 10+ year experience teaching trauma to Art Therapy graduate students) provided context by deepening understanding of the basic neuroscience behind the question "How do the creative arts help with accessing and managing trauma?" Ultimately Tally and Eva connected theory with case vignettes from their clinical work that illuminated the ideas and concepts while also reflecting the respect clinicians need to have for the power and integrity inherent in client art-making. We had fun hosting this webinar (admittedly it was a bit stressful) and we had a great audience for questions and comments. Also we were thankful for Bethany's presence in the room doodling with us, which reminded us that art is awesome, and kept us regulated! At the end of the webinar, one participant gleefully responded that she, indeed, was heading right out to purchase some model magic and glitter!!
The webinar was a success, largely because it integrated thoughts and ideas derived from the last CAT SIG in-person meeting (at the March, 2019 conference in NY) where many of us gathered to discuss ways to get the word out about the power and use of the creative arts in the trauma and dissociation field. We are eager to support and offer our expertise to our fellow clinicians who are already using art materials with clients. And we hope to see many of you at the SIG meeting in San Francisco.
Also a heads-up-we have been invited to give a repeat performance for a webinar sometime in 2020 and would LOVE to coordinate/ collaborate on something new. Please let us know if any of you are interested in helping with this venture!
Future Issues
We'd like to find ways for members to get more involved with our work and participate in our listserv as we see our group as being a great resource for the ISSTD community. Our membership is healthy and growing and, as new SIGs form at ISSTD, we want to make sure we find ways to continue our growth and connection. Let us hear from you!! And, speaking of connection, we are already working with HQ to plan another Create and Connect event to kick off the 2020 annual conference in San Francisco. We'd love any ideas for collaboration and/or assistance with this event. Send a message to the listserv or email chair, Tally Tripp, directly tallytripp@gmail.com.
We'll be spreading the word about presenters in the Creative Arts prior to the conference, and look forward to meeting and possibly making art with you!!