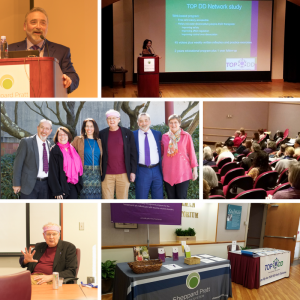 On Saturday, October 21, 2017, ISSTD, in partnership with Sheppard Pratt Health System, Towson University, and the TOP DD Study, hosted a one day Regional Conference in Baltimore, Maryland.
More than 100 therapists and 15 students and trainees from across the United States gathered to hear conference speakers which included Bethany Brand, Richard Chefetz, Kathy Steele, Richard Loewenstein, and Ruth Lanius. It was a particular joy for attendees to listen to a special post-lunch conversation with Frank Putnam.
The conference was organized to help raise funds for the TOP DD Study which aims to help DD patients stabilize their symptoms and develop greater self-understanding, emotion regulation, and symptom management skills. Additionally, it aims to increase therapists' knowledge and skill in working with dissociative patients.
The conference was a fabulous success – both in terms of raising money for the TOP DD study as well as informing the audience about cutting edge research on dissociation and enhancing their clinical skills.
We are thrilled to announce that all conference sessions were recorded and are available for purchase for those who were not able to attend. No CE/CME credits are available for the recorded content.  Click here to purchase the conference recordings.