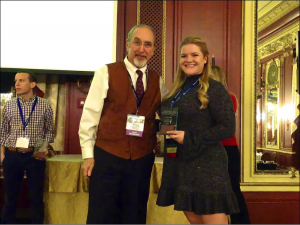 ISSTD Member Abigail Percifield is well known to many of us through her various volunteer roles in ISSTD. What many may not realise is that Abigail is actually a Student Member of ISSTD and is currently completing her Doctoral studies! We think it is only too fitting, this being Student and Emerging Professional Month, to focus this month's 'Volunteer Spotlight' on a member who is still a student.
Kate: Abigail, We all appreciate all that you do for ISSTD. But tell us – how did you get here? What led you to a psychology pathway and membership of ISSTD?
Abigail: My path to becoming a psychologist is filled with small coincidences and a laughable amount of irony. When I started my undergraduate career I had little idea what field I wanted to go into. I chose Biology because I was passionate about the sciences and felt this degree would open help me explore and find a career I love. I had a lot of credits from high school so I also chose a second major simply based off what I found most interesting, psychology and the study of human individuality. In a sort of ironic blindness that is so common in recent high school grads, I could not see that if I could study a topic for 4 years "just for fun" that I could probably make a career out of it. Upon graduation I was still at such a loss of what to do that I ended up taking a job in sales and quickly learned that the business world was not made for me. With a little help from my newly matured prefrontal cortex, I was finally able to connect the dots between what I do for fun and what I could do for work. It was not easy to make the leap from sales to mental health, but through a series of small hops I eventually landed a job with Court Appointed Special Advocates and answered the call to trauma work that I had been ignoring for so long. I now am enrolled in my third year of doctoral studies at Adler University in Chicago, with an emphasis in traumatic stress studies. Since enrolling, I have worked or volunteered with refugees, survivors of sexual assault, and communities in Chicago that live with extraordinary levels of prejudice and violence. My journey to get here was far from linear, but—to steal Rumi's words—has taught me to answer every call that excites my soul.
Kate: Thank you. I love to hear how people come to this profession. Now, just for interest's sake, can you tell us something most of us may not know about you?
Abigail: I tend to steer clear of most adrenaline heavy activities, but I absolutely love scuba diving. The perspective shift when you immerse yourself in a world that is typically hidden from our purview is just incredible. To me, reefs are reminders of the beauty when systems work in such flawlessly interdependent ways. Every bit of diversity is celebrated. I can't wait to advance my scuba training and be able to explore underwater caves – if there's anything this field taught me it is that there is beauty in the places hidden away from view.
Kate: What lead you to join ISSTD? What is your favourite thing about ISSTD?
Abigail: After a couple weeks of classes, I realized that trauma was not going to be adequately covered in my coursework. Having witnessed the incredibly complex nature of traumatic responses through professional experiences, I sought out advice from my supervisor, Dr. Henning, who directed me towards ISSTD. I did a bit of research, discovered I could get a discount by volunteering at the conference, and attended my first ISSTD conference in 2017. Looking back, it is hard to put into words the amount of apprehension and anxiety I felt being surrounded by the people whose books, papers, and training videos I was devouring. It is hard to remember feeling that way because every person I have interacted with at the conferences have been respectful, inspiring, and welcoming. Our current executive director, Mary Pat Hanlin, found time to introduce me to people and deserves a special shout out for how much she goes out of her way to make members like myself feel comfortable. The people are my favorite thing about ISSTD, and coming from a person with more than a little social anxiety, that is saying something.
Kate: I totally get what you are saying about trauma not being adequately covered. My clinical psychopathology textbook didn't even have 'Dissociation' in the index! This shows how important ISSTD is to us when we are studying. What has been important for you as a SEP member of ISSTD?
Abigail: I feel I have benefitted the most from the educational opportunities that being a member of ISSTD offers. Not only are the conferences some of the most intense and immersive learning experiences I have had during my graduate career, but the webinars are also extremely valuable. I have also had opportunities to develop in the professional sense, as well as the academic. Becoming involved as a volunteer has allowed me to learn things ranging from launching a new social engagement platform to identifying locations, plenary speakers, and workshops for future conferences.
Kate: Yes, the training provided by ISSTD is second to none! Tell us a bit about your volunteer roles in ISSTD. What are your volunteer roles and what led you to volunteer?
Abigail: I currently serve as Co-Chair of the Membership Committee with the wonderful Warwick Middleton. I am also on the Conference Committee and am beginning to get more involved with the Student and Emerging Professionals Committee. When I first started I wasn't sure where I could be helpful. I initially volunteered as way to feel less nervous attending my first academic conference. I keep saying yes to new roles because I am gaining professional experience in areas outside my clinical training.
Kate: When I hear this, Abigail, I am completely reminded of how I felt a few years back. I wanted to volunteer, but was not sure if I had anything useful to offer! We soon learn that ISSTD is accommodating and will help us develop skills as we need to. Tell us what is volunteering like for you? What's good about volunteering? What do you get back?
Abigail: There are a lot of different things I get from volunteering, a couple of which I touched on above such as professional development. For example, many volunteers across committees have been working tirelessly to launch a new social engagement platform and it has been fascinating to see the many layers of work that go into making a change like that happen. I have also benefitted immensely from hearing about what sort of books or speakers other clinicians are interested in. One of the best ways I can round out my education is by reading things I typically wouldn't be exposed to. Having the opportunity to interact with and learn from what others are learning from is truly invaluable.
Kate: Any drawbacks? Abigail: The only thing is I wish I had more time! I wish I could get more involved and take greater advantage of the educational opportunities, but I plan to be around for a while so I'm sure I'll work my way through things eventually.
Kate: Thank you Abigail for your generosity.