ISSTD 37th Annual International Conference
The World Congress on Complex Trauma and Dissociation
2020: Envisioning the Coming Decade
March 12 – March 16, 2020
InterContinental Hotel San Francisco
2020 Call for Proposals and Plenary Speaker Information
The Inte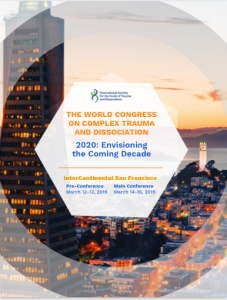 rnational Society for the Study of Trauma & Dissociation is pleased to announce our Call for Proposals for our 2020 Conference will run August 1 through September 23, 2019.
We are looking for creative, innovative, and exciting presentations on all aspects of understanding, researching, and treating complex trauma and dissociative disorders. We encourage solid scientific and clinically grounded presentations that broaden our knowledge base and sharpen our clinical skills. The use of experiential, interactive, and multi-media presentations is encouraged.
To help you plan your proposal, we proudly announce our slate of plenary speakers: Pat Ogden, PhD; Karlen Lyons-Ruth, PhD, and A.A.T. Simone Reinders, PhD. We will announce our pre-conference workshop lineup in late July to coincide with the launch of our conference website which will include updated submission guidelines.
Registration for the 2020 Annual Conference will open on September 1, 2019 and early bird rates will run through January 15, 2020.
2021 Conference Dates and Location Announcement
Also, save the date as ISSTD will be headed to Louisville, Kentucky for our 2021 Annual Conference. The conference will be held at the Onmi Louisville April 8-12, 2021.