Noula Diamantopoulos, Editor
I welcome you to this new part of our newsletter – a creative inclusion to act as an interlude perhaps, a breathing space to share the creations of our imagination – retrieving the light within the dark unconscious creative self, for the sharing makes it brighter.
To express ourselves in ways that defy rational appraisal is the gift of the creative process. It is the soul of our work, it is the humanity of the way we see another, it is the breathful way of holding space, of following another's not knowingness, of loving non judgmentally.
My name is Noula Diamantopoulos, a member of ISSTD, and now your editor for this new column. I am honoured to bring to the surface of these pages the many and varied beautiful creative ways of our members. I cannot say how this will play over time, but play out is all I wish for. The inevitable inner child deems it so!
This month we are focusing on poetry which is minimal, but meaningful, poems which may have few words, but which encourage one to sit and reflect.
I begin this Interlude with a piece of my own work: a neon sign that was in a group exhibition called #allthefeels. It's not only a graphic, but also a poem.
We continue with an example of what we think may be ISSTD's first ever haiku, originally written by Jean Goodwin, when attending an ISSTD Annual Conference in 1983. (Originally published in O'Neil (Ed) From organizational infancy to early adulthood, 1983-2003: Celebrating our 20th Anniversary, ISSTD, 2003.)
I then conclude with some more modern takes on this briefest of poetry forms,
I hope you enjoy this 'interlude' and I look forward to contributions from members, be they poetry, short creative pieces or visual representations.
Please send submissions of your creative self to ilove@nouladiamantopoulos.com
Noula Diamantopoulos, Editor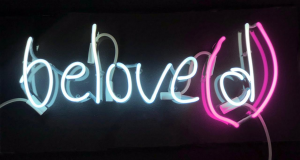 It is a request and a reminder to all of us to:
simply 'be love'
and when we are, we will be loved…
dear beloved.
By Noula Diamantopoulos
Chicago Baroque:
Where drawbridge meets skyscraper
And concrete comes carved.
By Jean Goodwin
Elegant Bengal,
beartrapped. Killer. Rescue risks
Tiger-person pair.
By Kathy Downing
Arrow!
Danger coming
Watch out Brother
Please – do be careful
Arrow!
Red
Blazing, commanding
Like my blood
Deep, dark, inner, flowing
Red.
Clouds
Sailing by
Quiet fluffy cushions
Resting places for me
Clouds.
By Julia Bry Schwab