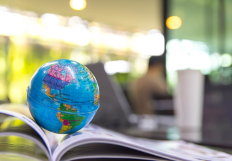 This month's Volunteer Position Spotlight shines on the International Spotlight Coordinator with the ISSTD News! 
International Spotlight is a regular quarterly feature which focuses on the trauma and dissociation field in a particular country around the world. This is an exciting chance to liaise with trauma and dissociation specialists from around the world.
ISSTD News is looking for an individual that enjoys writing and reading and has a passion for engaging and connecting with others across the globe who are working in the trauma and dissociation field. In this role, the International Spotlight Coordinator would be responsible for engaging with other ISSTD members across the world that can contribute to ISSTD News by writing about the field of trauma and dissociation in their area. Alternatively, they may choose to interview practitioners from across the globe, and write up an article themselves.
Helpful skills for this position include networking, interviewing, writing, editing, and proof reading.  If this sounds like something you would be interested in being a part of, please click here to explore this opportunity. Please note you will need to log in to ISSTDWorld to view and apply for this opportunity.
If you are interested in this role, check out some previous International Spotlights here.
We welcome all members to apply. We would love to hear from you!