For most students and emerging professionals, commencing work in the trauma and dissociation field can feel daunting, lonely, and even overwhelming. ISSTD recognizes this and offers a program of special support to student members and emerging professionals.
As part of this, in ISSTD September is Student and Emerging Professionals (SEP) Month and we take this opportunity to promote the services offered.
Students and Emerging Professionals Committee
Student and Emerging Professionals Committee was founded by Christine Forner in 2009. Being a student at the time, in a program and faculty that did little to educate and support her interest in complex trauma and dissociation, she noticed how approachable and helpful the members of the ISSTD were. She had never before experienced such a warm reception and shared interests with a professional group. She found that the leaders, educators and researchers in the field were accessible and warm. It was here that she felt that she had an academic and clinical home.
It was also at the conference that she noticed that the student and emerging professional population was not well represented. There were great opportunities to connect with students and emerging professionals within the conference and throughout the year, if only one could bridge the gap. The senior members and the Board were very eager and supportive in creating a committee that was designed specifically to meet the needs of the students and emerging professionals, hence the SEP Committee was born.
The role of the Students and Emerging Professionals Committee is to pay attention to the needs of students and emerging professionals and help foster relationships between them and the rest of ISSTD.  The Committee is there to support them, connect with them, engage them and foster a life-long academic and clinical community that specializes in working with individuals who have been through multiple and complex trauma.
The Committee has grown in strength over the years. It is a testament to the success of the Committee that the membership of student and emerging professionals in ISSTD has steadily grown and there are now special membership categories for each of these groups. The Annual Conference last year saw the highest attendance by students ever, with about 50 students attending.
Each conference the Committee plans a series of social events such as a haunted pub tour, a haunted house, universal studios, Alcatraz, and the spy museum. Other events include a wine and cheese (or beer and cheese) with past presidents, academics and the students. There is a SEP lunch each conference which gives students and emerging professionals a chance to network, but also meet with other senior members who attend the lunch to answer questions and provide support. (As the photos show there were so many attending at the conference this year, that we ran out of chairs!)
The Committee has also created a list of schools and academics around the world that specialize in teaching complex trauma and dissociation. This is used as a resource for students to easily find where they could seek out quality education in the field of complex trauma and dissociation. We also have several; new projects in the works such as updating the website and creating specific resources for students and emerging professionals.
Dissociation 101
Christine also developed the Dissociation 101, a pre-conference course designed for students, emerging professionals and those new to the field of trauma and dissociation. This is held each year at the conference and provides not just an opportunity to learn about the field, but another chance for the SEP members to get to know each other and develop the professional networks of the future.
Other benefits of ISSTD
In addition to the above ISSTD offers:
Specific membership to Students and Emerging Professionals with generously discounted membership fees. Student membership is open to those enrolled in a program or study leading to a mental health qualification as well as supervised trainees and interns. The Emerging Professional category is open to professionals who are in the first three years of their post graduate career.
DISSOC and Special Interest Groups – These are online forums where all professionals in the field can meet, ask questions of each other and generally support each other. These forums are of particular use to students and emerging professionals as it enables them to network with and ask questions of experts in the field.
Professional Development – There are several training courses available for students and new professionals in the field such as the Introduction to the Treatment of Complex Trauma (Parts I and II). ISSTD endeavours to offer as many courses as possible in an online and teleseminar format which may particularly benefit SEP members who are practicing outside of USA. There is also a large webinar library with many webinars suited to students and emerging professionals.
Virtual Book Club – Provides another online professional networking and learning experience for the SEP community to connect with other ISSTD members as we meet to discuss a book.
ISSTD clearly recognizes that our future as a society, and the clinical and research work of the future, depends on how we support and pass on knowledge to the next generation, and we want to do all we can to support the next generation in this way.
Photos from ISSTD Annual Conference, Washington, April 2017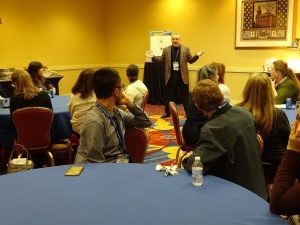 Rich Loewenstein addressing delegates at the SEP lunch, ISSTD conference, 2017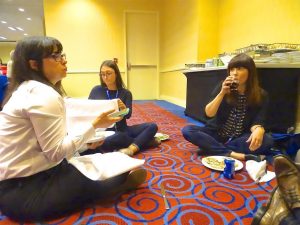 SEP lunch, Christine Forner and delegates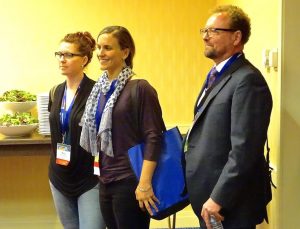 Misty Bingham, Lisa Danylchuk and Mike Dadson