TOP DD Publishes Three Free Access Papers
The TOP DD team is pleased to announce that, in the current issue of the European Journal of Psychotraumatology, they have 3 publications based on the TOP DD study. These articles are:
Myrick, Webermann, Loewenstein, Lanius, Putnam and Brand (2017) Six-year follow-up of the treatment of patients with dissociative disorders study
• This paper shows improvements among the TOP DD patients 6 years after the start of the study. This important study is thought to be the longest outcome study done to date using standardized measures and a large sample of DD patients. It is a vital contribution to the field, essential (and reassuring) reading for practitioners.
Myrick, Webermann, Langeland, Putnam and Brand (2017) Treatment of dissociative disorders and reported changes in inpatient and outpatient cost estimates
• This paper shows that the costs associated with DD treatment decrease over time; with reduced hospital admissions as clients became more stable over time. Outpatient costs also reduce over time. This cost savings may be an incentive for services to fund more DD treatment programs as well as research into DD.
Schielke, Brand and Marsic (2017) Assessing therapeutic change in patients with severe dissociative disorders: the progress in treatment questionnaire, therapist and patient measures
• This third paper shows the reliability, validity and clinical utility of 2 measures created for the TOP DD study to assess improved adaptive capacity over time during DD treatment (the Progress in Treatment Questionnaire or PITQ). There is a version for patients and another one for therapists. The PITQ measures are showing considerable promise in terms of illuminating the progress of DD patients and are the strongest outcome variables of all the measures used in the TOP DD study. That is, they show the largest effect sizes. This is an important development in the field as researchers and clinicians need measures that are sensitive to change in the specific population they treat or study. The measures (English language) are available here: http://topddstudy.com/pitq.php
The PITQ are currently being translated into other languages. There will be further updates when they are available.
How to get these articles for yourself
Here's the link to get these free articles:
http://www.tandfonline.com/toc/zept20/8/1
All 3 papers are listed towards the bottom of the long list of articles in this issue and you'll need to scroll down to get them. It is gratifying to see the high views the papers are attracting, indicating considerable interest in the subject.
And why are these free?
The publishing fees were paid out of TOP DD donations so that they can be easily and freely accessed by everyone. If you have enjoyed having access to these three articles consider a donation to the TOP DD study:
https://towson.givecorps.com/projects/2213-research-enrichment-treatment-of-patients-with-dissociative-disorders
New Book by Dr Joan Haliburn: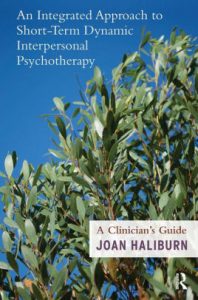 An Integrated Approach to Short Term Dynamic Interpersonal Psychotherapy – a Clinicians' Guide
Dr Joan Haliburn, ISSTD Board Member and a Consultant Child, Adolescent and Family Psychiatrist and Psychotherapist, has published a new book which was released in September.
This exciting addition to the growing body of literature on Short Term Dynamic Interpersonal Psychotherapy (STDIP) represents the culmination of thirty years' experience gathered as a student, clinician, teacher, mentor and supervisor of psychotherapy.
Of crucial interest to members of ISSTD, this book offers a trauma-informed, integrated approach to structured short term dynamic psychotherapy and does not preclude patients with a history of trauma.
In fact this book articulates the development of a model (STDIP) which is both trauma informed and sensitive to dissociative processes. This model, offered in 10-12 weekly sessions, has been shown to be effective in anxiety, depression, phobias, self-harming behaviour, suicidal ideation, personality disorders, psychosomatic disorders, difficulties associated with chronic medical and major mental illness, and life-changing medical diagnoses.
It is most refreshing to note, given the widespread nature of trauma, that this book, from assessment to ending, emphasises that every patient is to be regarded as having experienced trauma, unless otherwise proven. Replete with case illustrations of the author's own work and those of supervisees, it includes work with adults, cases of adolescents, issues in pregnancy, and parent-infant/child dyadic therapy. There is also discussion of how this model can be modified to a single session crisis intervention in emergency psychiatry, after which the patient is linked in with services providing this model of care in order to maintain continuity.
The early part of the book is devoted to the theoretical background and techniques of a trauma-informed assessment and therapeutic style, followed by a phasic approach to this short-term work, with a beginning, middle and end. Approaches to specific conditions and particular populations are then addressed. Special issues such as supervision and ethics are described in the latter part, followed by relevant patient information. An adherence scale is provided, both for research purposes as well as the monitoring of skills development. Ending is regarded to have started at the beginning, so, if and when necessary, patients are either referred directly or on conclusion of STDIP to long term therapy.
The book is published by Karnac, London and can be purchased from them here.


Have News ISSTD Can Use?
Do you have a book or journal article coming out that you wish to share? Have you received an award for your work in the field? Have you been part of developing a new website or training course? If so, we want to hear from you! Submit your news to us so that we can share with other members!
Submission Deadline: 15th of the month
ISSTD News Contacts:
•ISSTD Editor, Kate McMaugh: katemcmaughpsychology@gmail.com
•ISSTD Staff: info@isst-d.org