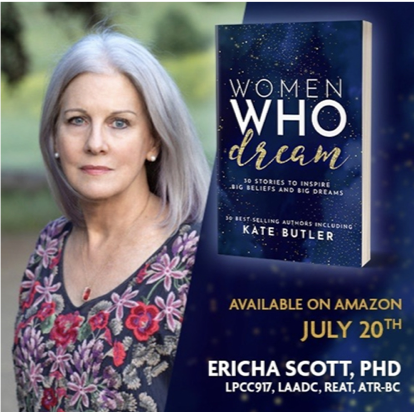 ISSTD Fellow, Dr Ericha Scott has contributed a chapter to a new edited collection of writings, Women Who Dream. This is a collective effort of 30 authors who share their stories of how they have turned their dreams into reality. The book aims to inspire and empower people to have big dreams. Women Who Dream is now a #1 international bestseller in six countries.
Ericha's chapter entitled 'Transformational, Love, Letters, Poetry and Art', draws on her extensive experience in using visual art and writing to enhance personal growth and transformation. It includes easy directions for a step by step process that people can follow at home, on your own time.
Ericha says, "I first presented a creative arts psycho-educational workshop about dissociative ego-state systems for ISSTD, at a national conference in 1991. After facilitating love letter workshops over the years, for hundreds of people, I have learned that 'People have more grief about unexpressed love, than profound trauma'. I have also learned that 'Love may be a secret that you do not know you are keeping.'"
She reflects about her own dreams, "A dream I have, is to initiate research regarding the efficacy of writing love letters. While there is significant research about love, marriage, and attachment – there is very little research – maybe none – about the benefits or liabilities of writing love letters. Just before I wrote this book chapter, the publisher asked me, "What is your dream?" I responded with, 'I would like to offer creative arts and love letter writing workshops all over the world.'"
The book is available from Amazon here: https://www.amazon.com/Women-Who-Dream-Kate-Butler/dp/1957124075?language=en_US
A related note, Ericha is also offering creative arts intensives at her studio office in Malibu for people from all over the world. She says that, "A multimodal creative and expressive arts intensive is a perfect way to address the somatization of painful, even horrific, life experiences in order to foster cognitive, spiritual, emotional and autonomic nervous system release. Once these energies are freed, they may be used to shape new life goals and dreams."
Welcome ISSTD's New Members in July!
Professional Members
Marie Alvarez
Teresa BROWN
Michelle Byrd
Karen Collidge
Anne-Marie Cooper
Valerie Crawford
Holly Forman-Patel
Lisa Harvey
Chava Kaila Kadosh
Eve King-Hill
Janet Kirby
Cory Klath
Erin Henschen Lynch
Kristel Rose Belir Magluyan-Balais
Susanne Nick
Jordan M Nodelman
Ramie K. Oakley
Damien Pearse
Sarah Reis Roubieu
Terri Stockdreher
Wynna Tabb
Gagan Vasudeva
Ciara Williams
Susan S Wolfe
Student Members
Roberta Mangravita

Emerging Professional Members
Gavin Baker
Amy L Coates
Summer Greenlee
Jennifer Morris
Ana Gabriela De Obaldia
Lilith Freja Johanna Steefje Zieltjes















Do You Have News ISSTD Members Can Use?
We need your help to make NYCU a great feature, full of news and sharing the activities of our community members. Do you have a book or book chapter coming out that you wish to share? Have you received an award for your work in the field? Have you been part of developing a new website or training course? Have you had a chance to develop something creative and unique that you wish to share with others in the field? If so, we want to hear from you! Don't be shy, submit your news to us so that we can share with other members. (Please be aware: we do not offer book reviews, but a chance to share with others that your book has been published.)
Submission Deadline: 20th of the month
Send to ISSTD News Editor, Kate McMaugh: katemcmaughpsychology@gmail.com