ISSTD Fellow Pens Book Chapter on Gratitude
ISSTD Fellow Ericha Scott has recently published a book chapter on gratitude entitled Gratitude in Times of Despair: Paradoxes for Wholeness, in the upcoming Kate Butler edited book: Moments That Matter: Defining Moments That Shifted Everything.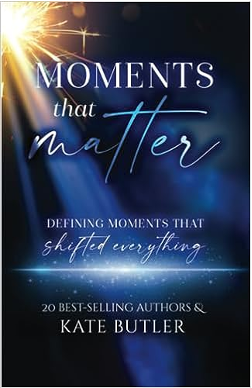 Ericha's book chapter was developed from an article she wrote in the magazine, The Sober World. However, Ericha reports that in this chapter she is further developing the concept: "This time I take the practice of writing affirmations, gratitude lists, and the ubiquitous concept of the power of positive thinking a step further to embrace paradoxes for authenticity, wholeness, fulfillment, and empowerment."
Moments That Matter is a collection of short stories that illuminate the extraordinary impact of seemingly ordinary moments, with twenty authors contributing a chapter each. This is Ericha's fourth book chapter in the past year, with the others being published in bestselling collections!
Moments that Matter is available from Amazon.
Remember to use your Amazon Smiles to raise money for ISSTD!
Welcome ISSTD's new members in August!
Professional Members
Megan Hamilton
Holly Salisbury
Beverly Cartwright
Catherine Young
Cathy Herceg
Ashley Kies
Brian Taylor
Lani Kish
Susan LeDee-Randall
Gretchen Manes
Gabriel Joshua Ellul
Chrystina Stanford
Karen Sprinkel Ancelet
Student Members
Kimberly Dudley
Abigail Wade
Luca Hartman
Brianna Domaceti
Jennifer Killian
Jewlia Whaley

Emerging Professional Members
Loretta Michelle Barron
Jenn Dela Cruz
Jeanine Ridener
Jodie Maccarrone
Devin Locher
Do You Have News ISSTD Members Can Use?
We need your help to make NYCU a great feature, full of news and sharing the activities of our community members. Do you have a book or book chapter coming out that you wish to share? Have you received an award for your work in the field? Have you been part of developing a new website or training course? Have you had a chance to develop something creative and unique that you wish to share with others in the field? If so, we want to hear from you! Don't be shy, submit your news to us so that we can share with other members. (Please be aware: we do not offer book reviews, but a chance to share with others that your book has been published.)
Submission Deadline: 20th of the month
Send to ISSTD News Editor, Kate McMaugh: katemcmaughpsychology@gmail.com