Restoring the Shattered Self: Second Edition Now Available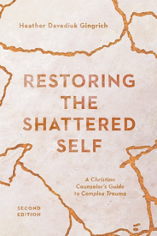 Christian Trauma Counsellors find themselves straddling two worlds: they need to be both psychologically informed and trained, while also cognisant of their faith and that of their clients. Many find they need specialist training and literature to support them in this. ISSTD Member, Heather Davediuk Gingrich has written several books for Christian therapists to assist them in their role. Her well known book, Restoring the Shattered Self: A Christian Counselor's Guide to Complex Trauma is now available in an updated second edition.
In this second edition of Restoring the Shattered Self, Heather draws on over thirty years of experience with complex trauma survivors in the United States, Canada, and the Philippines. She integrates established research on trauma therapy with insights from her own experience as a Christian counsellor, sharing her understanding of the special concerns related to Christian counselling, while also writing a book that is relevant and useful for any counsellor working in complex trauma and dissociative disorders.
This book ably explains the evidenced-based three-phase treatment model for complex PTSD and also outlines treatments for dissociative disorders, including Dissociative Identity Disorder (DID). Heather also includes information about how to respond to survivors' spiritual issues and work with churches, so they are able to help with the healing process.
The second edition is updated throughout to match the DSM-5 criteria for trauma and dissociative disorders and includes new content about somatic responses to trauma, techniques for helping clients stay within their 'window of tolerance', expanded discussion of issues such as nervous system arousal, and additional summary sidebars to assist the reader.
The second edition of the book has been well received and ISSTD Fellow and Past President Dr Colin Ross writes:
"Restoring the Shattered Self is an excellent resource for both Christian and non-Christian counselors. It contains many useful techniques, wise cautions, and useful resources and provides a thoughtful overview of the literature. Non-Christian counselors can benefit from the author's clinical wisdom without having to adopt the explicitly Christian treatment techniques included in the book."
The book is available for purchase from Amazon.
Remember to use Amazon Smiles to raise money for ISSTD!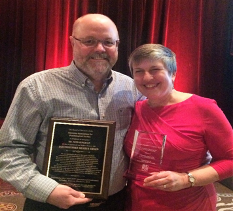 In further news Heather has been awarded the Narramore Award by the Christian Association for Psychological Studies (CAPS). This is awarded to CAPS members who demonstrate the ability to meaningfully synthesize theological and psychological perspectives. Heather is pictured receiving the award with her husband, who also was awarded that night.
Welcome ISSTD's New Members in August!
Professional Members
Cecile Boganin
Amy Choi
Erin DeSmet
Ann Ewing
Lauren Gaudet
Lynn Mangini
Eugenia Reuter
Wende Reynolds
Cate Simpson
Heather Towndrow
Christine Vavro
Krista Behrens
Kierstie Cameron
Leslie Chesshir
Mary French
Christina Fritze
Susie Luchetti
Johan Melander Hagborg
Carolyn Morris
Carrie Ruggieri
Kara Smith
Mary Thurlow
Steven Vazquez
Emerging Professional Members
Laurie Foy
Sarah Horrocks
Jody Miller
Melissa Schomer
Kristina Birkholz
Lynn Buck
Alyx Herbert

Student Members
Moises Baca
Timo Grampes
Michele Jowett
Kyle McCall
Julia Morris










Do You Have News ISSTD Members Can Use?
We need your help to make NYCU a great feature, full of news and sharing the activities of our community members.
Do you have a book or book chapter coming out that you wish to share? Have you received an award for your work in the field? Have you been part of developing a new website or training course? Have you had a chance to develop something creative and unique that you wish to share with others in the field? If so, we want to hear from you! Don't be shy, submit your news to us so that we can share with other members. (Please be aware: we do not offer book reviews, but a chance to share with others that your book has been published.)
Submission Deadline: 20th of the month
Send to ISSTD Editor, Kate McMaugh: katemcmaughpsychology@gmail.com