Free Sample Book Chapters Available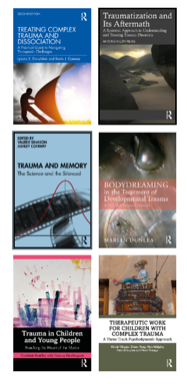 Guilford Press and Routledge are offering a free chapter sampler which brings together book content on trauma and PTSD. This collection of sample chapters offers an introduction to principal academic texts on PTSD and the treatment of child, adolescent, and adult trauma.
ISSTD Members are likely to find this a handy introduction to the content of these useful books. It is pleasing to note that the very first chapter is by ISSTD Past Presidents Lynette Danylchuk and Kevin Connors entitled "Maintaining the Balance".
The handy guide is available as a free download from Routledge. See the link here.
Opportunity for a free listing on Referral Database
Dear Members – the following request has been made for people interested in being on a referral database.
I am reaching out on behalf of the Traumatic Stress Institute (TSI) – Klingberg Family Centers and Nova Southeastern University's Trauma Resolution & Integration Program (TRIP). The Traumatic Stress Institute is a non-profit agency that works to transform organizations and service systems towards trauma-informed care through the delivery of whole-system consultation, professional training, coaching and research. TRIP is a university-based community mental health center that specializes in treatment of trauma-related disorders, dissociation, and minority stress, staffed entirely by 6-12 predoctoral trainees and supervised by a licensed psychologist.
One of the unique offerings by TSI is the Resource & Referral Help Desk, which was previously initiated and maintained by the Sidran Foundation. The Resource & Referral Help Desk is a free service that assists individuals and professionals across the U.S. in locating trauma-informed resources and referrals. Help Desk emails and phone calls are responded to by Nova Southeastern University's (NSU) Trauma Resolution and Integration Program (TRIP), a nationally-known program based in Fort Lauderdale, FL dedicated to providing therapeutic services to adults who have experienced traumatic events.
In particular, the Resource & Referral Help Desk maintains an extensive database of trauma-informed providers, including treatment centers (IOP, PHP, residential) and individual practitioners in the community who offer group, individual, family, and couples counseling specific to treating trauma-related disorders and dissociative disorders.
We are in the process of completely revamping and updating our current database. We are also working to ensure that providers are trauma-informed, trained, and experienced clinicians. As an indication of how widely this service is used, in the past four years, we received on average more than 650 calls/emails per year.
We will continue to offer a free listing in our database to clinicians and treatment organizations.
In particular, we define trauma-informed providers, programs, and organizations as including the following: licensure in their applicable field; having education or schooling, certifications, and/or practicum/internship experience in working with traumatization. We may also review whether providers/organizations have other aspects of their professional identity such as membership in a professional trauma organization, using trauma-informed language throughout one's website, publications in journals or other forms of media, and service/leadership positions, etc.
If you are interested in joining our therapist directory, we request that you complete the application which can be found here. We also welcome you to forward this to any trauma-informed therapists who you believe would also like to be listed and/or to share across any relevant listservs to which you belong.
Please do not hesitate to reach out with any questions that you may have. We thank you for your help in being a resource for the hundreds of trauma survivors who seek help each year.
Thank you for your time and consideration,
Brianna Domaceti, B.A., Coordinator, Traumatic Stress Institute Resource & Referral Help Desk Team
Amy Ellis, Ph.D., Director, Traumatic Stress Institute Resource & Referral Help Desk Team; Director, Trauma, Resolution, & Integration Program, Nova Southeastern University
Welcome to ISSTD's New Members in October!
Professional Members
Charlotte Forrest
Claire Vernon
Joan Levy
Molly Deslandes
Lisa Citrin
Judith Parkes
Sarah Jenkins
Hector Pereles
Julia Davis
Susan Moser
Charmaine Bradley
Keisha Dover
Margaretta Phillips
Raquel Guardado-Soto
Robert Cox
Elizabeth Quiros
Shari Kim
Joanne Bell
Briana Messerschmidt
Tamara Vukelic
Lois Horowitz
Deborah Cassidy-Charron

Student Members
Shelrie Houlton
Charlotte Creasey
Em Paquette
John Rehorst

Emerging Professional Members
Sarah Kappen
Zahra Juma
Natalie Cross-Ketler
Anisha Dhar
Kaci Pennington
Maryanne Shumway
Do You Have News ISSTD Members Can Use?
We need your help to make NYCU a great feature, full of news and sharing the activities of our community members. Do you have a book or book chapter coming out that you wish to share? Have you received an award for your work in the field? Have you been part of developing a new website or training course? Have you had a chance to develop something creative and unique that you wish to share with others in the field? If so, we want to hear from you! Don't be shy, submit your news to us so that we can share with other members. (Please be aware: we do not offer book reviews, but a chance to share with others that your book has been published.)
Submission Deadline: 20th of the month
Send to ISSTD News Editor, Kate McMaugh: katemcmaughpsychology@gmail.com