IFS for Trauma and Dissociation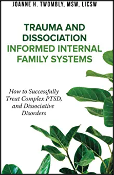 ISSTD Member, Joanne Twombly has written a new book about the use of IFS in the treatment of trauma and Dissociation. Published in January, Trauma and Dissociation Informed Internal Family Systems: How to Successfully Treat C-PTSD, and Dissociative Disorders is available in paperback and kindle versions.
Readers will learn in-depth information about Internal Family Systems (IFS), as well as information about the diagnosis and treatment of clients who have complex trauma and dissociative disorders. The book aims to integrate the known information about treating complex trauma and dissociative disorders into the framework of standard IFS. This book will be of great benefit in assisting IFS therapists in treating traumatised and dissociative clients.
The book covers a range of topics including:
Strategies to strengthen and support the "managers' ability to manage"
Coping skills and affect management for all parts, so that clients can go through the healing process while protecting their daily functioning
The use of basic hypnotic language to enhance the impact of the basic IFS process and
Helpful ways of conceptualizing this therapy
Copies of the book are available at Amazon.
Welcome ISSTD's New Members in April!
Professional Members
Norman Alessi
Blanca Bradley
Cayce Brewer
Sarah Covert
Matthew Csabonyi
Elena Denis
Darla Dixon
Kathleen Flach
Micah Flietman
Julie Goldenson
Pamela Goldsteen
Alex Iantaffi
Elizabeth Marston
Joshua Morris
Srividya Muralikrishna
lalia palacio
Lisa Savinon
Micaela Scully
Andi Seppelt
Mara Silverman
Jim Stangarone
Emma Tilbury-Burder
Student Members
William Ewing
Shayne Flowers
Philip Harford
Malika Iagafarova
Tory Mertz
Sarah Rizzi


Emerging Professional Members
Juliann Purcell
Leilani Sinclair
Rebekah Vickery










Do You Have News ISSTD Members Can Use?
We need your help to make NYCU a great feature, full of news and sharing the activities of our community members. Do you have a book or book chapter coming out that you wish to share? Have you received an award for your work in the field? Have you been part of developing a new website or training course? Have you had a chance to develop something creative and unique that you wish to share with others in the field? If so, we want to hear from you! Don't be shy, submit your news to us so that we can share with other members. (Please be aware: we do not offer book reviews, but a chance to share with others that your book has been published.)
Submission Deadline: 20th of the month
Send to ISSTD News Editor, Kate McMaugh: katemcmaughpsychology@gmail.com