New Book Explores Trauma and Memory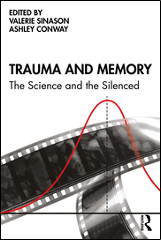 ISSTD Fellow Valerie Sinason is co-editor of a new book Trauma and Memory: The Science and the Silenced, published this month by Routledge. Trauma and Memory explores many facets of trauma memory and the concept of 'false memories', including exploring the damage caused internationally by false memory groups and ideas.
Contributors to this book include many ISSTD members who are leading professionals from the field of criminology, law, psychology and psychotherapy, along with survivor-professionals. Lynn Crook writes about the stories the media missed. Ruth Blizzard and Valerie Sinason re-examine the lost-in the-mall study and ask 'Were "false memories" created to promote a false defence?' Winja Buss evaluates false memory and Michael Salter discusses finding a new narrative in response to 'false memory' disinformation. These are just a few chapters in an edited collection that promises to be a valuable resource for ISSTD members of all disciplines.

Order your copy from Routledge.
Welcome ISSTD's New Members in August!
Professional Members
Stephanie Baker
Elizabeth Barber
Margaret Brooks
Carolina Diez Canseco Gomez
Analia Castaner
Jimena Fabiana Castro Nogales
Maria Cecilia Celarde Roggero
Benjamin Crebert
Destiny Green
Ann Gregory
Patricia Hatfield-O'Donnell
Catherine Johnson
Maria La Pietra
Julianna Marquis
Aanchal Ranjit Narang
Mariela Paula Nieto
Robin Noble
Elaine Oswald
Melissa Porritt
Christy Elyce Price
Emerging Professional Members
Rachael Blunk
Mariana Caro Vargas
Lauren Cohn-Frankel
Neddy Dommer
Demi Eckhoff
Kira Mogilevsky
Traci Powell
Michaela Robinson
Naomi Rook

Student Members
Debrenee Grajeda
Pragnya Sai Indugula
Jennifer Anne Keeling
River Malone
Kaili Särg
Casey Sasner
Liam Spicer
Julia Stewart


Do You Have News ISSTD Members Can Use?
We need your help to make NYCU a great feature, full of news and sharing the activities of our community members. Do you have a book or book chapter coming out that you wish to share? Have you received an award for your work in the field? Have you been part of developing a new website or training course? Have you had a chance to develop something creative and unique that you wish to share with others in the field? If so, we want to hear from you! Don't be shy, submit your news to us so that we can share with other members. (Please be aware: we do not offer book reviews, but a chance to share with others that your book has been published.)
Submission Deadline: 20th of the month
Send to ISSTD Editor, Kate McMaugh: katemcmaughpsychology@gmail.com