New Book by System Speak Host Explores Emma's Diagnosis and Life with DID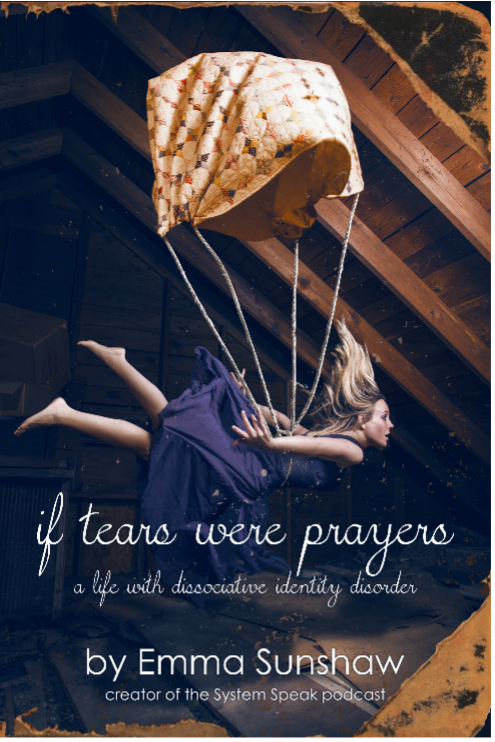 ISSTD Member, Emily Christensen, PhD, also known as Emma Sunshaw, host of the well-known podcast System Speak (Apple Podcasts) has written a new book, based on her experience of living with DID.
If Tears were Prayers: A life with Dissociative Identity Disorder bravely describes Emma's journey from the perspective of a woman who felt she had a great life, with a wonderful husband and young children, plus an enjoyable job, yet was also losing time, coming to in places without any memory, and aware of voices, just on the edge of her mind.
Emily takes the reader on a journey of discovery from those times of confusion and fear, through her therapy journey to a place of learning acceptance of and compassion towards herself.
For those interested in learning more about the book, Emma also chats with their husband on the System Speak podcast about the writing of the book, the decision to release the book – and the growth in accepting their diagnosis. The podcast can be listened to here.
The book is available here.
International orders and shipping are also available. It is also possible to donate a book to a survivor through this online shop.
Welcome to ISSTD's New Members in February!
Professional Members
Kelly Haines Aguirre
Norman Ang
Francesca Banti
Paula Bemis
Ratesha Berthier
Debbie Blackmon
Karen Buckland
Carolyn Kay Colwell
Pamela Cosper
Carolyn Elyse Coulson
Heather Fite
Thomas Fulbrook
Patricia Hunter
Alyosha Jacobson
John Kearney
Nora B Krause
Allison Lee
Malyssa May
Stephanie McGhee
Sharon Stern
Alexandra Sydenham Bennett
Lisa Ulrich
Annelaure Vuillermoz
Angela Williams
Emerging Professional Members
Anees Benferhat
Kim Lennon
Jessica Lyon
Jordanna Nash
Rebecca Ray

Student Members
Bernie Bishop
Jennifer Caplan
Anushka Fonseka
Christie Iribarren
Anne Marie Salvanera
Margaret Sienkowski
Livia Stvrtecka











Do You Have News ISSTD Members Can Use?
We need your help to make NYCU a great feature, full of news and sharing the activities of our community members. Do you have a book or book chapter coming out that you wish to share? Have you received an award for your work in the field? Have you been part of developing a new website or training course? Have you had a chance to develop something creative and unique that you wish to share with others in the field? If so, we want to hear from you! Don't be shy, submit your news to us so that we can share with other members. (Please be aware: we do not offer book reviews, but a chance to share with others that your book has been published.)
Submission Deadline: 20th of the month
Send to ISSTD Editor, Kate McMaugh: katemcmaughpsychology@gmail.com