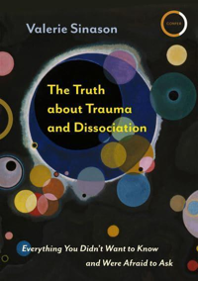 New Book Details Everything We Ever Wanted to Know about Trauma and Dissociation!
ISSTD Board Member, Dr Valerie Sinason has written a new book: The Truth about Trauma and Dissociation: Everything You Didn't Want to Know and Were Afraid to Ask, which is a little different to her previous books. Valerie explains:
"This is my 5th solo book and 15th book (the rest are co-edited) and was written in my first 5 months of COVID … Unlike many of my co-edited books which are academic texts for the professional, the aim of this book was to also reach the educated lay public and to try and find a way of imparting the key concepts of trauma … I wanted this book to be a relationship with the reader…"
The book is broken into nine chapters which cover a wide range of material including an exploration of human reaction to the Coronavirus and other plagues; a chapter devoted to explaining the jargon and definitions of our field; and specific chapters on trauma, dissociative identity disorder and war and atrocity. One chapter is entitled "A Further Cornucopia of Concepts" and this chapter explains concepts such as Adverse Childhood Experiences, Stockholm Syndrome, Non-Innocent Bystanders, Boarding School Syndrome, Post Slavery Syndrome, Freud's Repetition Compulsion, Jennifer Freyd's Betrayal Trauma and Institutional Betrayal, False Memory Syndrome, Coercive Control and Gaslighting.
The book has been recently published and received wonderful reviews.
"Valerie Sinason ventures into troubled emotional spaces to hear what we don't know and, often, don't wish to know. In plain language she has enabled us to see forms of cruelty and the psychic consequences which lead to the extreme splitting of psyches into dissociated and multiple self-states … A book of interest to clinicians and a much wider audience." Dr. Susie Orbach, Psychoanalyst and founder of The Women's Therapy Centre, London, and The Women's Therapy Centre Institute, New York, and author of Fat is a Feminist Issue, The Impossibility of Sex and Bodies.
The book is available from Amazon.
Remember to use your Amazon Smiles to raise money for ISSTD.
The book is also available from UK publishers Karnac Books here.
Job Opportunity – San Francisco Veterans Affairs Health Care System
Part-Time, After-Hours PTSD Clinical Team Psychologist
The San Francisco Veterans Affairs Health Care System has an immediate opening for a part-time (20 hours per week), after-hours (Saturday and weekday evening hours) psychologist on the PTSD clinical Team. The incumbent's primary responsibilities will be to diagnose and treat PTSD and co-occurring disorders, conduct triage and referral coordination for the PTSD Clinical Team, and to consult with medical center staff on a wide variety of patient care issues. The incumbent will supervise pre-doctoral and postdoctoral psychology trainees and may participate in the supervision of trainees in other disciplines, including medical, nursing, and pharmacy. U.S. citizenship is required. The selected applicant may be subject to random pre-employment drug screening. Psychologists are encouraged to pursue an affiliate faculty appointment at UCSF Medical School's Department of Psychiatry. Our Health Care System supports the successful hiring and advancement of individuals of diverse backgrounds, including minorities with regard to race, ethnicity, religion, sex, sexual orientation, gender identity, national origin, disability, age, and protected veteran status. Interested applicants should apply via USAjobs.gov. Although the position is located within commuting distance of the San Francisco VA, all mental health staff are encouraged to apply for temporary telework during the pandemic.
Education Debt Reduction Program (EDRP): This position is eligible for the Education Debt Reduction Program (EDRP), a student loan reimbursement program. To participate in the program, you must meet specific individual eligibility requirements in accordance with VHA policy 1021 and submit your application within four months of appointment. The final award amount (up to $200,000) and eligibility period (one to five years) is determined by the VHA Education Loan Repayment Services office. If selected for this position, please contact the Education Debt Reduction Program Coordinator for additional information.
Inquiries should be directed to Dr. Thomas Neylan Thomas.Neylan@va.gov or Dr. William Wolfe William.Wolfe2@va.gov
Posting closes 11/20/2020 midnight, EST time: https://www.usajobs.gov/GetJob/ViewDetails/582213600
Welcome ISSTD's New Members in October
Professional Members
Mary Joy Basilio
Billie-Jo Bennett
Christine M Bergman
Shaunnacy Blood
Daniel Brom
Kristi Broussard
Susan Chalmers
Sandra Mays Clough
Amanda Crowder
Sean Cuthbert
Sara Epstein
Kaye Griffin
Alexis Hansen
Debra Henderson
Sandra Holloway
Angie Holstein
Derrel Jeffrey
Edward Jenny
Bessie Jimenez
Svenja Koeslich
Nicole Rita Krasner
Chris Larkin
Dorothy Lemoult
Mark Littlewood
Donald Stewart Mackenzie
Aimee Renee McCann
Anita McLean
Carmen Pepicelli
Kristy Quaka
Richard Rapoport
Lyndsey Ryan
Jessika Sands
Anita Scott
Caroline Shearer
Catherine Siegel
Yi Ling Tay
Patricia Bianca Torres
Kathryn Wright
Emerging Professional Members
Paloma Andazola-Reza
Kim Barton
Sirpa Hannele Cossaboon,
Brenda Elliott
Mrs. Tracy LaFondBarakat
Andres Ruiz
Cameron Stransky
Lucinda Wurtz


Student Members
Paul Compensis
Lauren Cotton
Rebecca Donaldson
Zoe Hisey
Sarah Moore
M. Shae Nester
Tara Leigh Wynant





















Do You Have News ISSTD Members Can Use?
We need your help to make NYCU a great feature, full of news and sharing the activities of our community members. Do you have a book or book chapter coming out that you wish to share? Have you received an award for your work in the field? Have you been part of developing a new website or training course? Have you had a chance to develop something creative and unique that you wish to share with others in the field? If so, we want to hear from you! Don't be shy, submit your news to us so that we can share with other members. (Please be aware: we do not offer book reviews, but a chance to share with others that your book has been published.)
Submission Deadline: 20th of the month
Send to ISSTD Editor, Kate McMaugh: katemcmaughpsychology@gmail.com