Kate McMaugh, Editor, ISSTD News
ISSTD Member authors two new Chapters on Trauma and Addiction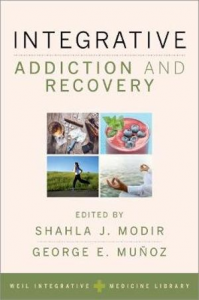 ISSTD Member Ericha Scott, PhD, has just published two book chapters in the integrative medicine text: Integrative Addiction and Recovery, edited by Shahla Modir and George Munoz.
Ericha, who has previously had her creative works published in ISSTD News Creative Space, writes – as lead author – one chapter entitled Three Dynamic Healing Modalities for the Treatment of Substance Use and Co-Occurring Disorders: Aromatherapy, Equine Therapy and Creative Arts Therapies. The chapter introduces three widely divergent treatments that have been found to be useful by culturally disparate clinical populations.
She contributes a further subchapter regarding the application of creative arts therapies in the treatment of addiction and trauma: Creative Arts Therapies: An integrative modality for addiction and trauma treatment. This focusses on a case study of a man who had a history of multiple overdoses, suicide attempts, self-mutilation, extreme piercings and near death experiences. The case is presented through his art, poetry and journal writing.
In addition Ericha is the lead author of an additional chapter with Munoz: Integrative approaches to healing in the treatment of addictive behaviors. This chapter reviews the historical problems treating addiction when it has been misperceived by the medical profession as a moral problem versus an illness. The problems of primary and secondary medical issues are addressed, which includes addressing trauma, as well as fostering emotional wellness and spirituality.
Integrative Addiction and Recovery comprehensively covers a wide variety of holistic and conventional approaches to the treatment of substance abuse and behavioral addictions, including substance abuse, trauma, food addiction, gambling and shopping. Relapse prevention strategies are also explored. The book is available from Amazon. Remember to use Amazon Smiles to raise money for ISSTD!
Welcome ISSTD's New Members in January!
PROFESSIONAL MEMBERS
Nicole Fraine
Anita McLean
Patricia Preston
Christena Beintema
Natalee Popadiuk
Vicki Vopni
Rosaleen McElvaney
Olga Klauber
Carisa Authier
Frances Christian
Debra Eisenberg
Melissa Engle
Kim Frankln
Judith Becker Greenwald
Bethany Holder
Jennifer Joseph
Jennifer Naddell
Sarah Perkins
Rawna Romero
Nancy Rubbico
Nicole Schild
Carolyn Sharp
Julie Shewman
Tabitha Webster
Shalini Anant
Sukanya Ray
Mamatha Shetty
Kari Kokko
Mary Renwick
Emily Christensen
Laura Dawson-Fend
Christie Eastman
Goldy Gorelick
Doreen Hardy
Kathy Macchi
Stephanie Mattei
Carole Pasahow
Patricia Quinn
Marjorie Sita
EMERGING PROFESSIONAL MEMBERS
Joselito Libres
Myriam Morissette
Grace Soo
Nicole Black
Sara Klco
Lynn Price
Trina Trotter-Nussbaum
Funda Yilmaz
Sara Rourke
Allison Christie
STUDENT MEMBERS
Sandra Enck-Emmanouilides
Holly Fisher
Nikolai Pavlov
Courtney Bennett
Connie Fazzio
April Reyes
Valerie Stacy
Do You Have News ISSTD Members Can Use?
We need your help to make NYCU a great feature, full of news and connecting us all!
Do you have a book or book chapter coming out that you wish to share? Have you received an award for your work in the field? Have you been part of developing a new website or training course? Have you had a chance to develop something creative and unique that you wish to share with others in the field? If so, we want to hear from you! Don't be shy, submit your news to us so that we can share with other members. (Please be aware: we do not offer book reviews, but a chance to share with others that your book has been published.)
Submission Deadline: 20th of the month
Send to ISSTD Editor, Kate McMaugh: katemcmaughpsychology@gmail.com