As many of you will be aware Dissociative Identity Disorder Awareness Day takes place on March 5 annually. I am not exactly sure of the origins of this day being set aside, but I first became aware of the day only five or six years ago, but I know awareness of the day is growing internationally.
As with all 'Awareness Days' the focus of the day is to raise awareness of DID which is often misunderstood and mis-represented in the media. ISSTD plays a big role internationally in correcting misconceptions and promoting accurate information about DID.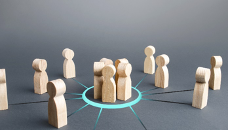 Each DID Awareness Day ISSTD partners with survivor organisations to undertake promotional activities. Perhaps the most exciting activity ISSTD has conducted for DID Awareness Day is the annual webinar for members of the public. Now in its third year, these webinars are hugely popular with people who have DID, their family, carers, and friends.
This year we are very happy to have held our third annual webinar focussing on "What Healing Looks Like" and was held on Monday, March 6, 2023 (Please note that if you were unable to attend live the webinar was recorded for registered attendees. Access to the recording will be sent to all registered attendees as soon as it is available)
This webinar is jointly presented by ISSTD, An Infinite Mind, Beauty After Bruises, Blue Knot Foundation, and System Speak. This webinar is specifically designed for members of the general public and non-clinicians. Registration was $10 USD donation and all proceeds from the webinar are divided as donations among the presenting organizations. Attendees were given the option to make an additional donation to a specific organization during the registration process. The webinar was recorded and the recording will be made available to all registered attendees.
Other activities also occur for this special day. In recent years we have used this day to launch out Facts Sheets for the general public. These Facts Sheets are part of a growing series of information sheets that aim to present accurate and factual information about DID and other complex trauma and dissociative conditions to the public in language that is non-clinical and non-pathologizing. ISSTD now has seven Facts Sheets and Support Sheets. You may wish to share some of them with your clients. They are accessible here: https://www.isst-d.org/public-resources-home/
This year ISSTD is excited to launch a new Facts Sheet to support people with dissociative conditions in accessing social media. This Facts Sheet will be available soon.
Photo © Shutterstock