It has been an honor to chair our Creative Art Therapies Special Interest Group these past two years with Elizabeth Davis as secretary. The Creative Arts Special Interest Group was founded by art therapist Tally Tripp about six years ago, and as early members, we were excited to continue the vision. Creative therapies include the master level professions of art, drama, music, and dance/movement therapy but can include any expressive modalities such as creative writing, sand tray, sand play, play therapy, and registered expressive arts therapists.
In our CAT-SIG, we welcome any therapists who integrate creative approaches into their clinical practices. We meet monthly on Sundays for 90 minutes with every meeting including a clinical trauma-focused topic followed by art-making and other creative activities such as poetry (Thank you Phyllis Klein who often leads us in creative writing). This structure fosters professional relationships, promotes the efficacy of diverse expressive interventions in addressing trauma and dissociation, offers experiential opportunities to learn a new art directive, and invites the inherent self-care and soothing benefits creative activities provides. Art heals.
These benefits were obvious this year. Our members have demonstrated amazing accomplishments in 2023 alone including chapters, books, journal articles, international presentations at conferences, graduate school lectures, and global travel promoting the use of trauma-informed therapeutic arts in diverse cultural settings. In fact, our CAT-SIG's international membership includes members from Israel, Canada, and Australia who rarely miss a meeting, and provide diverse cultural perspectives in treating trauma.
We take the community education and ambassador mission of ISSTD seriously in many members presenting to mental health professionals, other health professionals, students, and the general community on trauma and dissociation. For example:
Peggy Kolodny is currently writing a chapter with Elizabeth Davis on art therapy and dissociation for an art therapy textbook.
Elizabeth Davis just completed a chapter on dissociation for an upcoming play therapy book, and co-edited the book EMDR and the Creative Arts Therapies, with Peggy Kolodny and Tally Tripp contributing chapters.
Dr. Ericha Scott wrote chapters in several books on her creative art and writing approaches in Women Who Dream and 500 Dear Younger Self.
Pat Quinn, after writing and editing the book Art Therapy in the Treatment of Addiction and Trauma (2021), is busy writing a new book on art therapy, trauma and neurobiology.
Mindy Jacobson Levy co-authored an article on trauma-informed altered books published in the prestigious Journal of American Art Therapy Association.
Many members were involved in community service this year:
Adrian Masterman-Smith, Chair-Elect of CAT-SIG, and Dr. Lowen Clark, Recording Secretary-Elect of CAT-SIG, have developed and implemented several art-based community projects on family violence in Australia, including 16 Days of Activism and Story Seats Project.
Tally Tripp travelled abroad to Africa in her leadership role with the international group Common Threads.
Eva Teirstein Young and Tally Tripp are current ISSTD Board members and part of the task force revising ISSTD treatment guidelines.
Hannah Sherebrin writes a blog and is involved in numerous social activism in both Israel and Canada where she splits her time.
Several members are current faculty members/ guest lecturers for graduate art therapy programs teaching on diverse trauma topics: Peggy Kolodny taught on DID and trauma topics for Florida State University, George Washington University, and guest lectured for CAT-SIG member Pat Quinn's graduate art therapy course at MIT in India. Eva Teirstein Young is Assistant Professor at Pratt Institute teaching a trauma and art therapy course.
So many of us have taught regional and international workshops this year on trauma and art therapy that they are too numerous to list. However, we are quite excited that nine CAT-SIG members are teaching ten virtual workshops on the Demystifying Dissociation track of the Expressive Therapies Summit over two weekends in November. Peggy and Elizabeth proposed and organized this track to the Summit with invited ISSTD presenters Cynthia Wilson, Mindy Jacobson Levy, Pat Quinn, Lowen Clarke, Adrian Masterman-Smith, Ericha Scott, and Eva Teirstein Young, as well as Peggy and Elizabeth. We invited the 10th presenter, art therapist Jen Marchand, to join ISSTD and she has promised to do so. This will be such an exciting platform to educate colleagues about the continuum of dissociation and benefits of ISSTD membership. (We know our CAT-SIG members have accomplished far more than what we listed here and we invite them to post on our community group all that they have done this year, with apologies for those we missed).
A year of CAT SIG Meetings!
We'd like to share some topics and artwork made throughout the year in our meetings: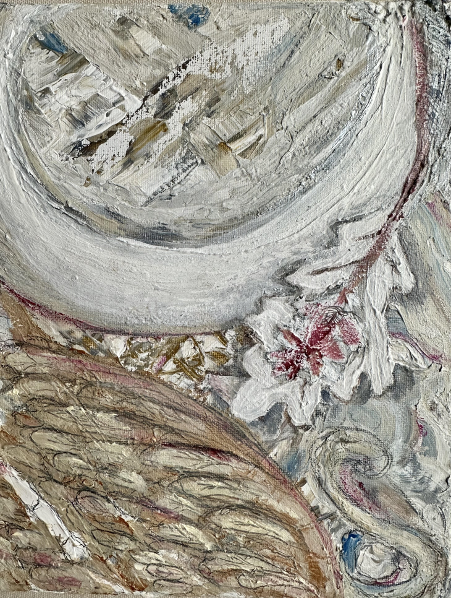 In January, Peggy presented on the El Duende art process (developed by art therapist Abbe Miller), a method involving single canvas process painting, with members then engaging in painting. This process is effective for trauma survivors as it encourages the flow of the process and not a focus on a finished product. The layers of meanings in these paintings welcomes the participation of a client's parts. Once a painting feels "finished", it begins to transform to a new painting on the same canvas. Here's an example of Peggy's. She has worked on this in the ensuing months in her continued process.
In February, Elizabeth led with an overview of the Flash Technique, followed by art-making using positive resources in response to the Flash Technique.
March had Pat Quinn invite author Lynn Brunet to present on her fascinating book "Answer to Jung: Making Sense of the Red Book" followed by discussion and art responses.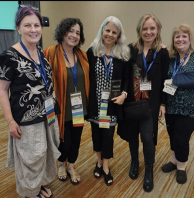 ISSTD Annual Conference at Louisville, Kentucky, April 2023
In April, the CAT SIG had an in-person meeting at the ISSTD conference in Kentucky where we included members virtually on Zoom! We created torn tissue paper collages while planning future meetings!
Some of the CAT-SIG members (Ericha, Eva, Talky , Elizabeth and Peggy) are pictured at the ISSTD Annual conference.
CAT-SIG co-organized a Wellness Corner with several creative activities for this Louisville ISSTD conference. (Thanks CAT-SIG moderator Cynthia Wilson who represented 2 SIG groups as co organizer!)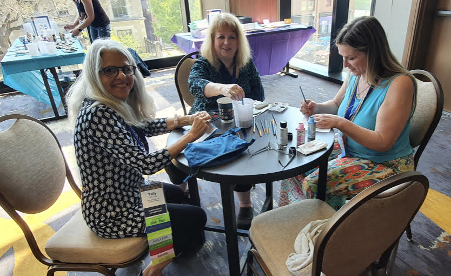 Making art in the Wellness Corner!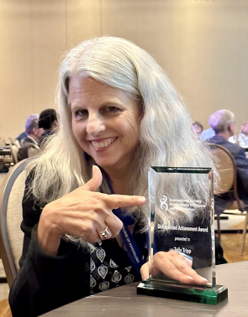 In addition, the founder of the CAT SIG and Board Member, Tally Tripp, was given the Distinguished Achievement Award!
Our monthly meetings in May and June were cancelled, unfortunately, with too many schedule conflicts among members. However, in July Elizabeth Davis presented a DID case showing her use of art in sessions. Members requested that she present more on this case, scheduled for our November 12 meeting!
In August, we processed the serious health news of one of our members, leading to creating art. Below is a screenshot of art made focused on positive healing themes and energy.

Our September meeting had Elizabeth lead a discussion on the concept of containment in trauma treatment, followed by our creating diverse containers. Everyone made such interesting containers from envelopes to matchboxes and origami type boxes. Here are some examples: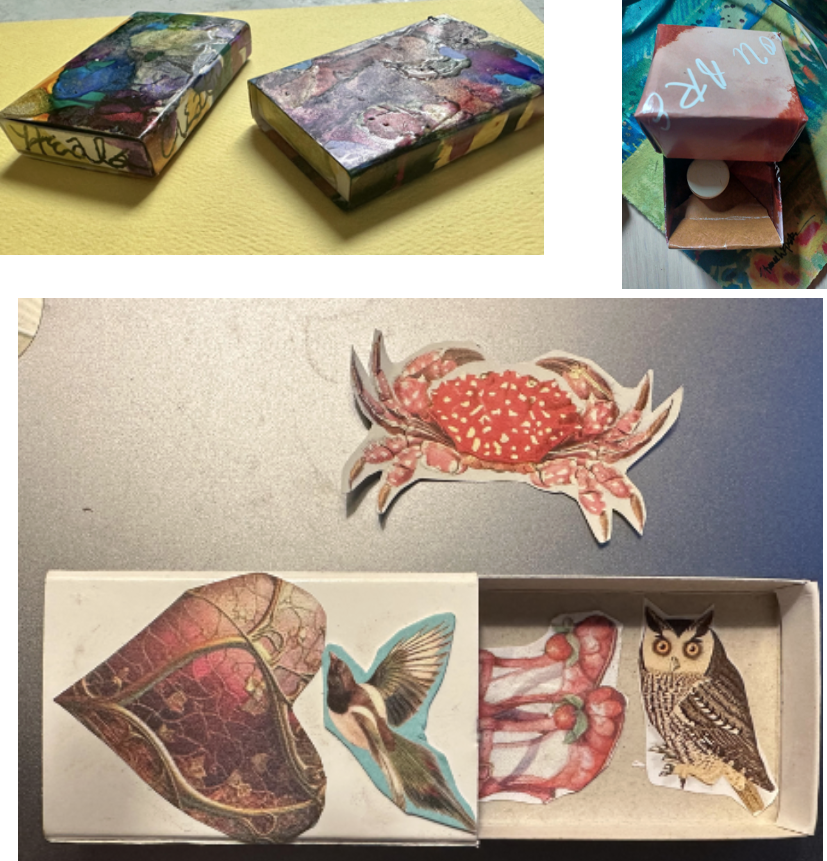 At our most recent October meeting, we had a check-in among members in responding to recent terrorism in the Middle East and how this impacted our clients already in trauma therapy, as well as ourselves as therapists. Member Hannah Sherebrin of Israel, shared humanitarian resources to assist civilians in Israel and Gaza and led us in a breathing exercise. Peggy then introduced to the group a new scribbles to squiggles directive in a graphic neurosequential approach. This art intervention is relevant to trauma treatment by transforming chaos into organized images with emotional meaning. Some members' work is below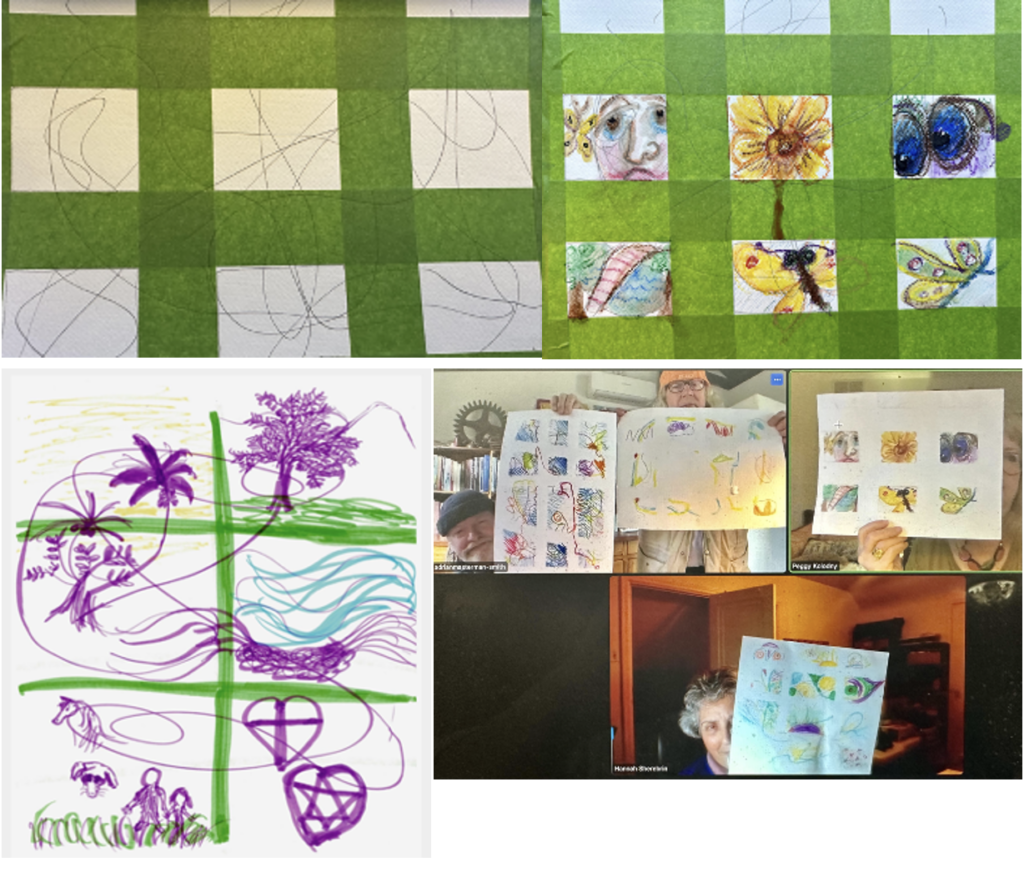 We look forward to our November 12 meeting, and we invite ISSTD members to consider joining our CAT-SIG!
Adrian Masterman-Smith and Lowen Clarke will be leading our December 17 meeting as they transition into leadership roles with plans to discuss topics for 2024!