In addition to the awards already discussed, the following Awards were made at the Annual Conference.
Morton Prince Award
The Morton Prince Award is given to an individual who has made outstanding cumulative contributions to research in the area of dissociative disorders. This year's recipient is Dr Bethany Brand. Bethany, a Professor at Towson University in Maryland, USA, conducts research in four areas: treatment of dissociative disorders (TOP DD studies); methods for distinguishing dissociative disorders from malingering; investigating the trauma vs. fantasy model of dissociation; and assessing the accuracy of textbooks' information about trauma. In her private practice, she treats complex trauma patients and serves as an expert witness in trauma-related cases. Bethany is being recognized for her outstanding work on the TOP DD Network program. This program contributes to cutting edge research, provides valuable education to therapists, and provides a resource for clients to better understand how to stabilize and address their symptoms.
Pierre Janet Writing Award
This award is given to an individual for the best clinical, theoretical or research paper in the field of dissociative and/or trauma within the past year. This year's recipient is Paul F Dell for "Reconsidering the Autohypnotic Model of the Dissociative Disorders"
Sandor Ferenczi Award
The Sandor Ferenczi Award is given for the best published work in the realm of psychoanalysis related to trauma and dissociation in adults and/or children. This year's recipient is Daniel S Schechter, MD, for the article "On Traumatically Skewed Intersubjectivity" in the journal Psychoanalytic Inquiry.
David Caul Award
The David Caul Memorial Award is given for the best published or non-published paper, thesis, or conference abstract written by a resident or trainee in the field of dissociation and/or trauma. This year's recipient is Mary-Anne Kate for her doctoral thesis "The Prevalence of Dissociation and Dissociative Disorders, and Trauma and Parent-child Dynamics as Etiological Factors: Implications for the Validity of the Trauma Model and Fantasy Model of Dissociation."
Cornelia B Wilbur Award
The Cornelia B. Wilbur Award is given to an individual for outstanding clinical contributions to the treatment of dissociative disorders. This year's recipient is Frances S. Waters, DCSW.
Fran is a past President of ISSTD and has served on many committees with ISSTD, including currently as co-chair of ISSTD's Child & Adolescent Committee, and Faculty Director of the Child & Adolescent Course in the ISSTD Professional Training Program. She also serves on the Editorial Board of the Journal of Child & Adolescent Trauma, contributing guest editor for the Journal of Trauma and Dissociation, and on the national Advisory Board of the Leadership Council on Child Abuse and Interpersonal Violence. She is author of Healing the Fractured Child: Diagnosing and Treating Dissociative Youth. This book contains comprehensive material on the assessment and treatment of dissociative children. She maintains a private practice in Marquette, MI.
The Media Award (Written)
The Media Awards are given to an individual or organization for the best-written media (e.g., books, newspapers) and best audio-visual media (e.g., films, television, videos) that deal with dissociation and/or trauma.
The Media Award (Written) for 2019 is being awarded to two individuals this year. This award goes to:
Robert T Muller, PhD for Trauma and the Struggle to Open Up: From Avoidance to Recovery and Growth. This book provides the reader a walkthrough of the ups and downs of the therapeutic relationship with trauma therapy clients, highlighting relational tools and attachment theory.
The Media Award (Written) is also being award to Tracey Shelton, an Investigative Journalist in Australia, for detailed reporting on complex trauma, including the phenomena of ongoing incestuous abuse during adulthood.
Media Awards (Audio Visual)
The recipient of this year's Media Award for Audio Visual is A&E Network and Renegade 83, for the production of the documentary series The Many Sides of Jane. Also being recognized for their work on this project are: Elaine Frontain Bryant, Brad Abramson, Shelly Tatro, and Rachel Deel from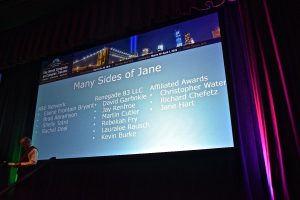 A&E, as well as David Garfinkle, Jay Renfroe, Martin Cutler, Rebekah Fry, Lauralee Rausch, and Kevin Burke from Renegade. Outside of the production, we would also like to recognize Christopher Waters, PhD, Jane's primary therapist, Richard Chefetz, MD, an ISSTD Member who served as a consultant for the show, and Jane Hart.
Richard Kluft Best Article:
In 2014 the Journal of Trauma & Dissociation publisher, Taylor and Francis established the Richard P. Kluft Award for Best Article. This year's winner is: Ariel J. Lang & Maria A. Gartstein (2018) Intergenerational transmission of traumatization: Theoretical framework and implications for prevention, published in the Journal of Trauma & Dissociation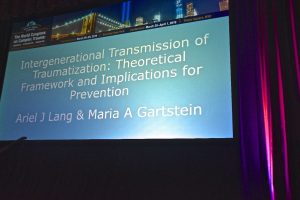 This paper has a strong potential to advance clinical reasoning and research related to prevention of intergenerational transmission of traumatization by providing a well-founded, easily tested theoretical framework. The authors diagram both the phenomenon itself and how it might be altered with perinatal interventions. Their recommendation that clinicians couple PTSD treatment with parent-child interaction training follows well from the theory and could prevent at risk children from being abused.
Poster Award
Each year an award is given to the best poster display, based on both the clinical and research excellence of the poster as well as the visual and aesthetic presentation of the poster. The award winning poster was developed by Kristina Cordeiro and Meghan Oliver and is entitled: Clinical Applications of the Adult Attachment Interview: Findings from a Group Randomisation Study