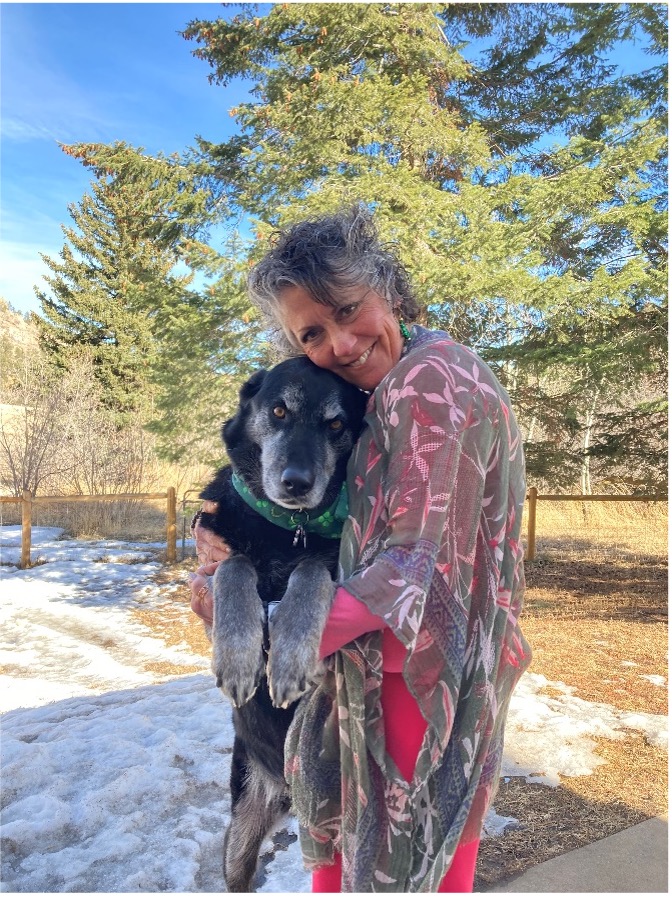 This article will describe a multi-modal and integrative approach combining Art and Animal-Assisted Activities/Interventions, EMDR Phase 2 resourcing, (Shapiro, 1995), The Flash Technique, (Manfield et al., 2016), and Play Therapy with children who have Complex Trauma/Dissociation throughout the Four Phases of Treatment. Many of the techniques can be adapted for use in all phases and not limited to the specific phases that are presented in this article.
Phase One: Stabilization
Cassandra, age 4, loved to draw and was quite detailed in her description of her parts of self using markers, crayons, colored pencils, and paper. We often applied Theraplay Principles and Techniques (Booth & Jernberg, 2010) in our play sessions, which included her well-attuned, supportive mother. One of her favorite activities was tracing her mother's hand on paper in her mother's favorite color. She giggled as her mother traced Cassandra's little hand within the traced image of hers. I often use this activity to help orient the child and parts of self to the child's current age or person, place, time, and to symbolize bonding between parent and child.
Another art activity that enhances orientation is having the parent trace the child's entire body outline on butcher paper that is taped to the floor or wall. As the child and parent color in details, such as hair color, clothing, facial expression, I guide the child to include all parts of self or special helpers in the process. Wiley, at 3 years of age, giggled as his mother traced his outline and together they colored in details. I asked Wiley if all of his special helpers could see how long his 3-year-old legs and arms were. I stated, "I wonder what those 3-year-old arms and legs could do?" Wiley responded with some of his favorite activities.
Because Cassandra enjoyed drawing about her internal world, the body outline seemed like a good fit; however, she quickly declined to participate. We were also working on healthier attachment to her mother and the co-creating activities were beneficial. I looked over at Boaz, my 104 pound, Labrador/Husky mix therapy dog whom Cassandra adored, and thought he might just work as a substitute! I asked Cassandra if she and her mom would like to trace Boaz, instead. She squealed with delight and Boaz most willingly complied by lying quietly on the butcher paper while Cassandra and her mother traced his furry outline. Afterward, there was much giggling as they used Boaz, who was lying just a few feet away, as their model to color in details. Cassandra even drew his bandana with all the designs! At the end of the session, we tapped in the fun, positive feelings, the best part of the session, and where these were felt in the body. Cassandra and her mother took home the life-size co-created portrait of Boaz to continue using as a resource at home.
The sand tray provides a vast array of ways for creating happy, safe, fun, places, as well as anger rooms (Waters, 2016, pp.237-242) for the parts of self. I direct the child to divide the sand tray according to the desired size of each. Five-year-old Shana often disrupted her Kindergarten class with physically aggressive behaviors. After identifying her parts of self, she and they created a place where they could all go to let out their energy when they felt mad or did not want to do what Shana needed to do. The parts could release their anger in this place where they could have anything they wanted, as long as they did not break anything or hurt anyone. When ready, they could then go into their special place that had all of the good things that they liked and relax. Once inside their special place, I asked Shana and her parts what they were feeling and where that was felt in their bodies. We tapped that in with a variation of the Butterfly Hug Tap (Artigas, 2014). Shana took a photo home of the sand tray as a resource to use between sessions. In a subsequent session, Shana created a place where all of her parts could go, while she was in school. Her mother would use the photo of this special place as she coached her to have everyone go into their created place, before Shana left for school each morning.
Phase Two – Trauma Processing
The EMDR Pendulation Technique (Maiberger, 2009) is quite compatible with Animal-Assisted and Art Activities. The traumatic event is targeted and rated on the 0 – 10 Subjective Unit of Distress Scale (SUDS), 10 being the highest, 0 being no distress. Children can draw, paint, and/or use glitter to express the distressing memory with related emotions, sensations, and thoughts on one paper. The child uses art media to express a positive event or memory with associated emotions, sensations, and thoughts on another paper. Some children will choose a title for each, and some prefer not to name it. For simplicity and clarity in this example, DM represents the distressing memory and PM represents the positive memory. The DM and PM are laid on the table a few inches apart. Bi-lateral stimulation (BLS) is applied with tapping on the child's knees or shoulders with a magic butterfly wand or an art sponge dabber, to build up the aspects of the PM. This process can be enhanced by asking the child about what was experienced through the five senses and where the positive somatic responses are felt in the body. I, or the child, picks up the paper with the PM and places it over the DM as the BLS continues. Then, I or the child picks up the PM up and replaces it to the original starting point. The BLS continues as we repeat the building up all aspects of the PM, before placing it over the DM, again. The Pendulation Technique continues for 3 – 4 sets, after which I stop the BLS, take a deep breath with the child and ask what the SUDS level is. I will resume the Pendulation Technique until the child achieves SUDS level of 0, if time permits. Children generally process more quickly, and I have found that approximately 40 – 45 second intervals of pendulating and 3-4 sets before checking in have been successful. Boaz is always ready to lend a paw with the Pendulation Technique. Sometimes the kids will use his big, black paw to cover the distressing memory that was drawn on paper and place the PM next to him. This works quite well and usually evokes stress-reducing laughter. Of course, anytime Boaz can be the center of attention, he is all-in!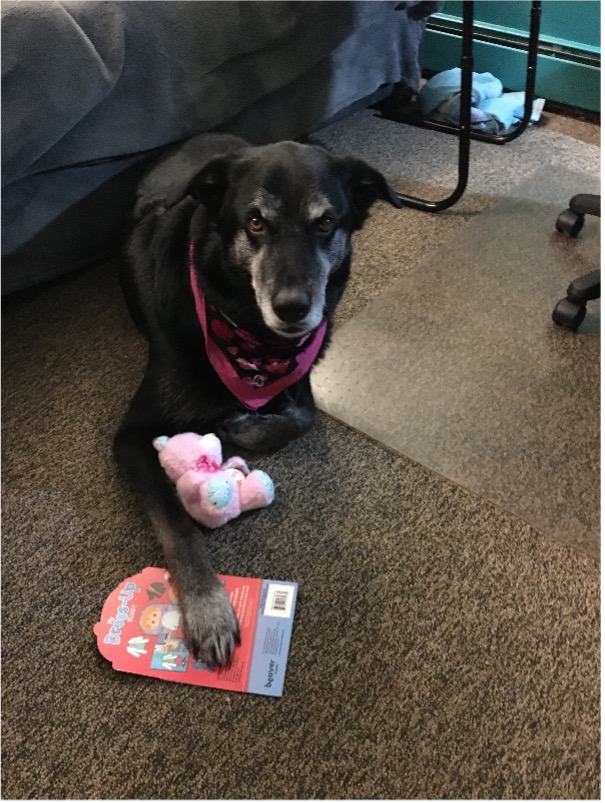 Child-Centered Play Therapy (Landreth, 2019) adds playfulness to the Flash Technique (Manfield, et al., 2016). Three-year-old Ronnie, with the help of his mother, chose the target and rated how big the level of distress was by stretching out his hands and arms. Ronnie's speech development was age-regressive and this was an easy way for him to communicate. Before going into the playroom, I practiced rapidly blinking, whenever I said, "Flash," with him and his younger parts. Ronnie loved sand tray play, so this would be a natural Positive Engaging Focus (PEF) to pair with Flash. My role as Play Therapist and Flash facilitator were divided; however, Ronnie's mother's mastery of tracking and participation in Play Therapy sessions, provided the needed supportive continuity.
Ronnie headed straight to the sand tray, upon entering the playroom. His mother sat nearby, ready to engage as needed. Ronnie selected his favorite earthmoving and construction related miniatures to create his active sand tray world. I followed behind him to provide the continuous BLS by tapping on his shoulders with the butterfly wand. At various high points in Ronnie's play, I said, "Flash," and he blinked rapidly several times. His mother tracked his activities in perfect cadence, which enhanced the PEF. Just a few minutes into the session, Ronnie spontaneously said, "Flash" and blinked rapidly as he played, several times! Following a three-year-old requires quick movements to keep up and sometimes he was quicker, which resulted in him bumping into me or I into him. We chuckled when that happened, which also strengthened the PEF! At the end of the session, Ronnie measured the level of distress by bringing his hands very close together, indicating very low to none. His broad, childish smile and bright eyes corresponded.
Phase Three – Integration
Frankel's blending technique (Frankel, 2006) is one of my favorite techniques and I often use a variation of it during this phase. Active sand trays provide visual and tactile opportunities to bring parts together, as one. I will ask the child if all parts of self or special helpers are ready to become one. They are assured that they will always be a part of the child, because they will leave the child with all of their special powers and the good things about them. The child will arrange the miniatures that represent the parts of self in the sand tray, with all of their favorite things, such as food, pets, sports, trees, dwellings, etc. At this point in the therapeutic process, they are well-known and the same miniatures were consistently used to represent specific parts and their special things or activities. Some children like music, a specific song or singing bowls playing or counting from 1 to 5, as they move the miniatures together. Following the integration, we stand by the sand tray, take in deep breaths, and after the child has identified the positive feeling/sensation of being one, we tap that in.
Adolescents especially love to paint on canvases and express their internal world freely, without words. During this integration activity, they will blend various colors that represent their parts of self together with long brush strokes, swirls with art sponges, and perhaps a layer of glitter to express a new life of being one. Requested songs, music or singing bowls often add to sacredness of the process and moment of integration. At the end of the session, we deep breathe, as they behold their masterpiece, before it is carried out of the office with great reverence.
Phase Four – Post-Integration (Yarberry, 2019)
Although, resourcing is done throughout the previous three phases, it comes to a more tangible culmination in the Post-Integration Phase. I have a variety of Paper Mache containers that become the "All About Me" or "All About ___________ (using the child's name)" to remind them of all the good things that are in them. The children decorate their selected container with stickers, paint, glitter, gems, markers, beads, etc., and either make or bring in special, small objects that remind them of their goodness. We will write or draw on small cue cards all the emotional management skills and techniques that they have used successfully. A photo of Boaz or the child with Boaz is often added to the container.
The Feelings Jar is a very helpful tool, in this phase, as well. There are other names and recipes, such as the Moody Cow Jar (The Moody Cow Mind Jar). I often use The Feelings Jar in the Stabilization Phase, as well. I have small and large canning jars available. Sometimes the younger children prefer the smaller jars. I add the water, soap, and vegetable glycerin, shake it up, and let the child add various colors of glitter that represent all of their feelings. Sometimes, they will also add beads. I glue the top with permanent glue, for safety. The top of the jar can be decorated, too! We shake the jar and watch the glitter settle, as we practice the deep breathing exercises we have been using in session, as well as those the child has used at home. We role play scenarios of times that we are feeling sad, confused, disappointed, mad, frustrated, etc. with using our Feelings Jar and deep breathing while allowing our feelings to settle as the glitter settles.
As you can see, many of these activities can be used interchangeably in any of the four phases of treatment. Treating children with Complex Trauma and Dissociation, while challenging, can also be a very fun process. Children look forward to their sessions, when play, art, and/or animals are incorporated. The treasure box helps transition children who are reluctant to stop playing or end the session, even after receiving the time count down. I tell them that if they want time for treasure box, we will have to stop, now. It works every time! I allow them to select toys for their siblings, too. On one occasion, a child selected toys for Boaz. She placed a stuffy in front of him and a book under his paw. He stayed in that position for several minutes…so adorable! (See picture in this article.)
Many of the techniques that were created for adults can be easily adapted for children. I hope that you have been inspired to create a more playful approach or discovered something new or were reminded of an activity or technique that you have not used in a while. Thank you very much for reading this article and please feel free to share your feedback with me: michele@liberatedlivingforyou.com
References
Artigas, L. (2014). The Butterfly Hug Method for Bilateral Stimulation.
https://emdrfoundation.org/toolkit/butterfly-hug.pdf
Booth, P. B. & Jernberg, A. M. (2010) Theraplay: helping parents and children
build better relationships through attachment-based play. San Francisco:
Jossey Bass Publishing Company
Frankel A. S. (2006) Rules for Blending Alters. Retrieved from:https://www.researchgate.net/publication/275024940_Rules_for_Blending_Alters_-_2006
Maiberger, B. (2009). Resource Development Installation Pendulation: Resourcing and Unresourced Moment. Maiberger Institute EMDR Training.
Ray, D.C. & Landreth, G.L. (2019) Child Centered Play Therapy. Retrieved from:
https://cdn.ymaws.com/www.a4pt.org/resource/resmgr/publications/pt_theories/ChildCentered_Sept2019_FINAL.pdf
The Moody Cow Mind Jar. (n.d.). Retrieved March 14, 2022, from:
https://countrysideucc.org/wp-content/uploads/2020/05/Make-Your-Own-Mind-Jar-002.pdf
Waters, F. S. (2016). Healing the Fractured Child: Diagnosis and Treatment of Youth with Dissociation. New York: Springer Publishing Company.
Yarberry M. (2019). https://news.isst-d.org/proposal-to-the-field-fourth-phase-in-treatment-of-dissociation-protocol/. ISSTD News, Kid's Korner
Other Helpful Resources
Boik, B., Goodwin, E. (2000). Sand play therapy. New York: W.W. Norton and Company, Inc.
Manfield, P., Lovett, J., Engel, L., & Manfield, D. (2017). Use of the Flash technique in EMDR therapy: Four case examples. Journal of EMDR Practice and Research, 11, 195-205.
Shebini, N, (2019). Flash technique for safe desensitization of memories and fusion of parts in DID: Modifications and resourcing strategies. Frontiers of the Psychotherapy of Trauma and Dissociation, 3, 151-164.
Silberg, J. (2022) 2nd Edition. The child survivor. New York: Routledge
Yarberry, M. (2021). https://news.isst-d.org/the-flash-technique-for-dissociative-children/. ISSTD News, Kid's Korner.
Waters, F.S. (1996). "Parents as partners in the treatment of dissociative children." In J.L. Silberg (Ed.), The Dissociative Child: Diagnosis, Treatment and Management, Lutherville, MD. Sidran Press.