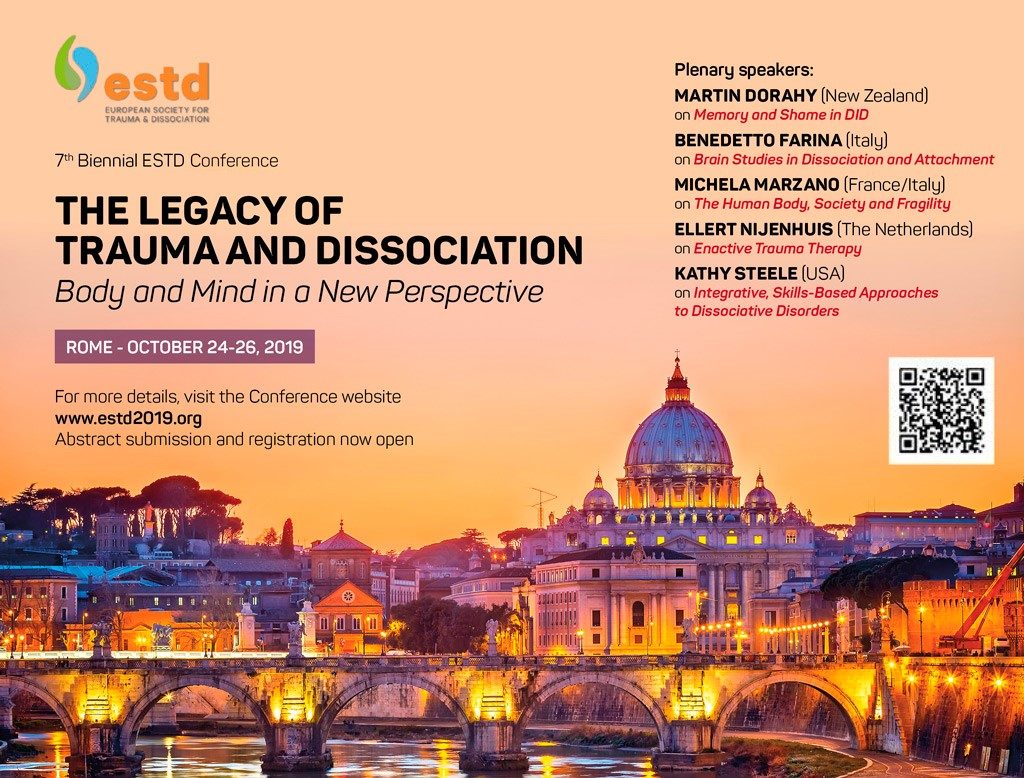 We are delighted to invite you to Rome for our 7th biennial conference, October 24-26, 2019. The theme of this ESTD Conference is "The Legacy of Trauma and Dissociation – Body and Mind in a New Perspective": a challenging notion for both clinicians and researchers! Throughout the program we will explore these issues from many different perspectives, and across all developmental phases, from childhood to old age. Go to www.estd2019.org to learn more about the conference.
Abstract submission is now OPEN. Click here for Submission Guidelines
Registration is now OPEN with lower 'early bird' registration fees dedicated to ISSTD members
Register Online Now!
Keynote speakers
On Thursday evening we will open our conference with two exciting plenary talks: Michela Marzano, a famous Italian philosopher, will introduce us to social aspects of the fragility of the human condition. Then Kathy Steele will present her latest ideas on the treatment of trauma and dissociation. On Friday and Saturday, plenaries will be offered by Benedetto Farina (brain studies on trauma, disintegration and disorganized attachment), Martin Dorahy (on DID, episodic autobiographical memories and the sense of self in different dissociative identities) and Ellert Nijenhuis on his new approach to trauma treatment ("Enactive Trauma Therapy: Bridging mind, brain, body and world"). A few words about the background of the main speakers can be found on the 'keynote speakers' page.