Jeanie McIntee, PhD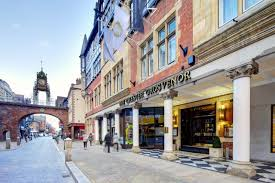 In June this year ISSTD and UK-based CTC Psychological Services joined forced to celebrate ISSTD's 35th anniversary and CTC's 30th anniversaries by holding a joint conference, in Chester UK.
The conference focused on the topic of Developmental Trauma and Dissociation, whilst also promoting the UK Government strategy of child mental health.
The conference was held in Chester's prestigious, Grosvenor Hotel and Spa, located within the picturesque Roman walled city. In this unique venue, we welcomed experts and visitors from every corner of the globe.
Chris Matheson, The Member of Parliament for the City of Chester, opened the conference and welcomed our visitors. ISSTD Fellow, Adah Sachs, PhD introduced the conference on behalf of ISSTD.
We were fortunate to have international experts Dr Joy Silberg, Professor Martin Dorahy, Professor Ruth Lanius, and Dr Richard Chefetz join us to provide training and share research and clinical expertise as they spoke to the identification and treatment of childhood trauma as well as the negative impact of untreated trauma on mental and physical development, throughout childhood and adulthood.
The feedback provided by those in attendance, reflected the experts' excellence, in both content and delivery and indicated how fortunate we were to have them share their knowledge and skills at this anniversary conference.
Coupled with the success of the keynote speakers, we also welcomed UK experts in Dissociation, PTSD, EMDR, adoption and trauma, who were able to present a range of workshops in their specialised fields.
Presentations were also given by Experts by Experience, with regard to the parenting and development of adopted children with Dissociation and trauma, with whom CTC Psychological Services have worked so closely over recent years. These presentations provided a raw insight into the daily lives and events that families and particularly parents go through, when caring for those that have experienced traumatic childhoods and the sharing of expertise as to what has been found to be successful in meeting challenges.