Kate McMaugh, Editor, ISSTD News
ISSTD Fellow Inspires a New Book Exploring her Influence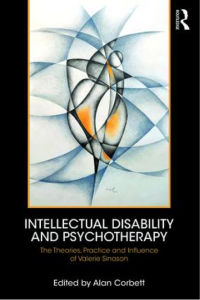 ISSTD Fellow Valerie Sinason, PhD, is a world-renowned pioneer in the field of therapy for those with disabilities. Editor Alan Corbett has produced a book in tribute to her influence on this emerging and important field. The book Intellectual Disability and Psychotherapy: The Theories, Practice and Influence of Valerie Sinason, 1st Edition, has just been published by Routledge.
The book is a combined effort of a gifted group of contributors who have worked in the challenging area of disability and found creative ways of communicating and doing therapy. Giving testimony to Valerie's wide-reaching influence on the field, contributors span the world, including South Africa, Sweden and the United Kingdom.
Valerie is well-known for acknowledging the huge impact of often undisclosed trauma on those who have a disability and this book is an important contribution to the disability field, as well for trauma workers.
Available from Routledge here.
And from Amazon here (remember to use your Amazon Smiles to raise money for ISSTD!)
EMDR-based Children's Book Stimulates Interest among Therapists.
ISSTD Member Lowen Clarke has written a book based on EMDR principles. The book entitled Sam the Tram's Dance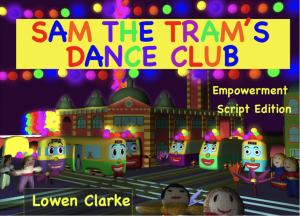 Club is a unique children's book, written using Empowerment Script, created by Lowen. The requires each line in the book to be read in an alternating fashion, with one line being read in one direction and the other line being read in the other direction.
Lowen explains: "Empowerment Script is what I call the forwards/backwards reading script I created in 2003. Empowerment Script is a bilateral stimulant (BLS) in itself. Combined with the color, story and art of Sam the Tram, it seems to do more (than reading a typical book can do). It can be used as a start to a session if a client is distressed, and then EMDR BLS can happen, or it can be used after the EMDR BLS, to ground the client. Observation and measurement of Suds is the key to a practitioner seeing what is going on."
He adds, "The book is used by adults or children in therapy or is read to children. If a child cannot read, just them following the reader's finger helps."
The book has been released in a new edition with bright coloured graphics, assisted by Art Director Adrian Masterman-Smith. Adrian advises on the use of colour in text, which Lowen feels is assisting empowerment script become more effective.
Lowen and Adrian are also in the process of producing an adult book to add to the collection of empowerment script books.
Empowerment Script is new to EMDR circles and has not yet been researched in a formal way. Lowen is hoping to generate interest in it. Lowen and Adrian have teamed up with EMDR therapist, Mary Sutton to present on empowerment script and the book at conferences and are currently working on an academic paper on it.
The book is available direct from the author: lowenclarke@iprimus.com.au
e-book versions are available from Amazon here and iTunes here.
Welcome ISSTD's New Members in December!
PROFESSIONAL MEMBERS
Jennifer Osborne
Svetlana Tikhonova
Daniel Schechter
Karen Cockrill
Michelle Gerbozy
Alisa Huffman
Nancy Thorson
Sherry Winternitz
Claire Harrison-Breed
Stacy Athens
EMERGING PROFESSIONAL MEMBERS
Kylie Svenson
STUDENT MEMBERS
Laura Maher
Kim Kubal
Jennifer Keller
Lesley Rickman
Do You Have News ISSTD Members Can Use?
We need your help to make NYCU a great feature, full of news and connecting us all!
Do you have a book or journal article coming out that you wish to share? Have you received an award for your work in the field? Have you been part of developing a new website or training course? If so, we want to hear from you! Don't be shy, submit your news to us so that we can share with other members. (Please be aware: we do not offer book reviews, but a chance to share with others that your book has been published.)
Submission Deadline: 20th of the month
Send to ISSTD Editor, Kate McMaugh: katemcmaughpsychology@gmail.com