Martin Dorahy, ISSTD President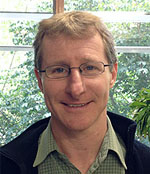 Dear ISSTD colleagues,
It is my great pleasure to welcome you to not only our first newsletter of 2017, but our first newsletter in a blog format. It shows the ongoing developments within ISSTD as we work to provide up-to-date information on multiple social media platforms (e.g., Facebook, Twitter), through annual and regional conferences along with webinars, and through different publication outlets, including this newsletter blog, our official scientific journal, the Journal of Trauma & Dissociation, and our soon-to-be published clinical E-Journal, Frontiers in the Psychotherapy of Trauma & Dissociation.
We face the start of 2017 with a great degree on political and social uncertainty in the world. The Syrian crisis is still playing out, terrorism is an increasing threat globally, humanitarian needs in multiple parts of the world remain in our consciousness, Brexit is still creating uncertainty and no one is sure what the impact of Mr. Trump's presidency will do to national and international relations, and global economics.  Neither the intimacy of the therapeutic space, nor we and our clients in it, are immune from the vagaries of world events, as well as events in our own 'backyards'. Safety, security and a sense of safe uncertainty are as much a part of us engaging in life with curiosity and a striving for relational connection and personal goal achievement, as they are for developing a stable therapeutic foundation with our clients. Working with traumatised and dissociative patients in clinical and/or research settings gives us somewhat of a unique perspective on the power of integration over isolation, and cooperative engagement over defiant indignation or separatist attack.
As we start 2017, we should be reminded of the connection we all have as ISSTD members and the international family we are. The Society is taking further important steps this year to bring members together through the aforementioned conference, social media and publication mediums, as well as sharing knowledge through our Professional Training Program (PTP) options, many of which are moving to include the capability of joining the classes electronically via the Zoom communication system.
Andreas Laddis, MD and Steve Frankel, PhD, JD, are working diligently as editors of our new official clinical E-Journal, Frontiers in the Psychotherapy of Trauma & Dissociation, to bring us its first edition in the next few months. This will offer a gateway to clinical advances in the treatment of those with complex trauma and dissociative disorders. It will be a benefit of membership and we hope will also be a means of promoting the sensitive, informed and effective treatment of dissociative disorders to clinicians and therapists outside the Society. If you would like to become a financial supporter of Frontiers, you will find information here.
The continued growth of the ISSTD is dependent on members getting engaged to stamp their creative input and energy on the Society. So we need your help and would welcome your involvement in the running of ISSTD. All you need is a little time and a little energy to help the Society move forward in major ways. Please consider joining one of our committees. You can find a list of them at this page. Alternatively, please feel free to email myself (martin.dorahy@canterbury.ac.nz), Lisa Danylchuk, LMFT, who is chair of the Volunteer Committee (lisadanylchuk@gmail.com) or any member of the ISSTD Board, who are listed at this page.
The Society is part of the AmazonSmile, which allows anyone purchasing from Amazon to choose a charity to which Amazon will then donate .5% of eligible purchases. This is a great way for the ISSTD to receive some financial input to support our mission, without it costing you anything. Please consider this when you are purchasing from Amazon. All you have to do is login to smile.amazon.com with your Amazon log in information and select ISSTD from the list of charities. Make sure to bookmark this page for future visits!
Finally, the Board elections were successfully completed at the end of last year and it's my great pleasure to announce that Kevin Connors, MS, MFT is our new President-elect. Adah Sachs, PhD. and Victor Welzant, Psy.D were voted to continue on the Board for a second term, while Kimber Olson, LCSW, Heather Hall, MD, and Michael Coy, MA, LICSW, became new directors on the Board. Due to the increased activities and plans for growth in all areas of the ISSTD the Board was expanded this year to now contain a full complement of directors, as outlined in our By-laws (i.e., 12). The Board is functioning at a high level and the geographic composition of Board members reflects the international make-up of ISSTD.  We are here to serve you in a manner that protects, promotes and grows the ISSTD, so it is a professional home, place of collegial learning, and location for support and connection for all members, and all those who would like to join us.
Martin Dorahy, PhD
President
Christchurch, New Zealand